Sony Ericsson Aino lands in US for $600 unlocked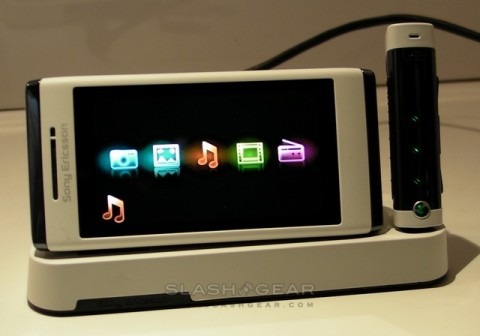 Sony Ericsson's Aino smartphone arrived in the UK earlier this month, but would-be buyers looking on enviously from the US are now able to sate their touchscreen desires.  The 8.1-megapixel handset has gone on sale online and at Sony Style stores in the US today, priced at $599.99 unlocked, offering a 3-inch 432 x 240 touchscreen, WiFi, 3G (UMTS 850/1900/2100) and Bluetooth.
There's also PS3 integration, with the Aino able to stream photos, music and video either locally or over the internet from the console.  In the box there's the Aino, the desk-stand/charger, a stereo Bluetooth hands-free kit, 8GB memory card, USB cable and separate charger.  Currently it's showing up as "backordered" on SonyStyle.com, so we're not sure when exactly it might begin shipping.
[vms40289d0a29417bcb63a3]
Press Release:
Sony Ericsson Launches Aino™ Multimedia Unlocked Mobile Phone with Enhanced Entertainment Features and Touch Screen Technology

What: Sony Electronics announced today the new Sony Ericsson Aino™ unlocked handset, now available at Sony Style stores nationwide and SonyStyle.com for about $600.

For unlocked purists and style seekers, the Sony Ericsson Aino™ phone is a 3G-enabled mobile phone that offers on-the-go entertainment and rich multimedia features. Entertainment options are nearly limitless – capture photos, listen to music, view videos and access content from your PlayStation®3 console and home PC with its unique Remote Play, Media Home, and Media Go™ features. Providing a superior user experience, the Aino™ phone offers integrated Wi-Fi® connection, an intuitive touch screen display and a dazzling 8.1 Megapixel camera. To complete the entertainment package, the Aino™ phone includes Stereo Bluetooth® headphones, charging base, 8GB microSD™ memory card and a USB connector cable in the box.

· TOUCH: Access and capture all of life's moments with the Aino™ phone's 3-inch, crisp 432 x 240 touch screen display. With a unique and interactive user-interface, the Aino™ phone gives users an exceptional listening, watching and communicating experience by simply tapping or sliding a fingertip across the screen. The Aino™ phone's media browser with 3D navigation offers an intuitive understanding of where users are at all times, making it simple to navigate through the phone's suite of media features and personal multimedia content. Additionally, the Aino™ phone includes a traditional key pad for quick and easy dialing.

· DOWNLOAD: Gain the freedom to wirelessly download content with an established Wi-Fi® connection using the Aino™ phone's Media Home functionality. When set on Automatic Download, Media Home will check every 30 minutes for all of your latest podcasts, photos, videos and music, and instantly upload them from your PC to the Aino™ phone. The Media Go™ application is the easiest way to organize media stored on a PC and transfer it to the Aino™ phone, transcoding movies to the best format for your mobile phone.

· CONNECT: Use PlayStation®3 Remote Play to seamlessly access music, videos and photos stored on your PS3 at home as well as remotely control your PS3 from anywhere in the world. By logging on to the PlayStation®Network, users can chat with PSN friends and even purchase items from the PlayStation®Store.

· CAPTURE: Catch crystal clear photos with the Aino™ phone's 8.1 Megapixel camera that displays images in up to 16.7 million colors. The Aino™ phone is loaded with imaging features, such as dedicated camera buttons, Auto/touch Focus, photo flash, image stabilization, a 16x digital zoom, Face Detection and BestPic™ technologies and auto-rotation of images. The Geo-Tag™ application and the pre-installed Google Maps™ application allow users to view the location where photos are taken and the Aino™ phone's wireless functionality allows users to share and view photos between their phone, PC and even their TV.