Sony Ericsson Satio and Aino finally hitting shelves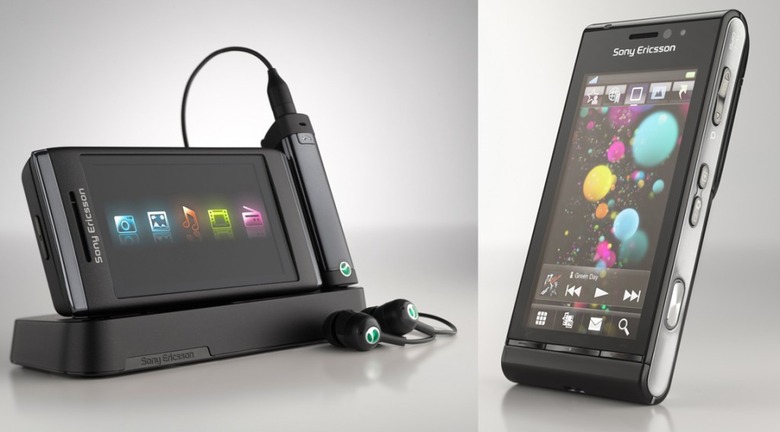 It's taken a while, but Sony Ericsson's Satio and Aino cellphones are finally hitting shelves, at least in the UK.  The two touchscreen handsets were first announced back in May – you can see our hands-on videos with each after the cut – and aim to deliver both entertainment and communication.  The Aino (seen here in its bundled dock) can stream content from a PlayStation 3 via the Sony Remote Play system, while the Satio (previously known as the SE Idou) packs a 16:9 3.5-inch touchscreen and 12.1-megapixel autofocus camera.
Video demos after the cut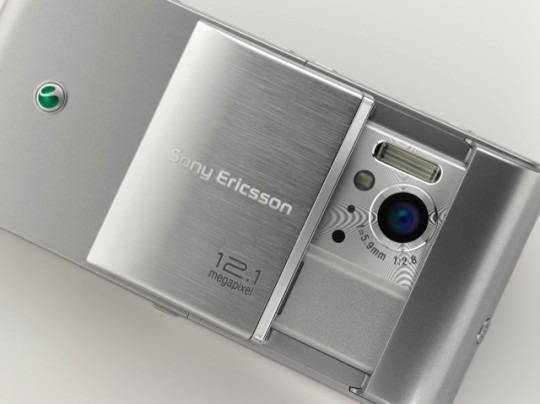 The Aino has a 3-inch WQVGA touchscreen that slides up to reveal a numeric keypad; it supports quadband GSM and triband (850/1900/2100) HSPA.  There's also an included Bluetooth headset/remote control, plus support for Media Home and Media Go for easily transferring content from home entertainment systems to your handset.
As for the Satio, as well as packing all those megapixels there's a Xenon flash, face and smile detection, together with the same GSM/triband HSPA as the Aino.  It runs Symbian Foundation.
We're waiting to hear back from Sony Ericsson as to MRSPs for the two handsets.
Sony Ericsson Satio hands-on demo:
[vms 524afda05122893c2fe8]
Sony Ericsson Aino hands-on demo:
[vms 40289d0a29417bcb63a3]
Press Release:
Spark Something With The New Satio And Aino From Sony Ericsson

Core Facts

• The new Satio™ from Sony Ericsson is the ultimate multimedia experience in the palm of a hand

• Watch entertainment in crystal-clear definition on the 3.5 inch High Definition touchscreen

• Take perfect photos with the amazing 12.1 megapixel camera and share the pictures with friends instantly

• Enjoy the best entertainment experience on the move with Aino™ from Sony Ericsson, a powerful slider with touch

• Seamlessly access and control your PlayStation®3 media content anywhere, anytime using Remote Play on Aino™

• Easily play and organise all your media content with Media Go and wirelessly transfer it from a PC to the handset via Media Home

Sony Ericsson has today launched two new handsets, promising to spark something new. Its latest entertainment experience, Satio™, allows users to tap into any content wherever, whenever. With Satio™'s intuitive touchscreen, users can watch movies, videos, TV series, photos, podcasts, listen to music or use the internet on the amazing 3.5 inch High Definition screen with true 16:9 widescreen format for instant fun on the move.

A simple tap on the screen opens up a world of content, seamlessly accessed through the five standby panels on the unique full-touch media menu. Satio™ offers a quick and easy mobile experience on the move, bringing music and videos, local and online media content to life.

Satio™ offers visual communication like never before, with an impressive 12.1 megapixel camera and a host of exciting features like the Xenon flash, face detection and auto focus to name a few. Satio™ also offers a totally new way of taking, storing and sharing perfect pictures – photos can instantly be uploaded directly to Picasa and commented on directly from the handset.

In addition to the Satio™, Sony Ericsson also launches the stunning new Aino™ which allows users to access high quality entertainment, offering the ultimate mobile entertainment experience where users can enjoy all the latest videos, podcasts, music, Facebook™ and YouTube™ on the three inch screen, with quality playback at 30 frames per second.

Get the best of both worlds with Aino™'s traditional keypad, combined with an intuitive touch UI in media mode. Entertainment is just a tap away thanks to the intuitive 3D scrolling media browser which offers one touch direct access to all content.

Transferring and organising content on a mobile phone has never been simpler, thanks to Media Go and Media Home. Media Go automatically formats all content stored on a computer to be compatible with Aino™.

Media Home pulls media content from Media Go on your PC over Wi-Fi™ to your phone automatically. You just need to insert your Aino™ into its charging stand and it automatically synchronises with all the latest media content on your PC. You are always ready to go with the latest content on your phone.

Control your PlayStation®3 and access its media content on your Aino™ anywhere, anytime using Remote Play with PlayStation®3. Remote play with PlayStation®3, initially developed for PSP, enables you to control and access your media content on PlayStation®3 from your phone.

This can be done via a local network between PlayStation®3 and Aino™ in your home or via the internet from anywhere in the world. You can also enjoy the PlayTV™ service on PlayStation®3 via the Aino™. Watch, pause and record live TV from a huge range of free channels via Aino™ on the go.

Quotes

Fredrik Mansson, Marketing Business Manager at Sony Ericsson, said, "Satio™ and Aino™ really are unrivalled media experiences in sleek high quality designs.

"What makes Satio™ desirable is that it is a stylish phone that has all the media content anyone could want in one place, as well as so many outstanding features, for example the High Definition intuitive three and a half inch touchscreen, the best 12.1 megapixel camera phone available and a top music player."

The entertainment experience on Satio™ can be further personalised with exclusive content from PlayNow™, with applications, music, movies and games available by dual download to both a computer and mobile phone.

Alexandre Cardon, Marketing Business Manager at Sony Ericsson, added: "Sony Ericsson has established itself as THE Communication Entertainment brand and Aino™ highlights our commitment to bringing the latest communication technology to the market in fun and innovative ways for consumers to enjoy."

"Media Home and Remote Play with PlayStation®3 are key steps in broadening the entertainment experiences users can enjoy on their Sony Ericsson phone and gives a taste of our vision of the future."

Aino™ is also an impressive music device. Tracks and podcasts sound crystal clear on Aino™ with a Clear audio experience. The easy-to-use music controls and FM radio offer more freedom on the move for music perfection whenever, wherever. You can also snap away to perfect photos every time, with the impressive 8.1 megapixel camera, featuring face detection, Geo tagging, photo flash and auto focus."

Boilerplate Statements

Aino™

• Sound and vision set free

• The best of both worlds: traditional keypad and touch UI in media mode

• Media Home and Media Go – simple to take your content with you

• Remote Play with PlayStation®3 – control and access your PlayStation®3 media content from your mobile phone

• 3 inch 16 million colour screen – WQVGA

• Clear audio experience – listen to music in superb quality

• Design matched Wireless Stereo Headphone MH100 and Charging Stand EC100

• Aino™ supports GSM/GPRS/EDGE 850/900/1800/1900 and UMTS/HSPA 850/1900/2100

• Aino™ will be available in the colours Obsidian Black and Luminous White

Satio™

• Visual communication like never before

• True 16:9, 3.5 inch widescreen – feast your eyes on movies

• Express yourself through images – 12.1 megapixel camera, intuitive touch focus, Xenon flash and face and smile detection

• Web albums with messages – talk through pictures and share your experiences

• Intuitive full touch media menu – tap directly into your favourites, from web pages to pictures and media files

• Symbian Foundation operating system – thousands of applications available online

• Music player – play your tunes loud and proud

• To make your listening experience even better, team Satio™ with the smallest headset on the market, the Wireless Stereo Headphones HBH-IS800 to listen in crystal clear sound

• Alternatively, maximise the mobile video experience with the Video Viewing Stand IM920. Transfer all media files via the Micro SD card or USB cable

• Satio™ supports GSM/GPRS/EDGE 850/900/1800/1900 and UMTS/HSDPA 850/900/2100

• Satio™ will be available in the colours; Black, Silver and Bordeaux