Sony drops PS Vita 3G to $199 in some US Sony Stores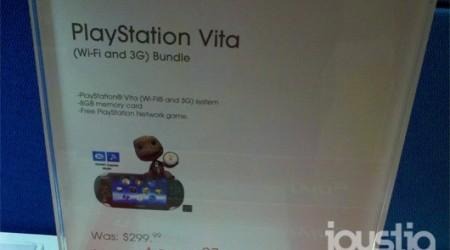 On February 18, Sony dropped the price of its PS Vita in Japan to 19,980 yen ($212) due to lackluster sales. According to the folks over at Joystiq, the price drop has reached parts of the US, with Sony Stores across the nation offering the PS Vita 3G for $199.97. The price is not reflected online, however, and various information was given around the drop.
According to JoyStiq, they called every Sony Store that was open, and nearly all of them have the PS Vita 3G for the discount price as part of a bundle that includes an 8GB memory card and a free PlayStation Network game. Only a handful of stores said they didn't have it for the discount price, and the price change is not reflected online.
When asked about why the price had dropped, various stores had different explanations. Some said that the PS Vita is being discontinued and so the price drop is permanent as a result. While some stores didn't have a time frame listed for the discount, a store in Seattle said that the price drop was temporary and would disappear this coming Sunday.
Needless to say, Sony hasn't said anything about the discount, not surprising considering that its website doesn't reflect the price drop. Regardless, if you're in the market for a PS Vita 3G, call up your local store and ask if they're having the sale. Stores throughout Los Angeles, as well as Orlando, Tampa, Houston, and Seattle, for example, are all offering the discount.
[via Joystiq]