Sony's unusual Digital Paper, a 13.3-inch tablet that pairs an e-paper touchscreen with a digital pen, has seen a rare discount ahead of back-to-school season. Announced earlier this year, the second-generation Sony tablet – DPT-RP1 – targets those who want to take their notes digitally, but much prefer the reading and writing experience of paper.
That's done with some special treatment for the digital paper panel. A non-slip coating gives the feel of a pencil or pen on paper, while it also makes the screen glare-free. As with an ereader, using the tablet in direct sunlight shouldn't be an issue, either, since there's no backlight to wash out.
Sales in the US kicked off back in May, however the not-inconsiderable price tag of $700 limited just how many bags and briefcases the Digital Paper could make its way into. Now, though, Sony is running a limited time promotion on the 13.3-inch Digital Paper. In fact, you can now pick one up for $599.99.
The $100 saving on the DPT-RP1 will run between now and August 25, Sony says. It brings the price of the 13.3-inch model down to what you'd usually pay for the 10-inch Digital Paper – which sadly isn't eligible for the same discount – despite giving you a whole lot more screen real-estate to play with.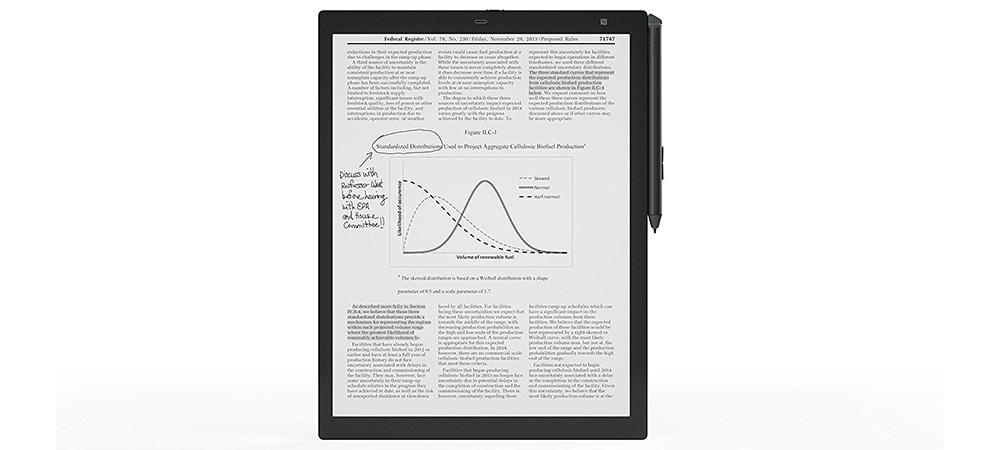 For your money, you're getting an 8.5-inch by 11-inch high-contrast display, running at a heady 1650 x 2200 resolution. Inside, there's 16 GB of storage, which Sony says is enough for up to 10,000 typical PDFs. The battery can run for up to three weeks on a charge.
You can navigate either by touching the screen with a fingertip, since it's a capacitive touchscreen too, or using the included stylus to annotate and make handwritten notes. Files can be loaded via USB, or transferred over WiFi or Bluetooth. There's also synchronization support for various online cloud services, including Google Docs and Dropbox.
The whole thing is about as thick as thirty sheets of paper stacked. While it's not going to replace a tablet like an iPad Pro for many people, those who want a digital alternative to a standard paper notepad may find a lot to their liking.
SlashGear uses affiliate links, and sometimes if you buy something we may receive a small commission on the sale