Sony D6503 leaked photos point to a familiar Xperia Z1 design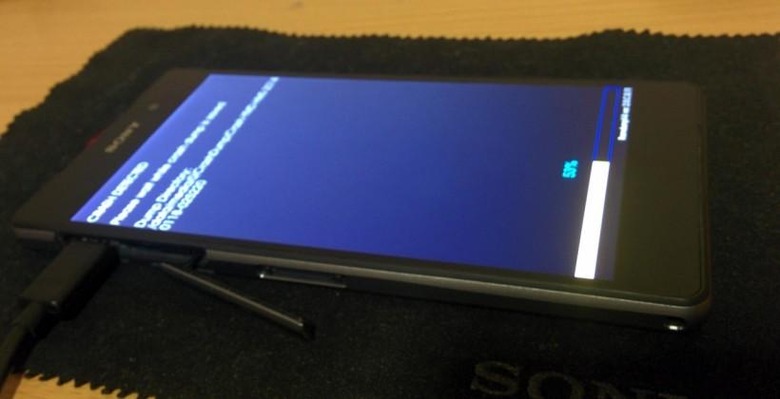 Sony has just announced at CES 2014 the Xperia Z1S and Xperia Z1 Compact, both based on the company's flagship smartphone. Now it seems that a new model, currently called the Sony D6503, is on the way and also bears some resemblance to the Xperia Z1, with a few minor alterations.
The Sony Xperia Z1 represents the electronics manufacturer's current highest standards for a smartphone, not only in terms of hardware and software but also in design. And it seems to work quite well for consumers so it is no wonder that Sony would want to play around with that a little bit longer. The Xperia Z1S is practically the same Xperia Z1, with a new name and marketed exclusively to T-Mobile subscribers in the US. The Xperia Z1 Compact, on the other hand, is pretty much a miniature Xperia Z1.
Much of this rumored Sony D6503 is still a mystery but, based on this set of leaked photos, it seems to continue the tradition of using the Xperia Z1 design. You even have the dedicated camera shutter button that Sony has revived in its flagship. There are, however, a few key differences, particularly on the location of some of the slots on the sides.
On the left side of the device are the SIM card slot and USB port. Both openings are covered by a single magnetic flap. On the right side one will have access to the microSD card slot, also covered by a magnetic flap. In contrast, the Xperia Z1's SIM card is located on the right side alone, while the left side houses the USB port and the microSD card slot, each possessing its own flap cover. Whether this new arrangement makes sense remains to be seen.
Another key difference is that the Sony D6503 is said to have a larger 5.2-inch display, but the pixel resolution is still unknown at this time. It is also believed to have the same 20.7 megapixel rear camera also found on the Xperia Z1. The Sony D6503 is expected to also be thinner than the 8.5 mm of the Xperia Z1, though we'll have to wait for an actual device to verify that claim.
VIA: Xperia Guide, XDA