Sony Cyber-Shot QX100 Detailed For September Release As Lens Camera Flagship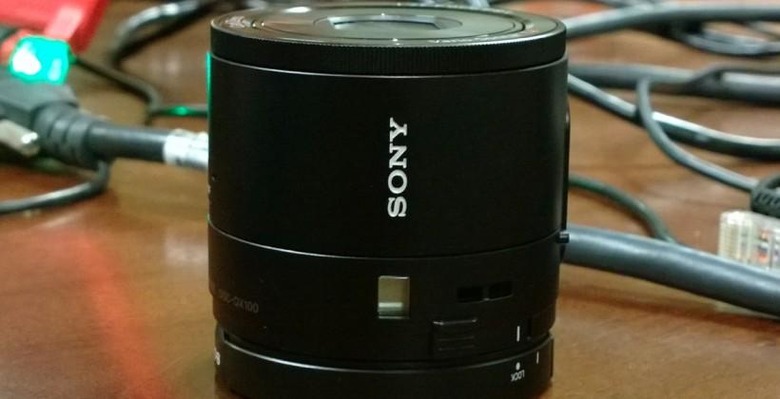 This week the team at Sony have revealed two new "Lens-Type Cameras", the larger of these being the Cyber-shot QX100. This device comes with a 1-inch 20.2-megapixel Exmor RCMOS sensor identical to that of the sensor found in the Sony Cyber-shot RX100 II, delivering "exceptionally detailed" shots in all manner of lighting conditions – day or night. This camera also works with a Carl Zeiss Vario-Sonnar T lens with no less than a BIONZ image processor inside.
The Cyber-shot XQ100 – as it is with the Sony Cyber-shot QX10 – works with or without a companion smartphone or tablet device. It's made to be a camera without the camera, acting as a lens for photography and taking video all on its own – but of course it's marketed to be attached to your Android or iPhone device. While you'll see this Lens Camera attached to a couple of Sony Xperia Z-family devices in the press photos below, you should take note that it also works with a wide variety of Android devices and both the iPhone and the iPad.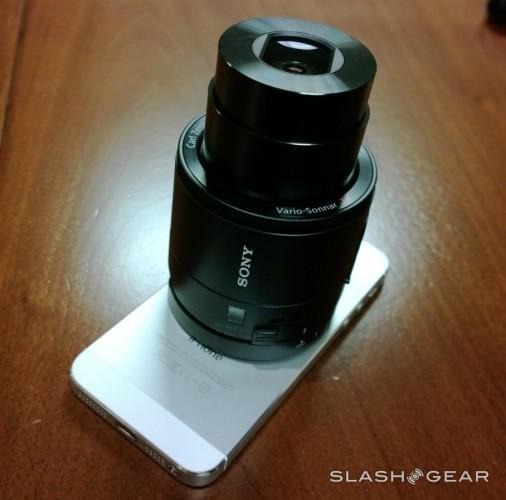 The QX100 is employed with a dedicated control ring and physical shutter button. This allows manual focus, zoom, and the snapping of shots. You'll find automatic recognition of 44 different shooting conditions with the Android or iOS companion app (PlayMemories Mobile) while Aperture Priority and Program, Intelligent, and Superior Auto modes are also available.
"With the new QX100 and QX10 cameras, we are making it easier for the ever-growing population of 'mobile photographers' to capture far superior, higher-quality content without sacrificing the convenience and accessibility of their existing mobile network or the familiar 'phone-style' shooting experience that they've grown accustomed to.

We feel that these new products represent not only an evolution for the digital camera business, but a revolution in terms of redefining how cameras and smartphones can cooperatively flourish in today's market." – Patrick Huang, director of the Cyber-shot business at Sony
The QX100 also has a built-in tripod screw hole for remote mounting – with this setup you'll be able to (for example) set the camera up on a tripod, center your family by looking at the remote viewfinder on your camera, and snap a shot from the palm of your hand (as you're standing in the center of the shot). Suddenly you only have to take one photo with your extended group of relatives rather than 5 or 20!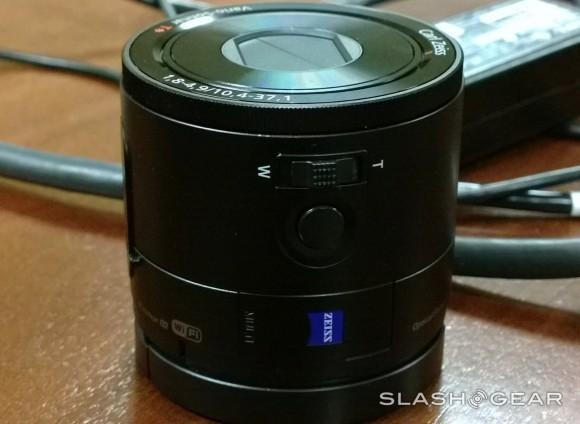 This device works with still image ISO ranges as follows: ISO160-6400(iAuto), ISO160-25600(Superior Auto), ISO160-3200(Program Auto), ISO160-3200(Aperture Priority) while video recording ISO stands like so: Auto: (ISO160-3200 level). White balance modes range from Daylight to shade to cloudy, warm white, cool white, day white and daylight fluorescents, cold temperature light, and incandescent. Aperture is ready to roll at iAuto (F1.8/F11), Program Auto (F1.8/F11), and Aperture Priority (F1.8/F11).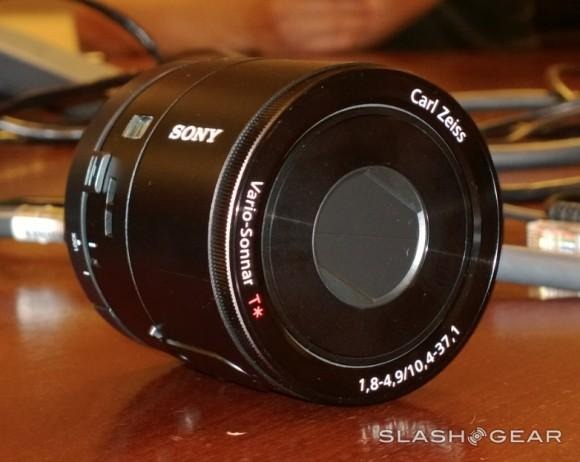 While it's not immediately clear if this device will have any built-in storage space, Sony does affirm that you'll want to grab a Memory Stick Micro (original or Mark2) or any of the following microSD card types: SD, SDHC, or SDXC (aka maximum size 64GB). With onboard storage in place, you'll be able to snap photos and take videos that are stored both on your smartphone and the Lens Camera at the same time.
Sony suggests that with the built-in battery on the QX100 you'll be able to shoot about 220 photos over the course of 110 minutes without a problem. Of course we'll need to test the device out ourselves to make sure we're bringing on the real heat to let you know our perspective as well – sooner than later!
This device measures in at 2.5 x 2.5 x 1 5/16 inches and weighs in at right around 3.7oz., significantly larger than its companion, the QX10. These devices will be delivered at $250 USD (for the QX10) and $500 USD (for the QX100) by the end of September. While we've not quite gotten a full list of markets these devices will be released in first, the dollar signs next to the cash amounts suggest they'll be hitting the USA in the first round.
The images you see in this post (where not obviously Sony-provided press photos) were taken by SlashGear at an extremely brief engagement with the QX100 and a variety of other Sony devices. As such, we'll be bringing you a full hands-on experience when we've had ample time to test this and the other Sony Lens Camera at length. Stick around and see how they do in field tests galore!