Sony Cyber-Shot QX10 Detailed For Release By Late September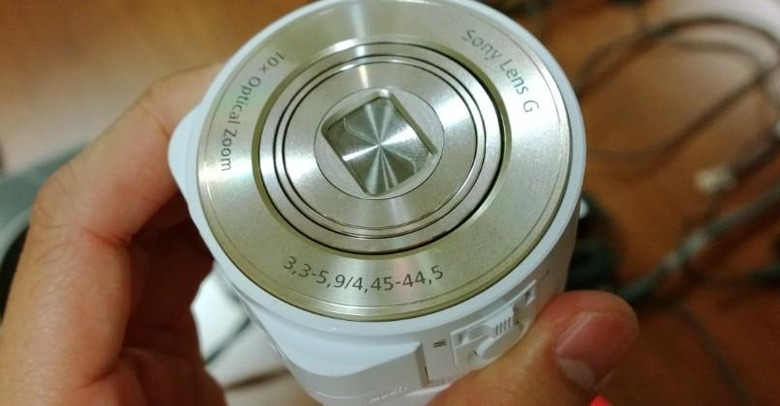 One of two new "Lens-Type Cameras" to be revealed this week is the Sony Cyber-shot DSC-QX10, coming in with an 18.2-megapixel Exmor RCMOS sensor and a Sony G Lens with 10x optical zoom. This is the smaller of the first two Lens Cameras to be revealed by the manufacturer, this device (obviously) also the more easily portable of the pair. This device weighs in at less than 4 ounces and measures in at 2.5 x 2.5 x 1.3-inches.
This device works with an Sony G 9-element in 7-group lens (this including 4 aspheric elements) with F3.3(W) – 5.9(T) and focal length at 4.45 – 44.5 mm. This lens works with a segment LCD display on its side for basic control options, while it depends greatly on a companion device of the user's choosing to show said user what it's photographing of filming. You'll be able to work with optical SteadyShot, Multi-point AF focus, and Multi-pattern light metering.
The Cyber-shot QX10 works with a BIONZ imaging processor and works with ISO as follows: ISO100-3200(iAuto), ISO100-12800(Superior Auto), ISO100-1600(Program Auto). While those ISO numbers are true for still images, video recording makes ISO ranges with this model ring in at Auto: (ISO100-1000 level).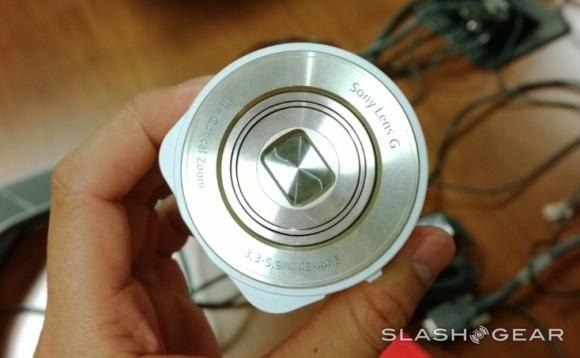 While at the moment it does not appear that this model Lens Camera works with any internal storage, you will be able to work with Memory Stick Micro (standard and Mark2), microSD, SDHC, and HDXC memory cards for memory expansion. This memory will allow you to record to both the Lens Camera and the smartphone or tablet you're connecting with wirelessly.
With the internal battery inside this device, Sony suggests that you'll be able to get approximately 220 photos taken over the course of 110 minutes – that's if you're rapid-firing, of course. We'll have to see how well this device holds up once we've gotten our own review device in the near future.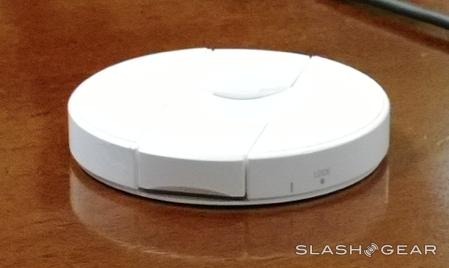 This Cyber-shot QX10 lens-style camera will be available by the end of September with a release range that's not yet been solidified publicly by Sony. While the larger QX100 lens camera will ring in at $500 USD (and you'll see why in the detail post in the timeline below), the QX10 will cost you $250 USD. Compatible accessories for the QX10 include a soft carrying case, Sony Xperia Z-compatible dedicated smartphone attachment, and wrist strap (though the strap comes with the original package, of course).
The photos you're seeing above and below are images of our limited-time engagement with the Sony Cyber-shot QX10 lens-style camera – so limited that we'll be presenting a much more full hands-on experience for you when we've got enough material that we're comfortable bringing you the whole show.