Sony CX7000ES 400-disc Blu-ray changer coming soon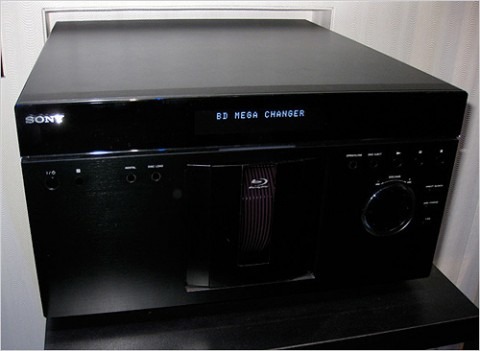 Sony's huge Blu-ray mega changers could soon be hitting the market, offering what's expected to be 200 and 400 disc capacity.  Demonstrated back at CEDIA, the monster multi-disc systems are expected to be the Sony BDP-CX960 and BDP-CX7000ES (where ES stands for Elevated Standard).
The CX960 is expected to hold 200 Blu-ray discs, while the CX7000ES will be the bigger model, gobbling up a full 400 discs.  Full specifications are unknown, but the systems are HDNA compliant; Sony will likely add Profile 2.0 support and perhaps even a hard-drive, as with their existing HES-V1000 200 disc changer.
Sony themselves are yet to confirm any launch date, but the CX7000ES has already been listed on a Swiss retail site.  They're advertising the 400-disc behemoth for 2,509.45 CHF ($2,250), which makes it a very expensive – but very attractive for HD fans – A/V component.