Sony confirms Hirai not rising to President, not yet at least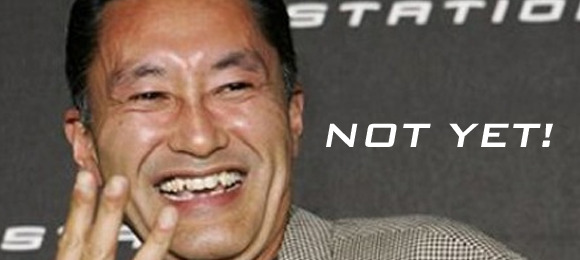 Earlier today the report was that Sony's Executive Deputy President Kaz Hirai was being lifted up to President, but as reports were not confirmed, so too did the report reflect – now Sony has reached out to the press to assure us all that this simply isn't the situation, but without a formal denial that it COULD happen in the future. The original report came from Japanese news service Nekkei which sited unnamed sources. This report is reinforced by a comment given to Bloomberg this past November which had Sony Chairman and Chief Executive Officer Howard Stringer noting he'd not be going anywhere any time soon.
Reports still remain untarnished that Stringer, currently age 69, would probably retire in or around 2013, at which point Hirai would, in fact, take over. Until then though, we're still just guessing. The original report had the switch happening inside February of 2012, with Hirai set to turn around the Sony TV business the way he was credited in turning around the gaming devision in recent years.
Sony also recently sold its share in a Samsung S-LCD joint venture, this happening last month. This is in addition to large losses inside its most recent reported quarter, totaling up to !$1.15 billion before its all said and done. We'll await additional reports as the next couple of Sony-filled years unfold.
[via Bloomberg]