Sony BRAVIA S4000-series for smaller HDTV fanciers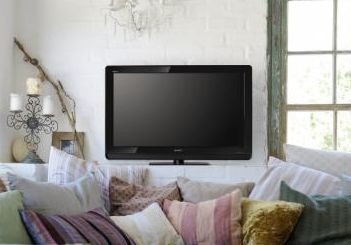 Sony have announced their latest HDTV range, the S4000-series, that promises to bring BRAVIA technology to smaller rooms.  Available in four sizes – 26-inch, 32-inch, 37-inch and 40-inch – with the largest offering a full 1080p high-definition panel, each has three HDMI sockets and integrated DMB digital TV tuner.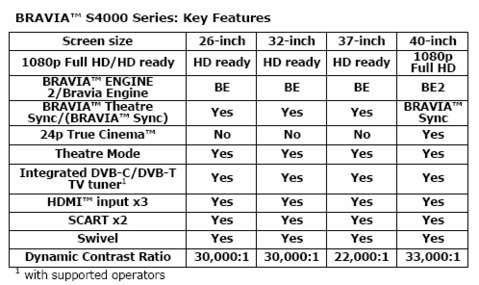 While the three smaller sizes may not offer full 1080p, they still have the coveted BRAVIA ENGINE image processing technology and BRAVIA Theatre Sync to make connecting up other Sony hardware straightforward (and allow control from a single remote).  Contrast ranges from 30,000:1 for the 26 and 32-inch sets, to 22,000:1 for the 37-inch and 33,000:1 for the 40-inch.  The largest screen also supports 24p True Cinema.
Although pricing is yet to be announced, Sony are hoping to save you some money on your electricity bills with an auto-shut-off function when the screen is not being used, standby power draw of 0.19 Watt (for the 40-inch model) and a dynamic light sensor which adjusts the backlight to suit the ambient brightness. 
Press Release:
Great HD pictures that everyone can enjoy

The eye-catching new BRAVIA™ S4000 series

o Four screen sizes up to 40-inch

o Innovative 'soft-line' styling inspired by new 'draw the LINE'

design concept

o 1080p Full HD*

o BRAVIA™ ENGINE 2* for superb image detail and colour

o 24p True Cinema™ mode*

*40-inch

Now everyone can experience better-looking movies, games and TV in

superb HD with the BRAVIA™ S4000 series LCD TV from Sony.

Available in four screen sizes (26-inch, 32-inch, 37-inch and 40-inch), the

S4000 series is a family-focused all-rounder that teams fabulous picture

quality with great looks.

The S4000 series showcases Sony's innovative new 'draw the LINE' design

concept. This beautifully inspired, pared-down styling philosophy

enhances the total TV viewing experience without distracting from what's

on the screen. The cabinet features a deep piano black finish, with clean,

understated lines complemented by gently-rounded curves. There's also a

swivel base that allows instant screen angle adjustment to suit viewers

anywhere in the room.

The S4000 series delivers pristine, detail-packed images with any HD

source, including Blu-ray Disc™ players, PLAYSTATION®3 or Handycam®

HD camcorders by Sony. There's also an integrated DVB-C/DVB-T tuner1

for enjoying standard definition TV broadcasts.

The largest (40-inch) screen size model features a 1080p Full HD panel.

It's complemented by latest-generation BRAVIA™ ENGINE 2 signal

processing technology for pictures with breathtaking detail, contrast and

true-to-life colour. Other HD Ready models (26/32/37-inch) offer superb

image quality thanks to BRAVIA™ ENGINE technology. The LCD panel

offers a very high dynamic contrast ratio of up to 33000:1 ensuring deep,

cinema-like blacks plus sparkling highlights.

24p True Cinema™ mode (40-inch) displays movies from Blu-ray Discs™

at the correct frame rate as intended for theatrical presentation. This

ensures a more authentic home cinema experience, with the action

playing at exactly the right speed as the director intended.

BRAVIA™ Theatre Sync activates your complete home theatre system

with a single touch of your DVD or Blu-ray Disc™ player's 'Play' button.

BRAVIA™ Sync (40-inch) also allows simple on-screen control of other

devices like connected Handycam® camcorders using your television's

remote.

All models offer three HDMI sockets, allowing one-cable connection with a

wide range of HD sources including PLAYSTATION®3, Blu-ray Disc™

players and Handycam® HD camcorders.

"The gently curved lines of the BRAVIA™ S4000 offer a fresh new take on

styling that enhances any living room", says George Damigos, General

Manager, Marketing, TV Operations Europe, Sony Europe. "Looks aside,

the S4000 series is a great value way for everyone to enjoy fabulous HD

pictures and sound without compromising on serious features and

performance." 

As with all BRAVIA™ TVs the S4000 series is very energy efficient.

The Auto shut-off function automatically turns off the TV when there

is no input signal and enters the standby state. This also happens when

there is no operation during a certain period of time. The Power

Consumption on Standby mode is only 0.19 watt (40-inch size). All cover/

housing parts >25g are halogen-free, as well as the printed circuit

boards. The S4000 series also gives the user a choice of "home" or "shop"

modes on first switch-on, with "home" mode having significantly less

power consumption than "shop" mode, which is typically the only default

setting (intended for very bright environments like shops).

Using an integrated light sensor, the BRAVIA™ S4000 series can

automatically measure ambient lighting levels and dynamically adjust the

brightness of the TV, which helps to reduce power consumption in

operation.