Sony Announces New Handycam NEX-VG20 Full HD Camcorder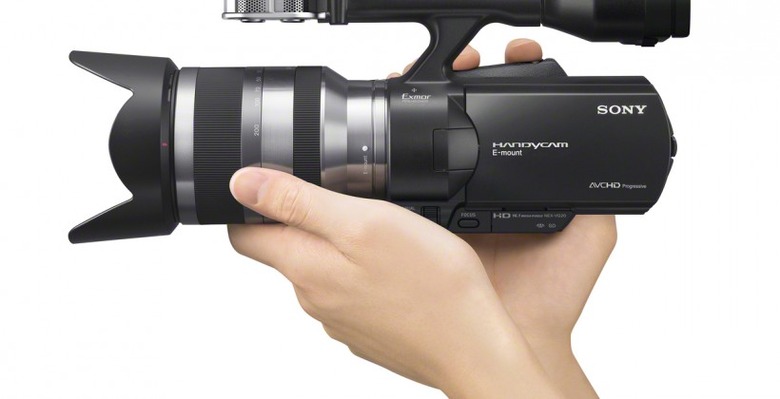 In addition to the four new cameras announced this morning, Sony has also introduced a new Handycam full HD camcorder called the NEX-VG20. Its predecessor, the NEX-VG10, was Sony's first consumer model to offer interchangeable lenses. This latest version adds several improvements including more comprehensive manual controls, enhanced ergonomics, better imaging quality, and upgraded sound.
The NEX-VG20 can shoot full HD video in the AVCHD format at progressive frame rate speeds of both 24p and 60p. Footage shot at 24p can be enhanced with Cinema Tone Gamma and Cinema Tone Color for a richer and more cinematic look. Still images can now be taken at a resolution of 16.1 megapixels with RAW format support.
The ergonomics have been refined with more manual controls that are situated conveniently for smooth operation. A 3-inch LCD Xtra Fine LCD display with TruBlack technology provides clea, high contrast images and rotates up to a 270-degree range for easy viewing.
The camcorder now offers a new audio level control and its precision Quad Capsule Spatial Array Microphone now supports stereo and 5.1 channel surround sound. It comes with the SEL18200 f3.5-6.3 E-mount lens and with an adapter can also work with Sony's A-mount optics. The NEX-VG20 will be available this November with the lens mount kit retailing for $2,199, while just the body itself will be $1,599.