Sony Alpha A35: 16.2MP continuous-autofocus DSLR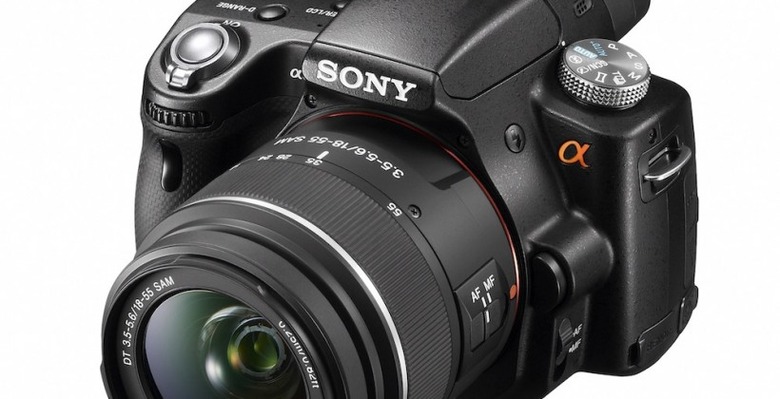 Sony's NEX-C3 isn't the company's only new camera today; there's also the Sony α35, a 16.2-megapixel DSLR replacing the A33. Using the same Exmor APS HD CMOS as the C3, the A35 can shoot 1080i HD AVCHD movies and up to ISO12800 shots, using its full-time, continuous autofocus system thanks to Sony's translucent mirror technology.
That system, which debuted on the A33, means the A35 can fire off shots while the autofocus system is still operating, rather than locking the focus and then shooting burst photography. It's joined here with Tele-zoom High Speed Shooting, where a center portion of the image is magnified by 1.4x with up to 7fps continuous rates. Full-resolution burst speed is 5.5fps.
There's the same Picture Effect in-camera editing system as on the NEX-C3, a battery good for up to 440 shots on a full charge, and compatibility with Sony's 32-strong A-mount interchangeable lens line-up. A 3-inch preview display and both Memory Stick and SD card support round out the key specs.
The Sony Alpha A35 will go on sale in August 2011, priced at $599 body-only or $699 with Sony's 18-55mm lens.
Press Release:
Sony introduces α35 (SLT-A35) with Full-time Continuous AF powered by Translucent Mirror Technology

Light, compact camera with 16.2 effective megapixels and new in-camera 'Picture Effect'

16.2 effective megapixels Exmor™ APS HD CMOS sensor

Exclusive Translucent Mirror Technology by Sony for high- speed, full-time continuous AF with stills and AVCHD movies

Up to 7fps in Tele-zoom High Speed Shooting mode with approximately 1.4x magnification

Ultra-high quality, low noise images with up to ISO 12800

In-camera 'Picture Effect' enhances stills or HD video

Light, compact and easy to use, the new α35 (SLT-A35) by Sony brings pro-style shooting speeds and generous creative options to photographers of all abilities.

As introduced on the acclaimed α33 and α55, Translucent Mirror Technology by Sony allows high-speed shooting with responsive, accurate continuous autofocus – whether you're shooting stills or Full HD movies.

Making its debut on the α35, Tele-zoom High Speed Shooting magnifies a central portion of the image area to give an effective approximately 1.4x magnification while you shoot at up to 7 fps. Providing continuous tracking autofocus of still or moving objects, it's ideal for capturing fast-moving sports, children's faces or distant subjects with a high-speed burst of frames. There's also a rapid 5.5 fps drive mode that offers full-resolution continuous shooting with tracking AF.

With a resolution of 16.2 effective megapixels, the newly-developed Exmor™ APS HD CMOS sensor delivers stunningly detailed, low-noise still and HD video images. Complementing the sensor's extremely high resolution and sensitivity, the powerful BIONZ processor cleans and optimises image data to assure flawless images with rich, natural colour reproduction. With a maximum sensitivity of ISO 12800, it's possible to capture beautifully natural still images and HD video in low light where other cameras struggle.

Advanced Quick AF Live View continuously displays a real-time output from the main image sensor during still- or Full HD video shooting. Light is partially directed from the translucent mirror to an AF sensor to permit non-stop precision TTL phase-detection autofocus – a benefit that's not possible with traditional DSLR cameras.

Whether you're shooting stills or AVCHD video, you'll enjoy a superbly detailed view on the high-quality Xtra Fine LCD. TruBlack technology assures high-contrast images with rich, deep blacks – even if you're shooting outside.

The high-resolution Tru-Finder offers a precision alternative to framing shots on the camera's LCD. Offering an extremely detailed, high contrast image with full 100% field coverage, it's ideal for live preview of picture effects and exposure adjustments. Accurate composition of landscapes, architecture and other scenes is enhanced by switchable grid lines.

Aside from its powerful imaging possibilities, the α35 is refreshingly accessible, even for photographers stepping up to their first interchangeable lens camera. The on-screen Help Guide gives a clear explanation of selected functions and how they're used.

More advanced photographers, meanwhile, will welcome the top panel-mounted customisable button that allows instant recall of any of 14 frequently-used functions.

The α35 offers a new in-camera 'Picture Effect' setting that lets users add extra impact to stills or HD video during shooting, without the worry of editing images afterwards. Effects can be previewed on the camera screen, allowing photographers to see the result of a chosen effect instantly rather than post-shooting. The inspiring palette of artistic treatments includes Retro Photo, High-key, Toy Camera and Posterisation.

It's also easy to produce dramatic Partial Colour effects, with a single colour picked out against the rest of the image in monochrome. This popular effect normally takes a series of painstaking steps to achieve with photo editing software: with the α35 it's both automatic and instant.

Refinements in power consumption now boost the camera's shooting stamina to a generous 440 still shots (approx. when using the rear LCD panel) between battery charges – that's a 30% increase over its predecessor. The α35 is compatible with the full range of 32 A-mount interchangeable lenses from Sony that includes six Carl Zeiss lenses.

Version 2.00 firmware update for α33, α55

Available from June 20th, a firmware upgrade for existing α33 and α55 cameras by Sony adds several creative and operational enhancements.

Support for the 'Picture Effect' function featured on the new α35 is now offered. High-Speed Synch is supported during wireless operation with a compatible external flash (only α55). Ergonomics are further improved with revised menus and a new mode that lets users switch off shooting parameters overlaid on screen for clear, uncluttered composition. The camera's Digital Level Gauge can also be displayed when shooting via the optional CLM-V55 external LCD monitor. Frequently used features can now be custom-assigned to the D-RANGE button for rapid, menu-free access.

Available free to registered users, from the 20th of June the latest Version 2.00 firmware update for α33 and α55 can be downloaded from:

A33

Windows:

MAC OS:

A55

Windows:

MAC OS:

Memory Stick™ PRO-HG Duo HX

Available from May in capacities up to 32GB, the range-topping Memory Stick™ PRO-HG Duo HX now boasts blazing data transfer speeds of up to 50MB/second. The fastest-ever Memory Stick is optimised for sustained burst shooting with today's A-mount and E-mount cameras from Sony. New HX Engine technology by Sony ensures stable, ultra-rapid read/write performance, especially with large files.

The new α35 digital camera with Translucent Mirror Technology by Sony is available from August 2011.