Sony A55 and A33 Translucent Mirror DSLRs: smaller, faster & continuous focus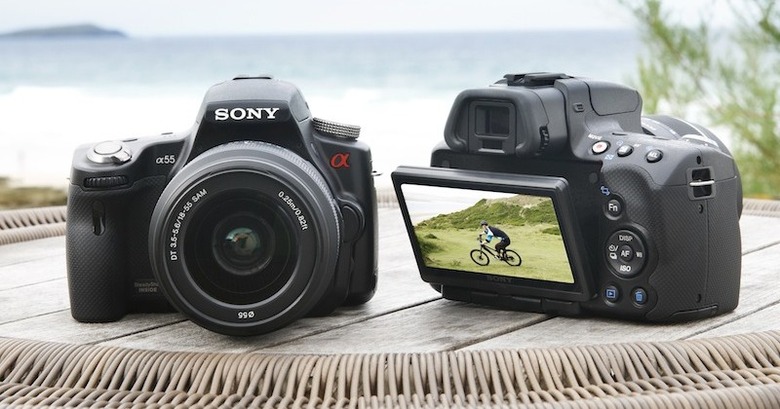 It's not just the A580 and A560 that Sony is unveiling today; the company also has a pair of new DSLRs using its Translucent Mirror Technology, the 16.2-megapixel A55 and 14.2-megapixel A33, to show off.  The new system trims things down by using a fixed, translucent mirror that splits the optical pathway between the main image sensor and a separate phase-detection autofocus sensor.  Not only does that allow for a smaller camera, but it also means live image previews and phase detection autofocus are available all the time, both via the viewfinder and the adjustable 3-inch LCD display.
Meanwhile there's also 10fps capture (in the A55; the A33 gets up to 7fps) and Full HD video recording in AVCHD format, with the A55 and A33 each able to use autofocus while shooting footage.  The Auto HDR, 3D Sweep Panorama and multi-frame noise reduction are carried over from the A580 and A560, along with 15-point phase-detection autofocus.
Storage is via either Memory Stick PRO Duo or SD/SDHC/SDXC memory card, and each new Alpha is compatible with over 30 A-mount interchangeable lenses and offers SteadyShot INSIDE in-body image stabilization.  They'll both go on sale from September 2010.
Press Release:
Camera speed redefined: Sony introduces first Translucent Mirror Technology digital cameras Light, compact α55 and α33: up to 10fps shooting with high-speed AF tracking and Full HD movie

• α55 (SLT-A55V) (16.2 megapixels) and α33 (SLT-A33) (14.2 megapixels)

• Ultra-quick shooting up to 10fps with fast, precision phase detection AF

• First ever Quick AF HD Movie with smooth, continuous autofocus during video shooting

• Enhanced Quick AF Live View and 7.5 cm (3") free-angle LCD, plus Tru-Finder (Electronic Viewfinder) with 100% coverage

• Advanced imaging functions including 3D Sweep Panorama, Auto HDR and multi-frame noise reduction

The α (pronounced Alpha) family of interchangeable lens cameras from Sony grows with the compact, ultra-responsive new α55 and α33.

Sony's first-ever digital cameras to employ Translucent Mirror Technology showcase an innovative optical system that opens up dramatic new shooting possibilities. In contrast with conventional DSLR cameras, Translucent Mirror Technology uses a fixed, translucent mirror that 'splits' the optical pathway between the main image sensor and a separate phase-detection autofocus sensor.

High-resolution live image preview with rapid, accurate phase detection autofocus is thus available at all times – either via the angle-adjustable 7.5cm (3") LCD or precision Tru-Finder (electronic viewfinder). This also ensures that even moving objects stay in sharp focus at all times, whether you're shooting Full HD video or stills.

Translucent Mirror Technology overcomes other traditional limitations of DSLR models, with its simplified mechanical design shrinking camera size and complexity. This makes the α55 and α33 a compelling choice for casual photographers who want to capture spontaneous family moments and travel scenes with less to carry.

Full-resolution shooting at up to 10fps with precise AF tracking

Ground-breaking Translucent Mirror Technology allows high-speed shooting with the α55 at up to 10fps (α33: 7fps) in Continuous Priority AE mode. This represents the world's fastest burst continuous AF shooting performance of any interchangeable lens camera with an APS-C size sensor.

A newly developed 15-point phase-detection autofocus system assures rapid, accurate AF tracking, keeping even moving subjects in sharp focus during continuous shooting. This enables the α55 and α33 to capture split-second action or fleeting nuances of expression with portrait subjects.

World's first Quick AF Full HD movie shooting 1

The large sensor size Exmor™ APS HD CMOS Sensor inside both cameras lets photographers capture stunning, cinematic HD video footage with beautiful background defocus (bokeh) effects.

Theα55 and α33 also mark the debut of Quick AF Full HD movie shooting. Translucent Mirror Technology enables AVCHD 1080i video shooting with smooth, precise phase detection AF tracking of moving subjects. Real-time video image preview is now possible via the viewfinder – in contrast with DSLR cameras where the raised mirror prevents light from reaching the optical viewfinder during video shooting.

Effortless composition and image viewing

Theα55 and α33 enable exciting new possibilities for framing and viewing highest-quality video and still images. Already prized by step-up DSLR users and enthusiasts alike, Sony's Quick AF Live View system is now more effective than ever. High-resolution live image preview is teamed with uncompromised phase detection AF performance – even with rapidly-moving subjects.

Tilting and swivelling freely (to maximum 270 degrees) for comfortable framing at any shooting angle, the bright 7.5 cm (3.0") (16:9) Xtra Fine LCD offers superb detail and contrast.

There's also a precision electronic viewfinder with 1.15 million dot resolution that delivers a clear, bright image with 100% frame coverage. Adjustments to exposure, depth of field and colour can be previewed instantly, either in the viewfinder or on the LCD. Effortless composition is aided further by switchable grid line in the finder and LCD screen, plus a new digital levelling gauge.

Enriched creative possibilities

Theα55 and α33 are compatible with the full range of over 30 A-mount interchangeable lenses and offer SteadyShot INSIDE. This in-body image stabilisation system provides up to 4 exposure steps of anti-shake correction when shooting handheld.

Both cameras also feature 3D Sweep Panorama, allowing photographers to capture detail-packed extra-wide panoramas with a huge field of view. 3D panoramas can be enjoyed on any compatible 3D HD television. The SLT-A55 is also the first α camera by Sony with integrated GPS, allowing automatic geo-tagging of images and video clips.

The new-generation Exmor™ APS HD CMOS Sensor inside both cameras supports a sophisticated range of digital image compositing and processing functions. This gives even greater artistic possibilities to beginners and photo enthusiasts alike.

Auto HDR is now refined further compared with previous-generation α models. Data from a burst of three frames at bracketed exposure values is automatically combined, creating a single image with extended highlight and shadow detail Multi-frame Noise Reduction 'stacks' a high-speed burst of six frames, creating a single low-noise exposure that boosts effective sensitivity as high as ISO 25600.

The new cameras accept both Memory Stick PRO Duo™ (including Memory Stick PRO-HG Duo™) and SD (including both SDHC and SDXC formats) media (all sold separately). Memory Stick PRO-HG Duo HX 30MB per second transfer rate offers the best performance during cameras' continuous shooting mode or when transferring the data to another media.

The newα55 and α33 Single Lens Translucent mirror cameras by Sony are available from September 2010.

*1 among consumer oriented interchangeable lens digital cameras as of 24.Aug

Key Features

SLT-Α55V / SLT-A33

Type

Interchangeable lens digital camera with built-in flash

Lens Compatibility

Sony α lens, Minolta and Konica Minolta AF lens

Image Sensor

A55:

Exmor™ APS HD CMOS 16.2 effective megapixels (approx.)

A33:

Exmor™ APS HD CMOS 14.2 effective megapixels (approx.)

Processor

BIONZ™ image processor

ISO Sensitivity Range

ISO 100 – 12800 (Extended: ISO 25600 in Multi Frame NR Mode)

Image Quality Modes

JPEG (fine, standard), RAW, RAW + JPEG

HDMI Connector and BRAVIA Sync

HDMI mini connector (Type C), BRAVIA Sync (Sync menu), PhotoTV HD

Image Size: 3:2 (pixels)

A55:

L size: 4912x3264 (16M)

M size: 3568x2368 (8.4M)

S size: 2448x1624 (4M)

A33:

L size: 4592x3056 (14M)

M size: 3344x2224 (7.4M)

S size: 2288x1520 (3.5M)

HD movie record

Quick AF Full HD movie with phase-detection autofocus

AVCHD: 1920 x 1080i (16:9)

MP4: 1440 x 1080 (16:9) / 640 x 480 (4:3)

Max record time: 29 mins

Electronic Viewfinder

Electronic Viewfinder "Tru-Finder" (Xtra Fine) (1.15 million dots effective resolution), with 100% frame coverage

Digital level gauge, shooting information and grid line display modes

LCD

7.5cm (3") TFT (Xtra Fine LCD) with 921k dot resolution; variable-angle tilt/swivel mechanism

Live View System

Quick AF Live View

SteadyShot INSIDE

YES

Anti-dust System

Coating on low pass filter, plus image-sensor shift

Focus Modes

AF/MF selectable

AF modes: Single-shot AF, Automatic AF, Continuous AF

Autofocus System

TTL 15-point phase detection AF system with 3 cross sensors

Exposure Modes

Programmed AE (AUTO, AUTO – Flash Off, P), Aperture priority, Shutter priority, Manual, Scene selection

Exposure Metering System

1200-zone evaluative metering

Exposure Metering Modes

Multi-segment, Centre-weighted, Spot

Scene Selection

Portrait, Landscape, Macro, Sports, Sunset, Night portrait/Night view, Hand-held Twilight

Creative Style Settings

Standard, Vivid, Portrait, Landscape, Sunset, B/W

Sweep Panorama

YES (2D and 3D)

Auto HDR

YES (available in P/A/S/M modes)

Shutter Speed

1/4000-30sec, Bulb

Exposure Bracketing

3 continuous exposures, in 0.3 or 0.7 EV steps

White Balance Settings

Auto / 6 presets / Colour Temperature/Colour Filter / Custom WB

Continuous Advance Shooting

A55:

Continuous Priority AE mode: up to 10fps with tracking AF

Continuous mode: Up to 6fps

*varies according to shooting conditions and memory card used

A33:

Continuous Priority AE mode: up to 7fps with tracking AF

Continuous mode: Up to 6fps

*varies according to shooting conditions and memory card used

Approx. no. of Shots

A55:

Approx. 330 images with viewfinder, approx. 380 images in live view mode (CIPA standard)

A33:

Approx. 270 images with viewfinder, approx. 340 images in live view mode (CIPA standard)

Built-in Flash

Auto pop-up, GN 12 at ISO 100, FOV coverage up to 18mm

Flash Modes

Flash-off, Auto, Fill-flash, Slow sync, Rear Sync., Wireless*, Hi-speed sync.*,

*With external flash HVL-F58AM, HVL-F56AM, HVL-F42AM, HVL-F36AM

Media

MemoryStick PRO Duo / PRO-HG Duo / SD memory card / SDHC memory card

Dimensions (WxHxD)

Approx. 124.4 x 92 x 84.7mm (W/H/D, excluding protrusions)

Weight

A55:

Approx. 441g (excluding battery, media and accessories)

A33:

Approx. 433g (excluding battery, media and accessories)