Sony admit NVIDIA GPU fault in multiple VAIO notebooks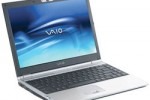 Sony have admitted that certain models of VAIO notebook may be affected by the notorious NVIDIA "bump" material issue, which can see the GPU overheat and eventually break completely.  The nine model types on Sony's list join the existing roll-call of faulty notebooks, which includes machines from Apple, HP and Dell.  In response, Sony are offering free repairs for affected VAIOs, and to extend the standard warranty (on the GPU alone) from the regular 12 months to four years in total.
Affected machines "may exhibit distorted video, duplicate images or a blank screen on the computer screen."  The full list of VAIO notebooks is below; however users can also go to Sony's support page for the issue and check their machine from there.
The news is unlikely to be welcomed by NVIDIA themselves, who have been significantly financially affected by warranty repair costs passed on from angry manufacturers.  The company recorded a charge of $196m last year, and more recently a further $119.1m in extra costs.