Sony Adds Bluetooth Streaming To Walkman Dock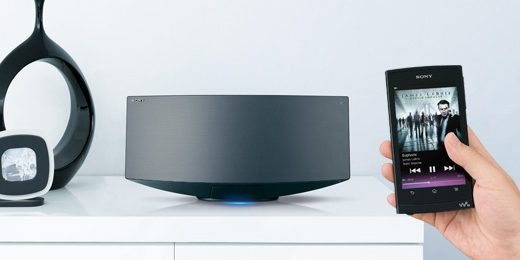 Sony may not have shown us the full majesty of its "Four Screens" strategy yet, but at least its new CMT-V70B Walkman dock shows some joined-up thinking thanks to Bluetooth. The slimline speaker-dock looks a little like something from Sonos' stable, with a pop-out Walkman cradle and Bluetooth A2DP/AVRCP for streaming from your iPhone, iPad or something else.
There's also a slot-loading CD player and an FM radio with 20 presets. The dock will play back MP3/WMA/ATRAC/Linear PCM/AAC/HE-AAC files, and can rip music from CD to a docked Walkman as 128kbps MP3s.
It's worth noting that, while Sony has released iPod/iPhone compatible speaker-docks before now, this isn't one of them. In fact, Sony is targeting the CMT-V70B at its own Walkman range, though since the iPod touch, iPhone, iPad and many other phones and PMPs support Bluetooth, they'll at least be able to stream through the dock if not charge from it.
There's also a second version, the Sony CMT-V50, which keeps the CD ripping and radio but loses Bluetooth support. Both will arrive in Sony stores in Japan from tomorrow, priced at 35,000 yen ($439) for the CMT-V70B and 30,000 yen ($376) for the CMT-V50.