Sonos Move Review: Cutting cords not corners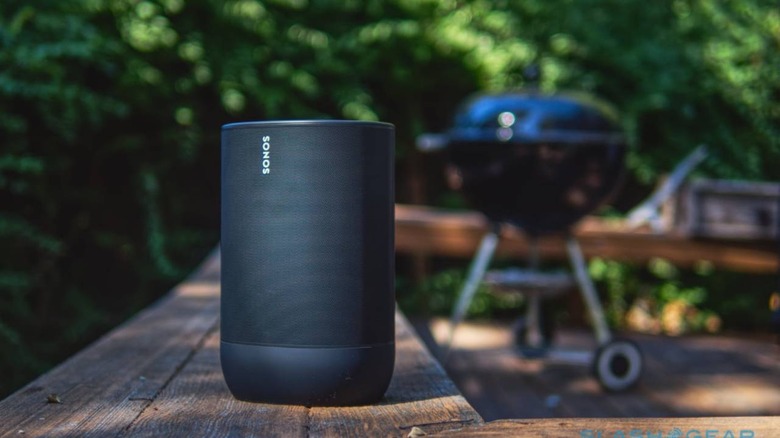 EDITORS' RATING: 8/10
Expectations were high for Sonos Move, the multi-room audio company's first portable, Bluetooth-compatible speaker. Dangerously high, you could argue: Sonos says its users have been asking for a completely wire-free speaker pretty much from day one, and that's plenty of time for an outlandish wish-list to develop. The reality of the $399 Move is that it's not quite the speaker we expected – the question is whether that's a good thing or bad.
Familiar, but tougher
Sit Move alongside a Play:5, and you'd probably struggle to tell that it's Sonos' tougher speaker and IP56 rated. There's a long list of things the company has done to make it resilient to jets of water, the relentless sun, drops and bumps, and a variety of sticky, slimy, slippery, or similarly suspicious liquids, gels, and creams. Unless you're actually hosing it off or dropping it onto the patio, though, you'd not guess that from the design.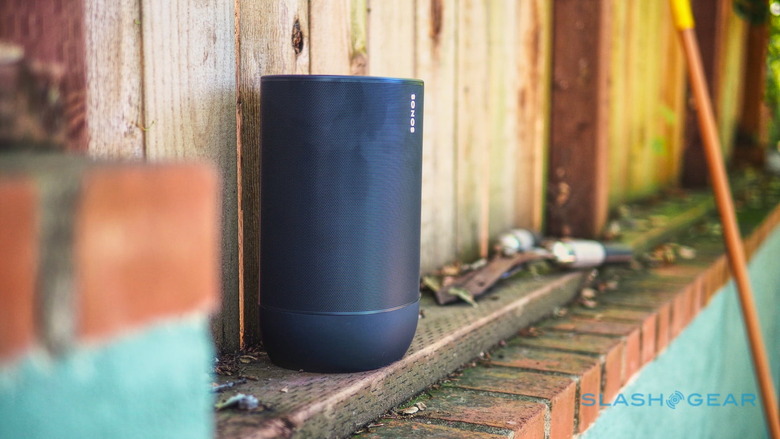 It helps Move blend in when it's indoors, sat on its discreet charging ring, a far cry from the rubber-and-fabric aesthetic most portables go for. Pick it up, and the nearly 10-inch tall speaker tips the scales at around 6.5 pounds.
On the top there are touch-sensitive buttons for play/pause, volume, and muting the microphone array. Swiping across the controls skips forward and backward through tracks. As well as the easily-gripped handle on the back there are three buttons, for power, toggling between WiFi and Bluetooth, and pairing Move to a Sonos network. Unlike some Sonos speakers there's no aux-in port.
As with a Sonos One, you can choose whether you want to use Amazon's Alexa or Google's Assistant – or, indeed, neither of them – in the Sonos app. You can only have one active at a time on any single speaker, but different assistant-enabled speakers can be set to different platforms.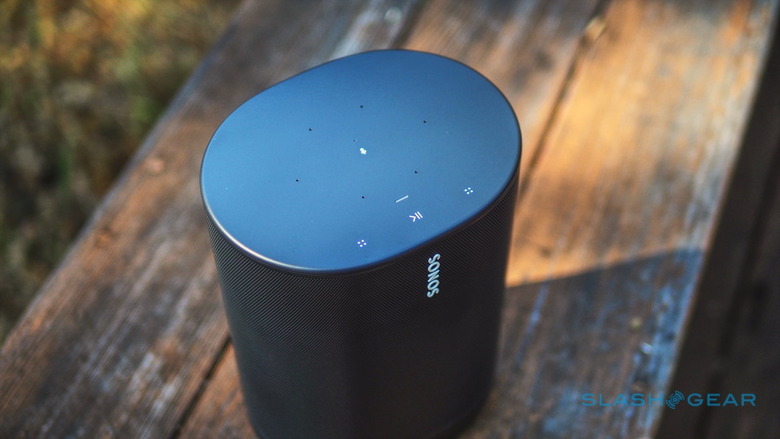 Sound quality and Auto Trueplay
At $399, having high expectations for how Move sounds seems only right and proper. You could forgive mediocre audio from a cheap and cheerful Bluetooth speaker you throw in your bag to take to the beach or the park. Something this expensive, and bearing the Sonos badge, inevitably gets judged to a higher standard.
The good news is that Sonos hasn't stinted on Move's audio potential. Inside there are two Class-D digital amplifiers, one driving a downward-firing tweeter and the other a mid-woofer. Both have been specially designed to avoid distortion and vibrations; the enclosure for the mid-woofer, for example, is actually an integrated part of Move's internal structure, rather than just bolted into it. Sure enough, even cranked up loud there's an impressive absence of hum or buzz.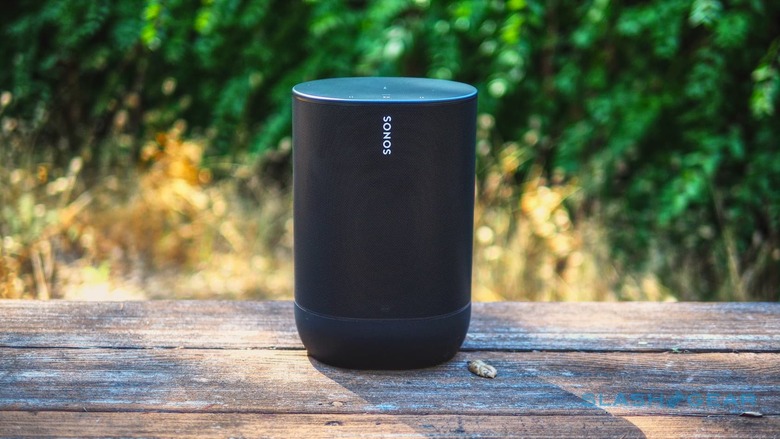 Turned down to more listenable volumes, Move sounds great. There's more bass than I expected there to be, a thick rumble that doesn't lack precision (it's worth noting you can't pair Move with a Sonos Sub). Side-by-side with a Play:3 – the $299 midsize speaker Sonos discontinued in mid-2018 – the portable speaker has a brighter, crisper top-end; vocals sound sharper and more distinct. In contrast, the Play:3 sounds a little fuller in the mids.
When it comes to width of the soundstage, though, Move has a clear advantage. Balance drops off noticeably as you move to the side of a Play:3, whereas I could stand almost 90-degrees off-axis to the portable speaker and things still sounded well-equalized.
Alongside a Sonos One, I'm reminded again at just how much punch the smallest speaker brings to the table. Move shares a similar sound profile, in fact, though fuller than its little sibling. The real difference became abundantly clear when I took both into the garden, however. Sonos borrowed the Play:5's mid-woofer for Move, and that contributes to far more impressive playback outside.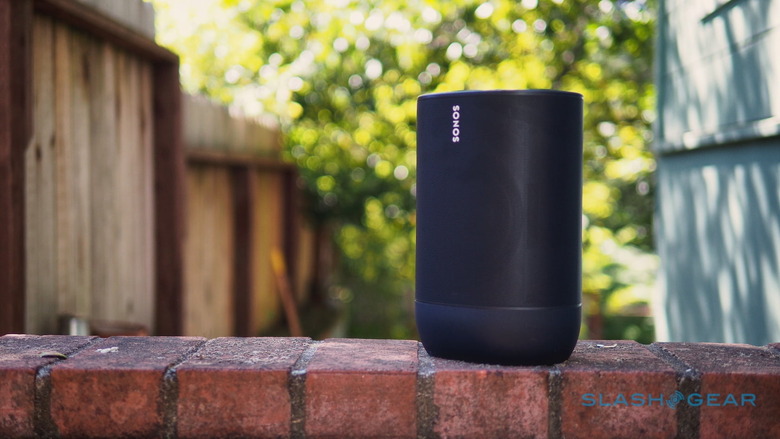 Music from the One sounded lost, its midrange hollowed out. Step out of its sweet spot dead-ahead and, as with the Play:3, the limits of the soundstage become all too obvious. With Move, in contrast, the music sounded not only louder but clearer, and I could roam around the deck without a drop-off in quality.
You can manually adjust the treble, bass, and loudness settings the Sonos app, or you can leave Move to do all its tuning for you. Since the company's Trueplay system – where you walk around the space, waving your phone around so that the Sonos app can hear how the room affects playback – is designed for speakers you plug in and leave in place, the Move uses a new Automatic Trueplay instead.
It's self-contained – and fully automatic – using the microphone array on the speaker. An accelerometer spots when you've carried Move elsewhere; after being stable for a short period, it listens to how its own playback sounds, and adjusts its EQ accordingly. In particularly troublesome settings, like tucked inside a cabinet, you can actually hear the speaker's sound profile shift after 20-30 seconds or so.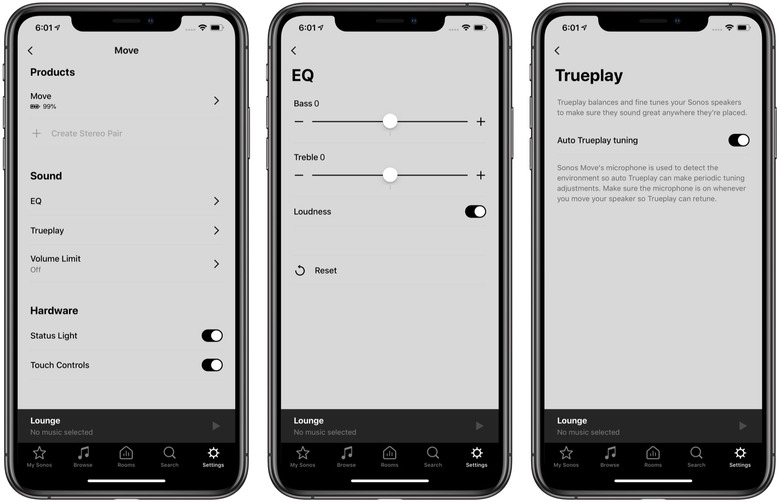 Most of the time, though, it's more subtle than that. Perhaps the best thing I can say about Automatic Trueplay is that it just works: Move sounds great, never too bass-boomy or pitchy at the top end. It won't work if the microphones are muted, however, and only when the speaker is connected to WiFi, not when in Bluetooth mode. Sonos tells me that's something it may explore with a future update.
Bluetooth comes with strengths - and drawbacks
The absence of Automatic Trueplay isn't the only compromise you make when you're using Move with Bluetooth. While you can wirelessly link two of the speakers together as a stereo pair over WiFi, you can't in Bluetooth mode. Neither is there any Google Assistant or Amazon Alexa support when the speaker doesn't have a WiFi connection.
Indeed, in some ways Bluetooth operation feels entirely separate from using Move with a WiFi connection. You control playback with whatever source app you're listening to – whether that's Spotify, Apple Music, YouTube, or something else – rather than the Sonos app, and indeed Move disappears completely from the available "Rooms" in Sonos' software. You can't remotely return Move to WiFi operation, either; you have to hit the button on the back.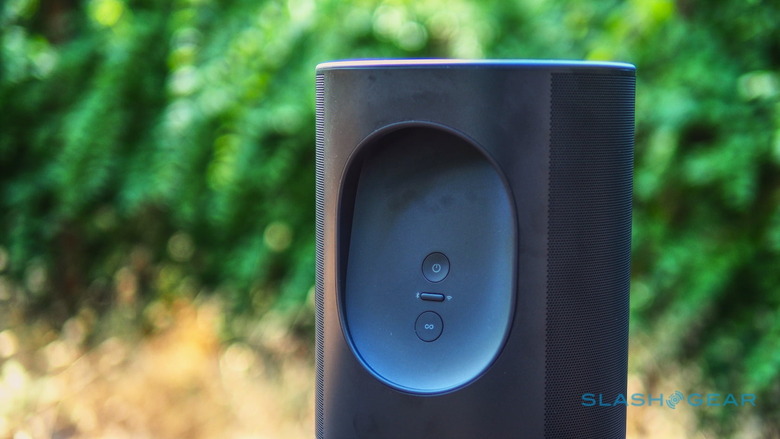 Enable Bluetooth mode, and the speaker automatically reconnects to whatever device it was last paired with. Hold the button down, and it'll be discoverable for new connections. Move's top-panel buttons work as you'd expect in Bluetooth mode, controlling volume and skipping tracks.
Unlike, say, Ultimate Ears' speakers, you can't make ad-hoc groups of multiple Move over Bluetooth for more expansive sound. I'd also have liked some sort of notification when the speaker was back in WiFi range, so I would know to switch back over. It took 10-15 seconds for Move to show up again in my list of available "Rooms" in the Sonos app, but it didn't automatically rejoin the speakers I had previously grouped it with.
Battery, power, and future-proofing
Sonos rates Move for ten hours of playback or around 120 hours of standby. That's obviously volume-dependent. You can see the remaining power as a percentage in the Sonos app, but there's no way to check it on the speaker itself.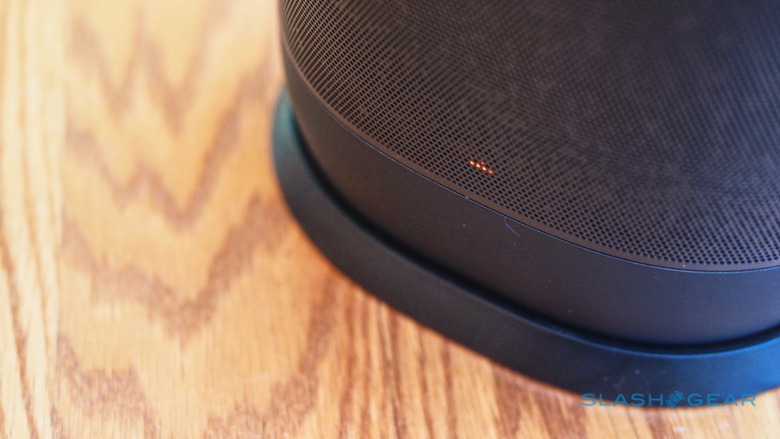 When it's running low, you sit Move on the included charging dock. That's deceptively simple, an oval of matching black plastic that plugs into the mains, but Sonos says it went to a lot of effort to get the shape just right. For a start, it's designed to slide around just enough that, no matter what angle you drop Move on top, it'll always seat properly and bring the power connectors into contact with the pads on the back of the speaker.
If you're away from the charging dock, there's also a USB-C port on the back of the speaker. I plugged in my MacBook Pro charger and, sure enough, Move started charging. It'll work with 12V/3A, 15V/3A, and 20V/2.25A supplies.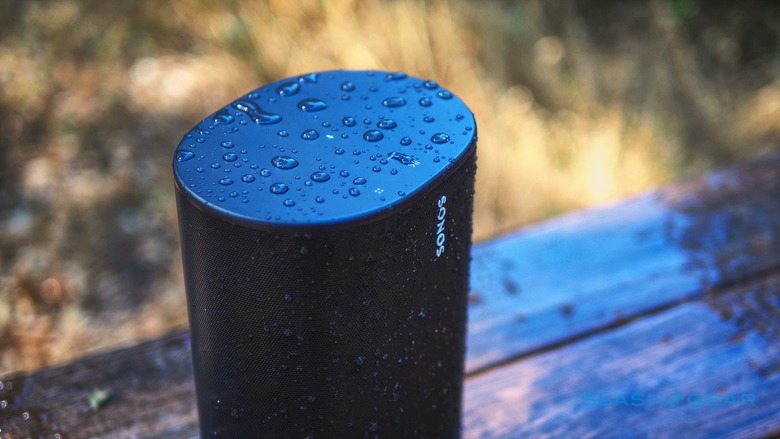 At a time when electronics border on disposable with each new generation of device, the Sonos "leave no model behind" strategy is increasingly rare. Speakers from the very earliest days of the company are still welcome in modern multi-room systems, and even if they may not share the most cutting-edge functionality like AirPlay 2, that's still impressive. Problem is, as anybody with a smartphone that's a couple of years old will know, batteries simply don't last the same way.
Sonos' solution is to make Move's battery – which is rated for around three years or 900 charges – user-replaceable. It's not something you'll do every day: the new battery will be supplied with an Allen key to open up the base plate, from where the old battery can be extracted and exchanged. Still, merely the fact that Sonos has thought through that upgrade process is commendable, I think. We don't know how much the battery kit will actually cost at this stage, mind.
Sonos Move Verdict
Viewed as a Bluetooth speaker, the Sonos Move is a tough proposition. It's considerably more expensive than its rivals, and while it may be tough, I feel like I'd be a lot more cautious with it out and about. Were a friend or my cat to knock, say, an Ultimate Ears Megaboom 3 over, or dent it, I'd be unconcerned. If they did that with Move, though, I'd probably have the same reaction as if they'd tripped up a toddler.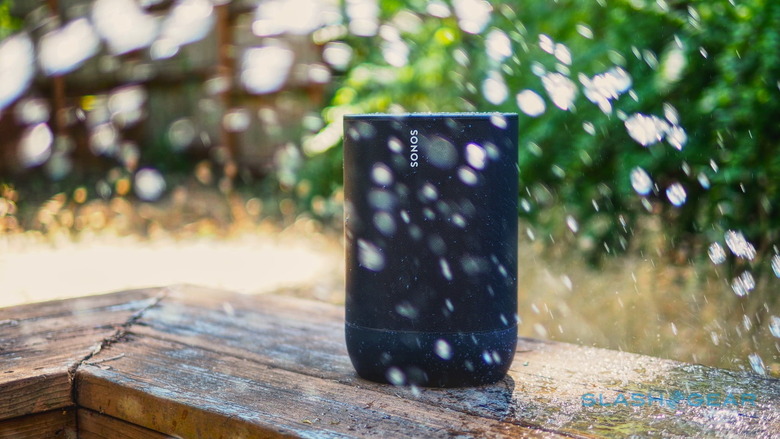 If you're coming from the Sonos ecosystem, however, Move makes a lot more sense. After a while I stopped seeing it as Sonos' portable speaker, and instead as a midrange model in the sweet-spot between a Sonos One and a Play:5 that just so happens to support going walkabout.
From that perspective, Move nestles into the space the old Play:3 once occupied, with a $100 premium for its portability and broader soundstage, but still undercutting the $499 Play:5. I'd say a stereo pair of Sonos One – which will cost you $379 – sound more musical than a single Move, but obviously they're not designed to be carried around, and the portable speaker still holds up better outdoors.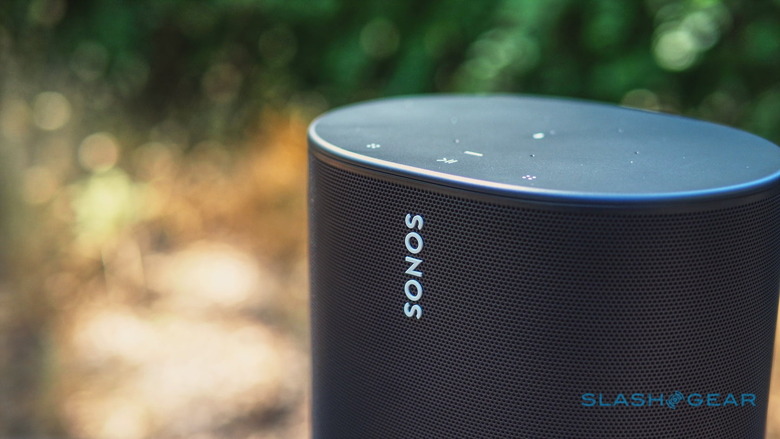 Does that make it worth $399? On the one hand, you could buy a Sonos One and a Megaboom 3 for the cost of a single Move. That way you'd have two speakers (albeit not capable of synchronizing together) but neither would sound as good as Move does. When it comes down to it, that's the stumbling block I run into with any alternative: the consistency of quality, indoors and outdoors.
No, if I was new to Sonos, Move wouldn't be the first of their speakers I bought. For the fans who've been clamoring for a portable Sonos for years, however, while Move may not be what they expected, I suspect that's probably because it's better.