Sonos Beam hands-on: Big sound, bigger promises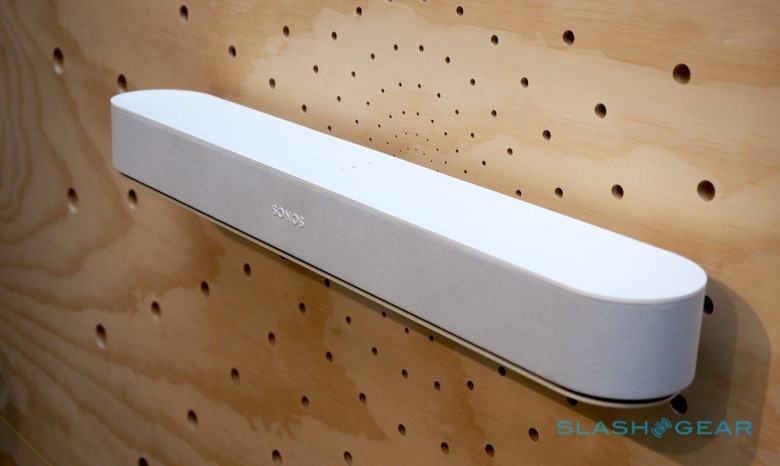 Sonos has built its reputation on making streaming, whole-home music easy: now, with the Sonos Base, it wants to oust remote controls from your coffee table. Revealed today, the shrunken speaker bar relies on Amazon Alexa and some clever connectivity to streamline the living room, but as I discovered that doesn't mean Sonos has forgotten about sound quality too.
It's roughly 60-percent the size of a Playbar, and that makes a dramatic difference next to a TV. Sonos' existing speaker bar always looked a little outlandish when underneath anything but the largest of sets. In contrast, the $399 Beam is less than 26 inches long, about ten inches shorter than its bigger sibling.
Sonos, unsurprisingly, doesn't want it to be considered a "lesser" speaker than the $699 Playbar, which will remain on sale alongside the Beam. Instead it's positioning it as ideal for smaller living rooms: for those listeners who might never get near the top end of their Playbar volume slider because their neighbors (or sleeping kids) would invariably complain. That's not to say it's quiet.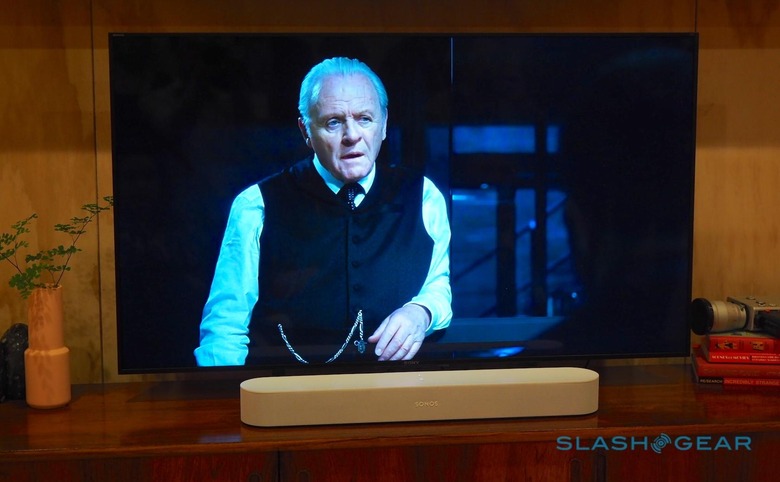 In a demo following today's big reveal, in fact, the Beam punched above its size, both in terms of bass response and the width of its stereo soundstage. There are four full-range woofers, two flanking a front-facing tweeter in the center, and the others pointing outwards at each end of the sound bar. Three passive radiators are inside, helping amplify the bass.
The result is an unexpected degree of stereo separation, whether you're listening to music or audio from your TV. I suspect it'll still be very much room-size dependent – the left and right woofers are relying on bouncing on the walls either side of you – but in a reasonably sized room it left the sound bar seeming much wider than it actually is physically.
As for bass, again, if you go into it expecting Playbar or Playbase levels you may be underwhelmed. What you do get is a well balanced low-end that isn't flabby or underwhelming. If you need more, there's always the Sonos Sub, the company's wireless subwoofer. That's being sold in a 3.1 Entertainment Set pairing for $999.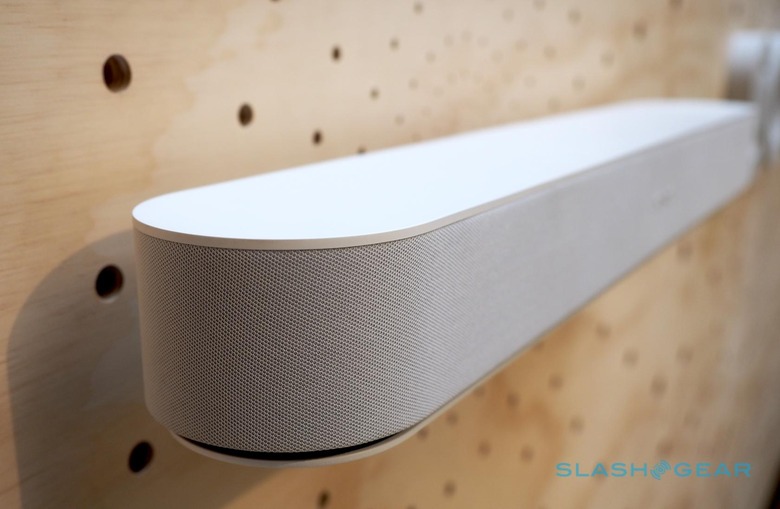 Finally, you can go the whole hog, and use Beam as the core of a 5.1 surround sound system. You'll need the Sub for that, together with a pair of Sonos speakers to use as the left and right rear channels.
Personally, though, I'm more excited by the potential to put Sonos Beam in more unusual places. There's a $59 wall mount available, but Flexson already has an adjustable wall mount that, for $119.99, allows you to fix the sound bar underneath kitchen cabinets or other spots. That keeps your countertop free, but still gives you Alexa and streaming music support.
If there's a shortcoming, it's Sonos' embracing of new standards comes before the rest of your living room tech may have had a chance to catch up. Most conspicuous is the Beam's HDMI ARC port: in theory, it allows your sound bar and your TV to communicate, so that asking Alexa to turn on the screen, for example, works.
In practice, though, not everyone will necessarily have an HDMI ARC port. Sonos says you should be okay if you have a set from the past five years, but it's worth checking before you jump into Beam ownership. If you don't, you'll need to use the optical audio adapter that Sonos will bundle in the box. That means, just like the Playbar, you'll get audio from the TV but none of the fancier Alexa TV features.
That'd be a shame, as – for those with the right kit – the voice control system is a real boon. As with so many smart home devices, how user-friendly the whole thing is depends on the ecosystems you've already bought into. If you've got an Amazon Fire TV, for example, Alexa on the Base can summon your content by name, handle play/pause and volume, and other features. Log into Alexa with Spotify, and you can ask for your favorite music; hook up connected lights, and you can use Alexa Routines to automatically dim the room as you start a movie.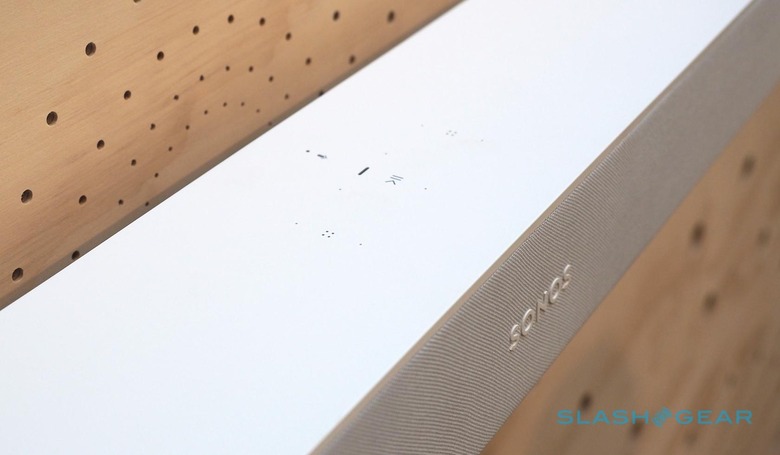 Of course, if you're an Apple TV user, Alexa is a lot less helpful. By the time the Base ships, Sonos should have finished adding AirPlay 2 to its speakers. Even so, you won't be able to use Siri to ask for iTunes video content, even if you can use the assistant to navigate through your music.
Sonos' vision of a remote-free world is an alluring one, but we're still not quite there yet. Even in the company's own demo today, the Base may have been able to pull up Amazon's "The Grand Tour" by voice, but you still needed to reach for the remote control to actually select a specific episode. You'll probably be able to reduce the coffee table remote clutter, but getting rid of it altogether is still some way out.
All the same, Sonos probably gets the closest that we've seen, and its openness to different assistant technologies – Google's Assistant is still on the roadmap – is admirably flexible in comparison to what the rest of the smart speaker industry is doing. JBL's Link Bar is going to try something similar with the Google Assistant later in the year, and I'd be surprised if Apple wasn't flirting with a Siri sound bar too. For now, though, Sonos has an edge in the living room.