Sonim takes to IndieGoGo to fund XP7 Extreme smartphone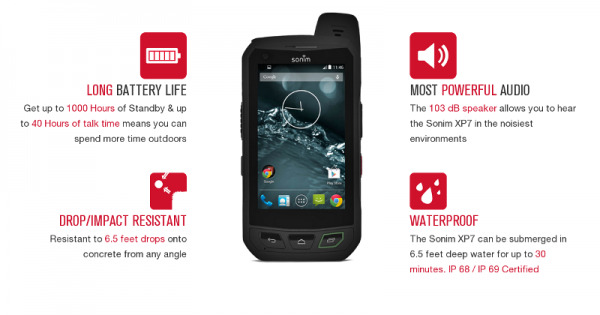 Just days after AT&T made available the XP6, its creators are already coming out with a successor. But instead of appealing to active sports enthusiasts through the usual commercial channels, Sonim has decided to use crowdfunding instead. It is putting up the upcoming Sonim xP7 Extreme on IndieGoGo to help gather money and validation for another smartphone that is trying to strike a name in the rugged mobile device market. But will it be able to gather enough to actually make the product a reality?
We've come across Kickstarter, IndieGoGo, or other crowdfunding projects, but few actually aim to "sell" a commercial product in this manner. Most are small companies or startups that would normally not be able to fund the creation of a device, but Sonim isn't exactly in that league. It is a relatively established name that was even able to get a deal with AT&T to sell its equally rugged XP6 smartphone. Perhaps the company thinks it will be less risky to do things via this "rewards-based" system than investing on the production of an actual product only to have it fall short of market expectations. Crowdfunding does allow Sonim to get in touch with potential buyers directly, though whether that will work in this case is yet to be seen.
Truth be told, the XP7 Extreme doesn't look something totally extraordinary and it is more in line with other rugged smartphones in the market. It offers your usual set of rugged features, such as IP68 waterproof rating and shock resistance of up to a 2 meter drop onto a concrete surface. There's also survivability in extreme temperatures as well as a display that is not only viewable under sunlight but is also usable with a glove. The phone does boast of a 103dB speaker that will let calls be heard clearly no matter the noise around. And the 4,800 mAh battery, promised to last 40 hours of continuous talk time or 1000 hours in standby, is definitely worth noting.
Those, however, are now standard fare for any respectable rugged device in the market, and even some high-end devices start boasting of almost similar features. Internally, the XP7 Extreme resembles more a mid-range smartphone, with a 1.2 GHz quad-core Qualcomm CPU, 1 GB of RAM, and 16 GB of storage. The sunlight-readable display is a 4.0-inch 800x480 screen with Gorilla Glass 2, not the latest 3rd generation.
For all of these, Sonim is asking backers $579, which includes a waterproof Bluetooth headset and a three-year warranty. The campaign has just reached a fifth of its $150,000 goal, but it does have 43 days to go before the run ends. Do note that the IndieGoGo campaign is set to Flexible Funding, which means that Sonim will still receive all the funds whether or not the make the goal by that time.
SOURCE: Sonim