Sonic Mania Plus release date revealed with a snazzy new trailer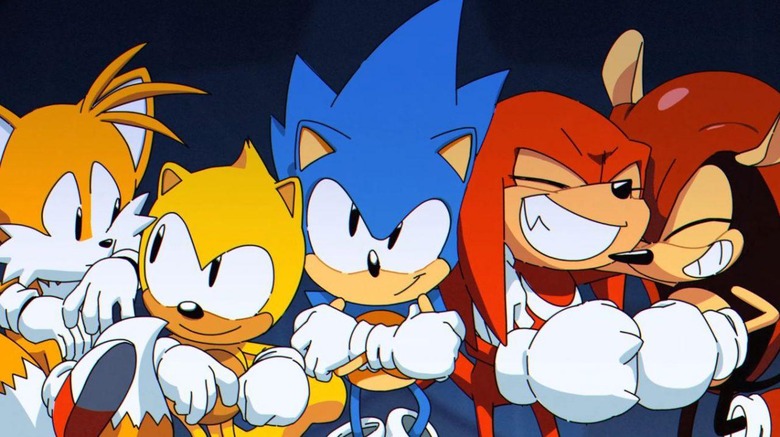 Last year, Sonic Mania surprised us all as a wonderful love letter to the Genesis-era Sonic the Hedgehog games. Sega is looking to recapture a little bit of that magic later this year with the release of Sonic Mania Plus. Not only will Sonic Mania Plus be released at retail – something we didn't get with the original, which was a digital-only title – but it will also toss some new content into the mix for good measure. Today, Sega finally revealed when we can expect Sonic Mania Plus to arrive, and the good news is that it'll be here relatively soon.
Sega has announced a release date of July 17 for Sonic Mania Plus. The company also debuted a new trailer animated by the one and only Tyson Hesse, who did a lot of the pre-release material for Sonic Mania last year. The trailer is similar in style to Sonic Mania's original launch trailer, only this time around, we're introduced to two new protagonists who will join Sonic, Knuckles, and Tails in Sonic Mania Plus.
Those new characters are Mighty the Armadillo and Ray the Flying Squirrel. Die-hard Sonic the Hedgehog fans will already be familiar with those two, but those who aren't should know that they're two of Sonic's earliest allies. It's been a long time since we've seen either of them in a Sonic game, especially Ray the Flying Squirrel, but they'll both be playable in Sonic Mania Plus.
That brings the roster of playable characters up to five, giving you plenty of reason to revisit the game when Plus launches this summer. Aside from the retail packaging and new characters, Sonic Mania Plus will also feature some other enhancements, such as a four-player multiplayer mode. If you already own Sonic Mania, you'll be able to download the Plus DLC from your digital storefront of choice for a cool $4.99.
Sonic Mania was one of my personal favorite games of 2017, and shortly after launch, I said it was arguably as good as the Sonic titles that appeared on the Genesis. If you haven't played it yet but have fond memories of Sonic games from the 1990s, then you'll definitely want to pick up Sonic Mania Plus when it launches in July.