Sol Republic DECK wireless speaker debuts Moto X's "M4DE for Motorola"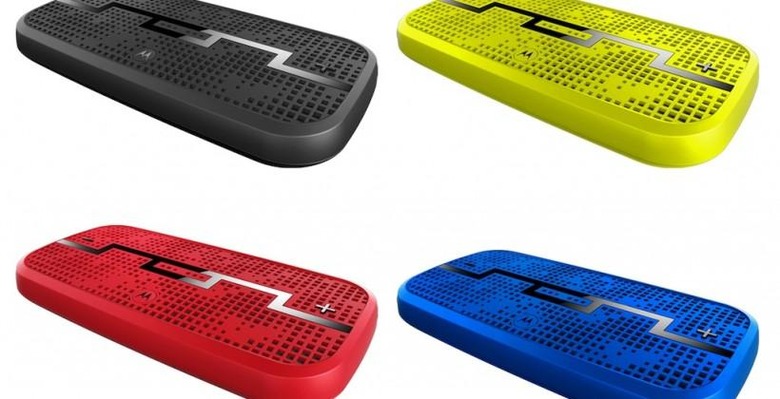 Sol Republic has detailed its new DECK Wireless Speaker, the first M4DE for Motorola accessory and introducing a new "Heist Mode" for communal play. The DECK, a slot-topped slab of Bluetooth speaker using NFC for easy pairing, supports up to 300 feet of wireless range with the new Moto X and can be connected to by up to five devices simultaneously.
Motorola and Sol Republic are billing the latter feature as ideal for party play, envisaging five different people hooking up to the DECK speaker and each streaming their own content. It's worth noting that there's no communal playlist, with each user simply taking over playback as they pick something new, it seems.
A multicolored LED does change to indicate a new device is in command, however. Potentially, though, a more common use will be people hooking up several of their own devices simultaneously – such as a tablet, smartphone, and laptop – and switching between, without having to worry about manually pairing and re-pairing.
As well as Bluetooth, there's a 3.5mm audio-in, as long as an audio output for hooking up a more powerful speaker system. It's also possible to daisy-chain DECK units together. Speakerphone functionality is included, and there's a Li-Ion battery pack for wireless use.
The casing is water-resistant, and the speakers inside apparently fire out sound in a full 360-degree ring, so that there's no one specific sweet-spot. The DECK will go on sale this month, alongside the Moto X, priced at $199.99 in a choice of gunmetal, lemon-lime, electro blue, paper white and vivid red. Pre-orders are already being taken online, though aren't expected to ship until the first week of September.
You can find out more on the Moto X in our full hands-on.