SoftBank Pepper emotion-sensing robot headed to retail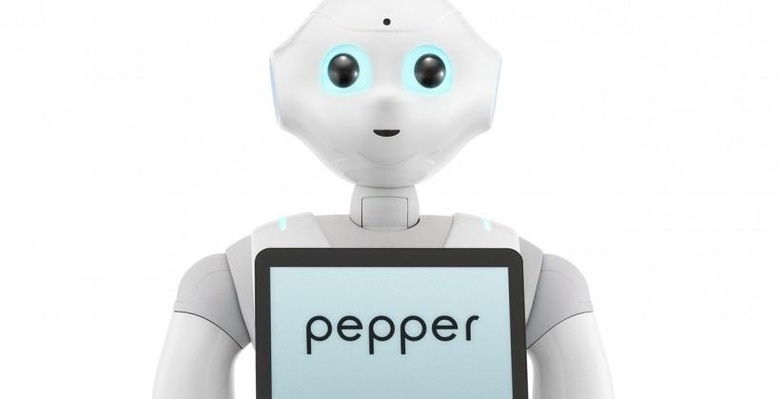 SoftBank plans to sell an emotion-sensing humanoid robot, Pepper, in Japan next year, putting the sensor-toting 'bot into customer services duties in stores from this week. Expected to go on sale from February 2015, Pepper can track the emotions of the humans around it through their expressions and voice tones, and then react accordingly depending on what apps and cloud-data are available.
Standing 1.2m tall, and weighing 28kg, Pepper has a total of twenty motors and an estimated battery life of twelve hours when used in a retail environment. Each of the robot's fingers are individually articulated, along with the wrist, elbow, shoulders, hips, knees, and base.

On the front, there's a 10.1-inch touchscreen running NAOqiOS, built using proprietary emotion tracking algorithms developed by Aldebaran, a robotics specialist majority-owned by SoftBank. An SDK will be offered so that third-party developers will be able to integrate the emotional tech into their own apps.
In fact, Pepper is riddled with sensors, both to make sure it can react accordingly to those people around it, and so that it doesn't fall over or stumble into obstacles. The legs contain two sonar sensors, six lasers, three bumper sensors, and a gyroscope, while there's a further gyroscope in the chest.
Each hand has a touch sensor, while the head has a quad microphone array, two RGB cameras, a 3D sensor, and three touch sensors. Connectivity includes gigabit ethernet and WiFi a/b/g/n.
SoftBank suggests that Pepper is ideal for customer services duty, figuring out what sort of mood customers are in and helping them without requiring them to navigate through store maps. By the time of the commercial launch, meanwhile, the robot is expected to have gained the ability to learn from previous interactions and shape its responses accordingly.
The first two public trials will kick off in the SoftBank Omotesando and SoftBank Ginza stores from June 6th, with a broader rollout over the rest of the year. Don't get any ideas about a robot mall cop, however: with a top speed of 3kph (1.86mph) Pepper won't be chasing after shoplifters.
Perhaps surprisingly, for the robotics sector anyway, Pepper isn't ridiculously expensive. SoftBank expects the robot to be priced from JPY 198,000 ($1,930) when it arrives in stores next February.
SOURCE SoftBank