SoftBank 007SH KT Hello Kitty Android Gingerbread Phone For The Win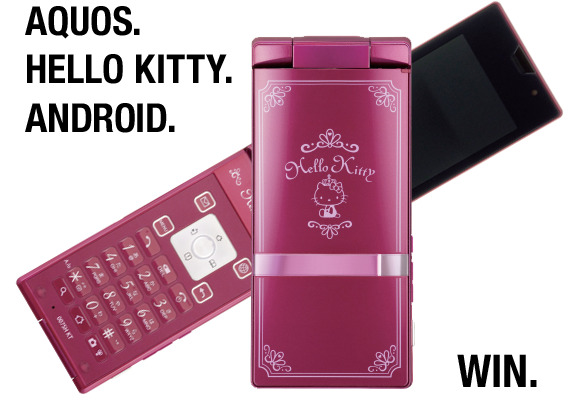 Welcome to the greatest Android device on the market today. I'm only half joking, as the specs on this very gaudy looking device are certainly nothing to scoff at, and it boasts the very strange accomplishment of being the second clamshell device running Android 2.3 Gingerbread. The first was of course the AQUOS PHONE THE HYBRID 007SH, essentially the same basic components this device is built on. Yesterday we got a glimpse of the Yahoo! Android phone from Sharp AQUOS, today we get the next rebranded handset in the Hello Kitty Android flip phone. Is this just a Japanese fad, or are cross-brand re-releases of Android devices on the horizon?
This device has a fully waterproof body, boasts a 3.4-inch LCD touchscreen display with 854 x 480 pixel resolution, has a fabulous 0.7-inch OLED sub-display, connects along IEEE 802.11 b/g/n Wi-Fi, Bluetooth 3.0 EDR, and will be rolling out on the same carrier as the Yahoo! phone, SoftBank. This device has a massive 16 megapixel camera on the back of the base capable of 1,280 x 720 pixel HD video recording. That's insane. The best we've got here in the states is 8 megapixel cameras on our most advanced smartphones capable of 1080p recording at best. This device, like any good Japanese smartphone, has a digital TV tuner and e-wallet functionality as well.
The insides of the phones are all covered in Hello Kitty including wallpapers, icons, widgets, and apps. This device will be shipping in Japan next month – can we hope for such a masterpiece of oddities here in the United States anytime soon? Something tells me that no, not a chance. Physical keypad? The West hate such atrocities in the modern world. A flip phone? The West would never be caught using another Motorola RAZR. And yet this device and its perfectly neat Qualcomm MSM8255 1GHz processor is such an awesome little package, I can't help but wish for it — perhaps with a slightly different branding, as it were. Maybe Sponge Bob?