Soon joining the likes of olloclip's Macro 3-in-1 iPhone clip-on lens and similar products will be the Snooperscope, a night vision camera that attaches to the back of one's handset and offers recording in a no-light environment. The Snooperscope is being funded on Kickstarter, where it's funding campaign has hit and exceeded its goal. Mass distribution is planned for June 2014.
The Snooperscope is a wireless camera that works in conjunction with an iPhone or Android handset, with the smartphone functioning as a sort of remote display for the little camera. As you might have guessed, the camera works by projecting infrared light, enabling the camera to film in a completely dark environment, as well as see through some objects that otherwise isn't possible.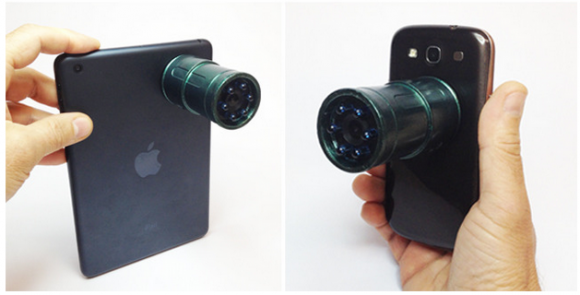 The camera works with an app that will be available for both Android and iOS. One connects the camera to the mobile device with a direct WiFi connection, at which point the camera's settings can then be configured and controlled from the tablet or handset. You can view the video feed in real time, and can save video or take snapshots if desired. The night vision distance is up to 33 feet and the battery has a run time of between 3 and 4 hours.
Overall, this looks like a basic night vision camera, with the boasting rights coming from its small size and rather attractive design. As mentioned, the Kickstarter exceeded its goal, currently sitting at £48,509 with a stated £40k goal. There are six days left in the campaign, and while some of the lowest tiers of the project have been funded in their entirety, there are still several to go.
VIA: Freshness Magazine
SOURCE: Kickstarter