Olloclip has been busy empowering the iPhone's camera for a while now. This past January we got our hands on its iPhone 5 lens clip, which enabled one to shoot in fish eye, wide-angle, and macro. Fast-forward nearly a year, and we've been testing olloclip's latest offering: the Macro 3-in-1 clip-on lens for the iPhone. We've got a gallery and video for you in our SlashGear hands-on after the jump.
As with the previous model, the Macro 3-in-1 has three modes, each of them being a magnification of its own. As such, you and your iPhone's camera can get up close and personal with whatever catches your fancy, taking closer shots than your iPhone's naked camera could do. The lens was officially announced today, and despite its small size, the 3-in-1 is no toy — we've taken a variety of pictures and some video with it (check the gallery below), and it has proven itself more than noteworthy.
The olloclip offering is made in the United States using aircraft-grade aluminum and a precision-ground coated glass with multi-element optics, with the size coming in at about half the weight and size of your car's ignition key. You notice the quality immediately, with the construction being truly commendable. The first mode is a 7x magnification, the lowest of the bunch and offering the widest view and a minimal bokeh.
From there, the lens jumps to 14x, which is its default mode and a solid mid-range magnification. And rounding it all out is the third mode, 21x, which is a pretty intense level of magnification and gives a tight, detailed look at whatever object you're focusing on. To make things easier, the lens also has an Instafocus Hood, which both diffuses light when needed and makes it easier for the camera to focus.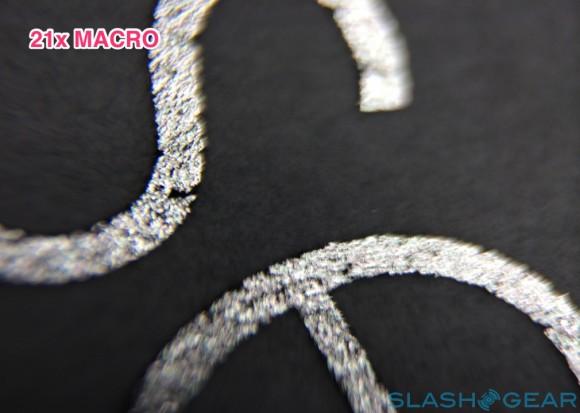 With the highest magnification, we get a nice amount of bokeh that works well with the extent of the macro focus. Olloclip has gone to great lengths to keep pincushion distortion down, as well, which anyone with a trained eye will notice. The result is a very nice iPhone accessory for the photographers and ethusiasts among us. The Macro 3-in-1 does an outstanding job, and the images and video taken with it are of excellent quality — so much so that they easily compete with cameras that cost substantially more, making the lens a wonderful deal. The lens is available now from olloclip and certain retailers, as well as Apple, for $69.99 USD, and, we should note, is the perfect size for a stocking gift.