Enter the olloclip: an iPhone lens system that connects to your device with a set of three different shooting modes: fish eye, macro, and wide angle – and the case we're looking at today is hitting the market very soon. This system has been out on the market for some time in its original iPhone 4/4S form and is now bringing on the heat for the iPhone 5's body and size. We got our opportunity to have a hands-on look at this bit of hardware at ShowStoppers 2013 during CES this week in fabulous Las Vegas, Nevada.
This system comes in a box that contains a microfiber bag with the olloclip logo on it so you can carry it all in your pocket safely, two lens caps (one for each side), and the actual olloclip unit. The unit connects to the corner of your iPhone 5 either on its own or combined with a special protective case (that of course protects your iPhone 5 as most people love to do.) The unit carries with it all three different lenses at once, one of the two red units being able to flip to reveal the second angle, the other containing the third.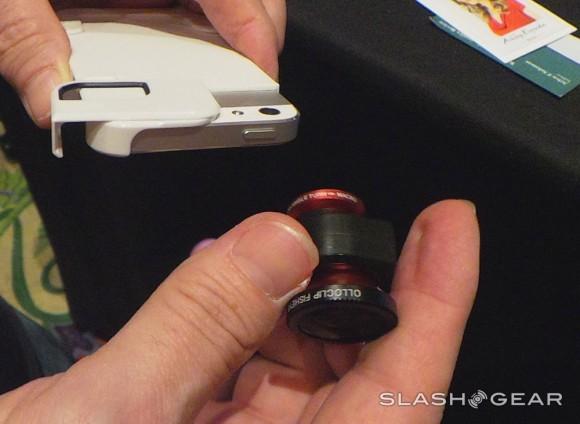 This system is a bit of hardware and works with the lens on your iPhone in a way that you don't have to concern yourself with which app you're using to match up with it. Instead, you're modifying the eye through which your iPhone sees, this allowing you to take photos as you normally would, here with extraordinary results. The entire system can be left on your iPhone in your pocket or, if you prefer, can be attached at will and carried separately in your handy olloclip pouch.
This solution for your iPhone 5 is out in stores right this minute, ready for action for a cool $69.99 USD right this minute. You'll be able to pick one up in red and black, black and black, or white and black. Have a peek at the rest of our ShowStoppers 2013 action as well as our CES portal for more action than your eyes and ears can handle – all week long!