5 reasons to be excited about Snapdragon 855 in 2019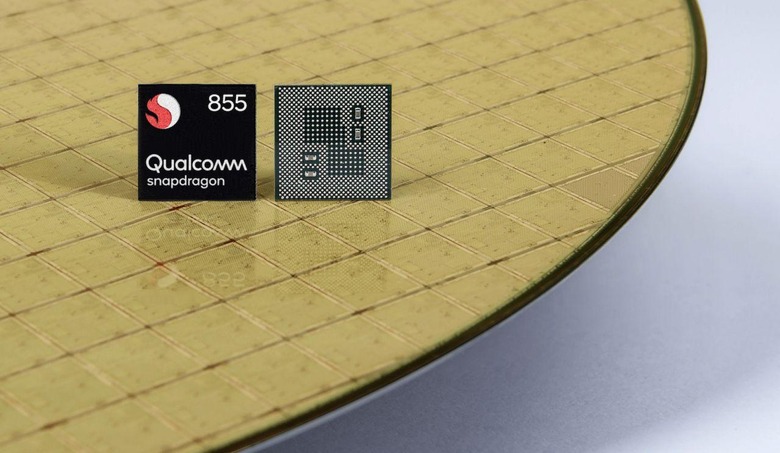 Qualcomm's Snapdragon 855 is about to be everywhere in the Android smartphone space come 2019, but we can break down the five reasons why you should be excited about that. It's faster than its predecessor, more power-efficient, and unlocks new camera features – read on for the five things you need to know.
It's faster and more efficient
The headline numbers are impressive. The Snapdragon 855 has a 45-percent increase in processor power versus the Snapdragon 845, while the GPU is up 20-percent. However what's really interesting is how Qualcomm has opted to deliver that.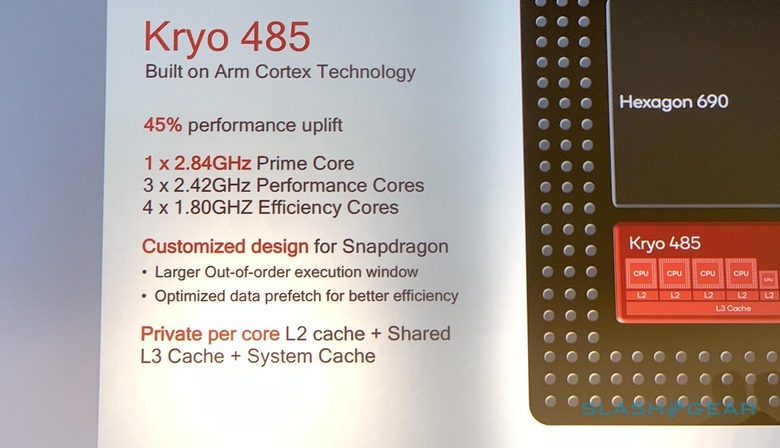 As before, there are eight cores in total. However, while the Snapdragon 845 broke that down into four performance cores and four efficiency cores, the Snapdragon 855 breaks it down into three. There's one 2.84GHz Prime Core, for the most intensive tasks, and then three 2.42GHz Performance Cores to back that up. Finally, there are four 1.8GHz Efficiency Cores, which are more frugal for low-intensity tasks. Each core has its own L2 cache, and shares a unified L3 cache.
5G is optional
Qualcomm is making a lot of noise about 5G at the Snapdragon Summit 2018 – at which SlashGear is attending as Qualcomm's guest – but a device using the Snapdragon 855 won't necessarily support 5G networks. Although carriers in the US and abroad are planning to light up their first commercial 5G coverage in 2019, it'll be some time before anywhere close to a significant percentage of the population have access to a 5G signal.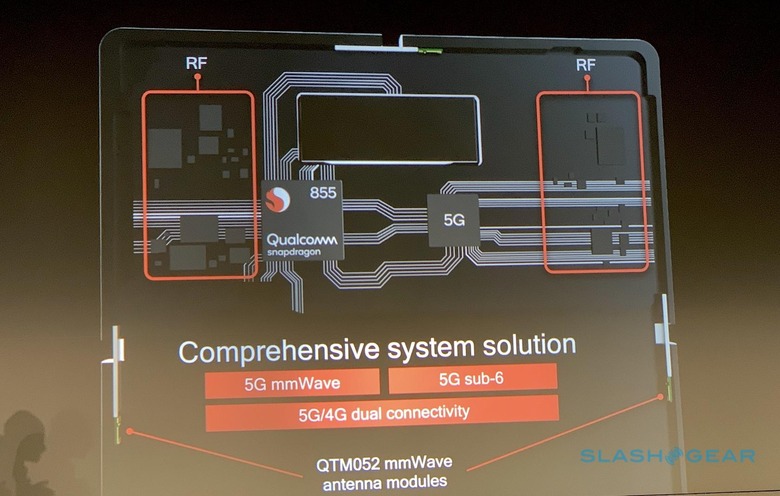 As a result, Qualcomm isn't forcing devices using the Snapdragon 855 to have the X50 5G modem. The chipset has the X24 Gigabit LTE modem baked-in, but the 5G modem is actually a separate component – though Qualcomm considers it falling underneath the overall Snapdragon 855 Mobile Platform umbrella.
The camera is king
Smartphones have already replaced standalone cameras for many people, and the Snapdragon 855 isn't going to ease up on the push to computational photography. A new Spectra 380 ISP will work with a new Computer Vision Pipeline to hardware-accelerate things like portrait mode and object tracking. That comes with a significant speed boost and up to 4x power savings.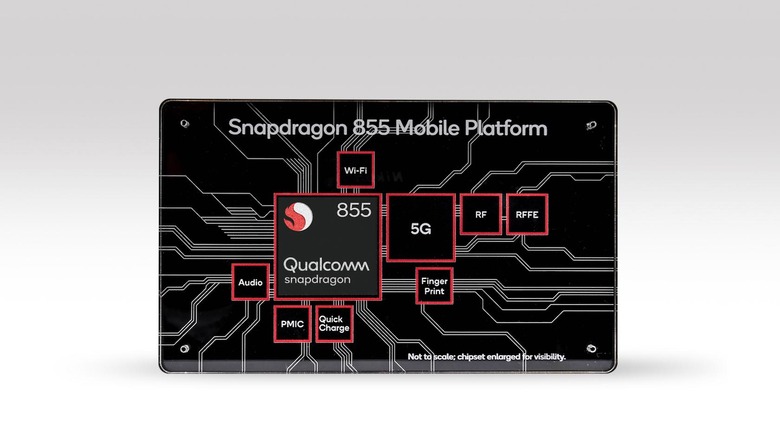 It means features like depth sensing at 60fps, the ability to do portrait mode not only in photos but in 4K HDR video, and even the ability to remove or change the background in videos in real-time. Snapdragon 855 devices will be able to capture 4K HDR video at 60fps using 3x less power than the old Snapdragon 845 needed to record 4K at 30fps. Meanwhile, support for HEIF images – which can store multiple versions of shots, depth maps, and more in a single file – should both maximize on-device storage and make it easier to share those images.
Get ready for in-screen fingerprint sensors
Phones which allow you to scan your fingerprint by pressing your fingertip against the screen aren't new, but Qualcomm wants to make the technology mainstream – and, it claims, more secure. The new 3D Sonic Sensor uses ultrasonic scanning, rather than the optical systems currently available on devices like the OnePlus 6T. That allows it to create a 3D topographical map of the fingerprint's details, with far more detail than a 2D representation.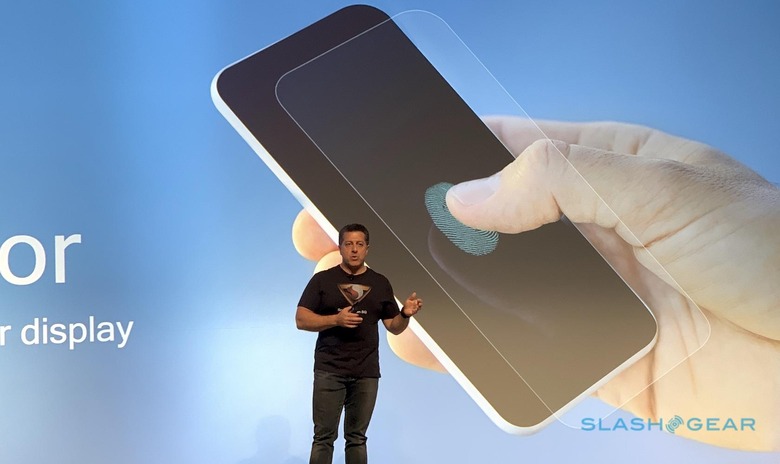 Since it uses ultrasonics, it can also see through grime and other substances. If you've got dirty fingers, a phone using 3D Sonic Sensor stands a better chance of unlocking for you than an optical in-display fingerprint sensor might.
The first Snapdragon 855 phones are almost here
Qualcomm, of course, doesn't make smartphones – it can't set the timescales for when, exactly, the first Snapdragon 855 devices reach the market. However it seems we won't have long to wait. According to the chip-maker the mobile platform is already in the hands of its customers, with devices headed to market in the first half of 2019.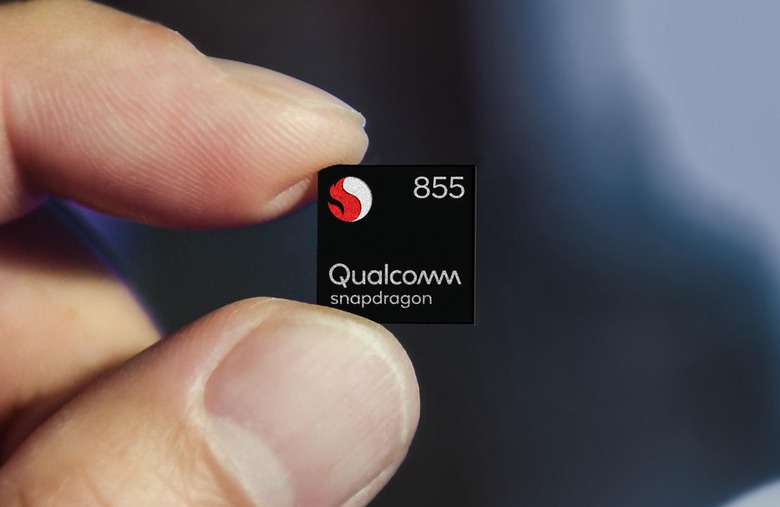 Initially we'd expected that Samsung would be the first to offer a Snapdragon 855 phone. After all, for the past few years at least, it has been first out of the gate with each new Snapdragon flagship, and the Galaxy S10 – which is actually tipped to consist of as many as four different variants – is expected in Q1 2019.
In fact, though, it'll be OnePlus which ushers in the Snapdragon 855 age. Its 2019 flagship will be the first to get the new Qualcomm silicon, and it also plans to offer a 5G phone – in Europe, at least – sometime in 2019 as well. Whether that first, 855-based handset is the OnePlus 7 remains to be seen.