SmartThings Cloud : This is Samsung's big IoT cleanup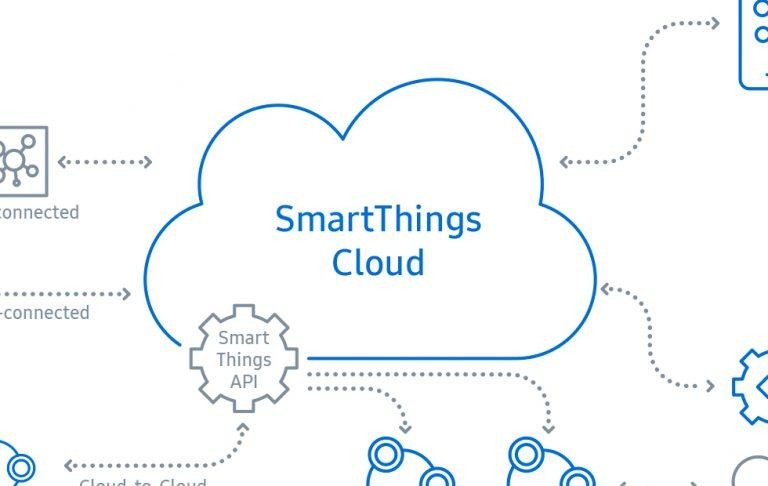 This year's SDC brought together several Internet of Things brands/groups together into one: SmartThings Cloud. Each of the following names is now part of one bigger group: Samsung SmartThings, ARTIK, Samsung Connect. All three are now under the brand SmartThings Cloud. Of important note – this SmartThings Cloud all-encompassing platform name is what Samsung suggests will be both connected and open – open to 3rd-party brands and developers of many sorts.
SmartThings Cloud
The SmartThings Cloud is aimed at being a "single, powerful cloud-based hub that can seamlessly connect and control IoT-enabled products and services from a unified touchpoint." This SmartThings Cloud ecosystem will include one cloud API that'll cover all SmartThings-compatible products. Samsung's goal here is to provide "secure interoperability and services for business developing commercial and industrial IoT solutions."
The most basic run-down of what SmartThings Cloud is and will be from here on out can be found in the video above. This new SmartThings has a new bit of branding to go along with its new all-in-one attitude – simpler, more bold, more blue. Before it had yellows and greens too – now just black, white, blue.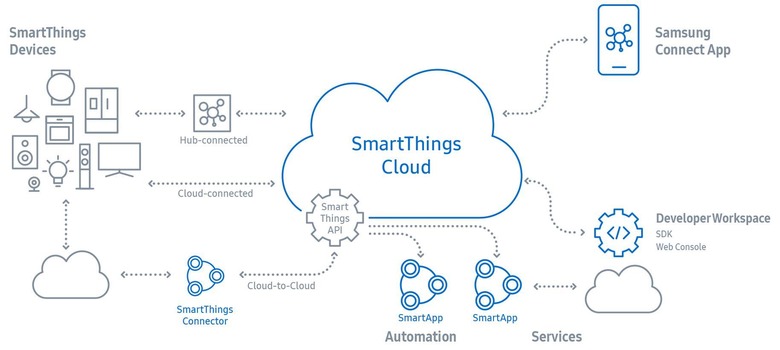 Above you'll see a small guide to the SmartThings Cloud as it exists today. Developers can find more information on getting started with this system in Samsung's newly-renovated SmartThings Dev portal as of this afternoon.
Bixby 2.0
This week Samsung also announced they'd be moving into a new "ubiquitous, persona, and open ecosystem" with Bixby 2.0. This next version of the smart assistant ecosystem will include a Bixby 2.0 SDK (software developer kit) with Viv technologies inside. This SDK will be available "to select developers and through a private beta program."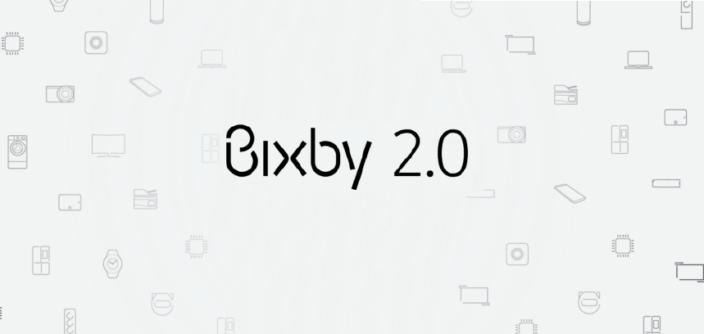 So the Bixby 2.0 SDK wont be so open that just anyone can go out and download – but it'll be here "in the near future" regardless. "Bixby 2.0 will be open," said Eui-Suk Chung, EVP and Head of Service Intelligence of Mobile Communications Business at Samsung Electronics.
"We know Samsung cannot deliver on this paradigm shift by ourselves – it can only happen if we all, across all industries, work together, in partnership. With Bixby 2.0, the doors will be wide open for developers to choose and model how users interact with Bixby in their services across all application domains e.g., sports, food, entertainment, or travel – the opportunities are truly endless."
AR + Google
Samsung's latest move in augmented reality is also with an SDK. They've worked with Google to make sure the Galaxy S8, S8 Plus, and Note 8 are all compatible with the ARCore SDK. According to Samsung this week, "This strategic partnership with Google offers new business opportunities for developers, and a new platform for creating immersive new experiences for consumers."
Tie-in with Project Ambience
Samsung wants the internet of things to be intelligent – which means they want it to use Bixby. To tie Bixby to the IoT, Samsung revealed "Project Ambience" – a "small dongle or chip" that will allow seamless connections between devices of many sorts. These connections between these devices with Project Ambience will "create a ubiquitous Bixby experience". and will bring about "the next generation of IoT, that of the 'Intelligence of Things,' which combines IoT and intelligence to make your life easier."
This is Samsung's biggest move in the Internet of Things yet. Now we'll see if consumers and IT respond as Samsung intends. Stay tuned for more from the SmartThings Cloud here on SlashGear as we review every connected device we can get our hands on!