SmartQ 7 MID: WiFi, 7-inch touchscreen, but can CPU deliver?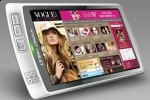 The SmartQ 5 MID promised much – low price, internet browsing, PMP functionality and oodles of connectivity – but delivered little, with its sluggish ARM chipset unable to keep up with internet browsing.  Now manufacturer Moses are back with slick new renders of their follow-up, the SmartQ 7 MID, with a 7-inch WVGA touchscreen and WiFi connectivity.
Other features include two USB host ports, which can be used to hook up external peripherals like keyboards, or hard-drives.  There's also a TV output, integrated stereo speakers (which Moses claim punch above their station thanks to "shaping of the internal cavity" and a Linux OS with preloaded IM clients, internet access and PMP features.  The battery is a 4,500 mAh pack good for up to 48hrs of music playback.
Of course, what we're waiting to hear is which processor Moses have picked for the SmartQ 7.  It's likely to be more powerful than that in their previous MID – if only to drive the higher-resolution 800 x 480 display – but without hard specs we'll have to wait and see whether this MID ends up in a muddle.
[via Pocketables]