SmartQ 5 MID gets reviewed: let down by poor CPU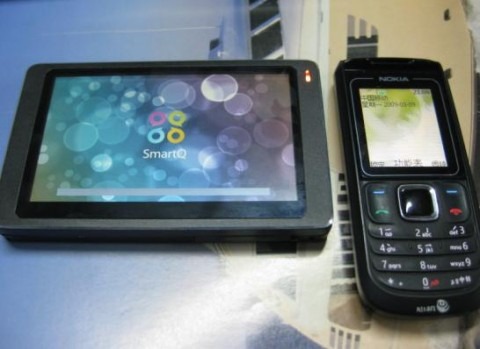 The SmartQ 5 has been making quite a few people excited, with the prospect of cheap ARM-based MIDs sweeping through and significantly undercutting Atom-based rival devices.  Last week we saw the first batch of SmartQ 5's unboxed now it's time for some home truths: for all its promise, the ARM chipset used just can't keep up with what we want from a mobile internet device.Video of the SmartQ 5 in action after the cut
The positive points are the broad Bluetooth support – including mouse and keyboard use – and decent WiFi security setting options.  The SmartQ 5 can also cope with sizable pictures, too, with 1024 x 768 stills coming up quickly.  However there's no touchscreen navigation during slideshows, and once you get into video playback there are serious issues.  rmvb and mp4 files played poorly, if at all.
It's the Samsung 667MHz ARM11 processor that really holds the 5 MID back, though.  As you can see in the video demos, there's a significant pause between making a selection and the app actually starting.  Once loaded, the browser seems to bring up pages without too great a pause, but there's no Flash or YouTube support.
Picking an ARM chipset with hardware decoding for multimedia would go a long way to making the SmartQ 5 stand up as a PMP, and with some extra grunt apps could load quicker and maybe even Flash be supported.  Until then – even at just $132 or thereabouts – it's unlikely we'll see much takeup of the MID outside of China.