Smartphones Now Majority Of U.S. Cellphone Purchases, iOS Up, Android Flat, RIM Down

It's getting more rare these days to spot one of your friends with a cellphone that doesn't have a large touchscreen and run apps. According to a May survey polled by Nielsen of mobile consumers in the U.S., smartphones are indeed becoming increasingly more popular for consumers. Although the majority of mobile consumers still currently own feature phones, the majority of new purchases skew towards smartphones.
The Nielsen report shows that only 38 percent of current handset owners have a smartphone, but it also reveals that 55 percent of new purchases within the past three months opt for a smartphone rather than a feature phone. Just the year before, the number was 34 percent.
The majority of smartphone owners—about 38 percent—have an Android device. Android smartphones are also leading when it comes to recent purchases. This isn't surprising given the broad selection of Android devices on the market. But what's interesting, is that the report shows that Apple's iPhone has actually seen more growth over the recent months while Android phone purchases remained relatively flat.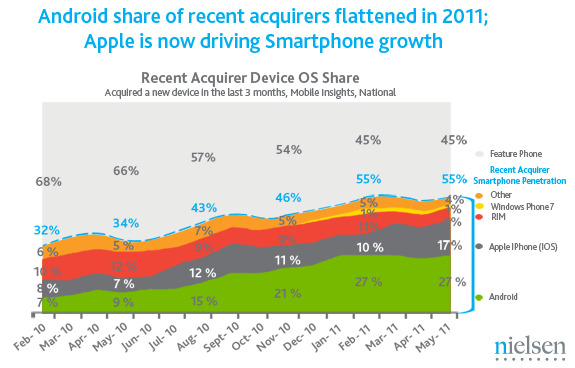 Among recent purchases, RIM's BlackBerry has seen a downward trend but still ranks third at 21 percent of smartphone OS market share. Windows Mobile comes in fourth at 9 percent followed by Symbian and HP's WebOS each at 2 percent. Way behind is Windows Phone 7 with 1 percent. This may change soon, if the Windows Phone Mango update delivers with new and exciting hardware, such as the Nokia Sea Ray.
[via NielsenWire]