Smartphones eat portable gaming market as revenues slide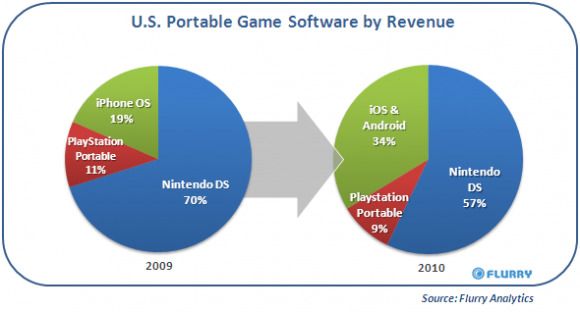 Smartphone gaming continues to ratchet up the pressure on traditional mobile platforms like the Nintendo DS and Sony PSP, with market analysts Flurry releasing stats that show iOS and Android gaming almost doubled their market share against the old-school consoles. The Nintendo DS dived from 70-percent in 2009 to 57-percent in 2010, while the PSP share slipped from 11-percent to 9-percent, judged by revenue.
Interestingly, it's only the portable segment which is really feeling the squeeze. Smartphone gaming revenue increased from 5- to 8-percent of the US market, while console gaming revenue grew from 71- to 76-percent. In contrast, traditional portable gaming revenue dipped from 24-percent to 16-percent.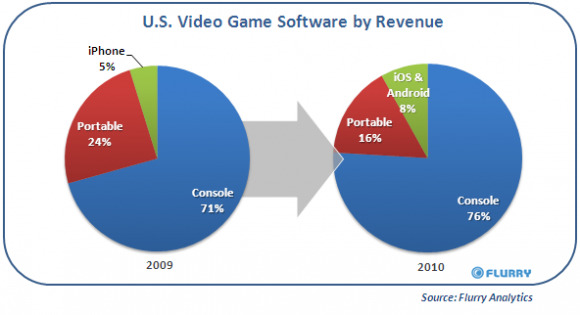 Overall, though, it's billed as bad news for the mobile gaming segment as a whole. While smartphone game sales are increasing, the per-app price is generally less than what's charged per DS or PSP title; that's seen the value of the market drop from $2.7bn in 2009 to $2.4bn in 2010. Sony's push with the PlayStation Suite of development tools for the NGP – which will allow developers to create games for both the new console and Sony Ericsson's Android handsets – may only speed that drop, as mini-titles on dedicated handhelds become more commonplace.