Smartphone shipments top 1.5b in 2016 with Apple leading in Q4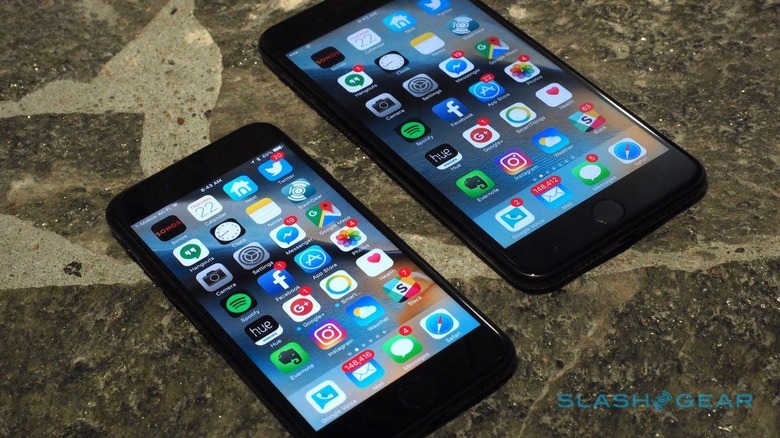 It appears that 2016 was a pretty good year for the smartphone industry, at least according to new data from Strategy Analytics. The analytics firm announced that smartphone shipments managed to hit an impressive 1.49 billion last year. That's a new record for the industry, and it represents a 3% year-over-year rise in total smartphone shipments from 2015.
Quarter 4 in 2016 showed better growth than the year as a whole, with total shipments for the quarter growing 9% year-over-year, from 403 million units in 2015 to 438.7 million in 2016. Apple was able to just barely edge out Samsung in the final quarter of the year, shipping 78.3 million handsets compared to Samsung's 77.5 million.
Apple enjoyed a 5% increase year-over-year, while Samsung saw its numbers drop 5%. Samsung's drop in numbers can almost certainly be blamed on its troubles with the Galaxy Note 7, which dominated the news during the quarter and ended up costing Samsung a significant amount of cash. Had things turned out okay with the Galaxy Note 7, we'd likely see the positions between Apple and Samsung swapped for Q4 2016.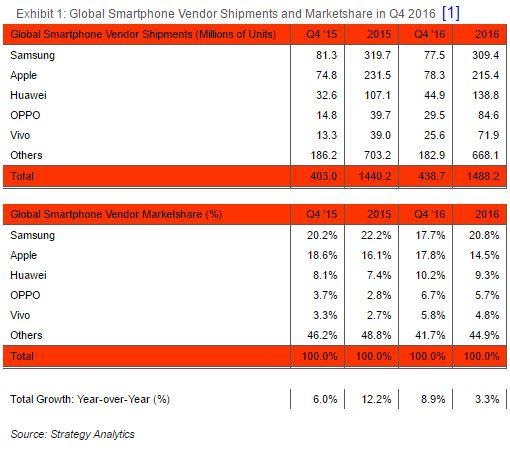 Other winners for the quarter include Huawei, which managed to hit double-digit market share with 10% for the first time. OPPO and Vivo managed to nearly double their market share, and although their single-digit percentages are small when compared to Apple and Samsung – which both nearly hit 20% market share for the quarter – their rise is thanks to their growing popularity in large regions like China.
2017 should prove to be an interesting year. Not only will we see if manufacturers like OPPO, Vivo, and Huawei can continue to pull away market share from other companies, but we'll also see if Samsung can reclaim the top spot from Apple. That could begin with the Galaxy S8, which is highly anticipated after the Galaxy Note 7 debacle. We should be getting official word of the Galaxy S8 within the next couple of months, so stay tuned.
SOURCE: Strategy Analytics