Smartphone gaming surges says comScore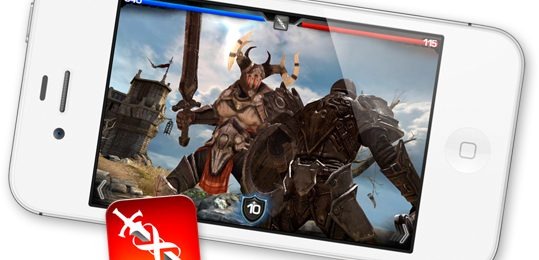 Mobile gaming surged in February according to European smartphone research, with a 55-percent increase in users playing at least one title on their device compared to last year. 42-percent of smartphone owners in five key European markets - France, Germany, Italy, Spain and the UK – gamed on their phone, comScore's figures suggest, with a similar climb in uptake of social-enabled games that feature Facebook integration, head-to-head play, communal leaderboards or other features.
Of the five countries surveyed, the UK came in ahead for penetration of mobile gaming. 16.4-percent of those in the UK surveyed in the three months ending February 2012 said they played games on their smartphone daily, with over half playing at least once a month. France showed the lowest adoption, with 7.4-percent playing daily.

As for gaming where social integration is included, use is unsurprisingly less but still growing. Across the five countries, 13.2-percent reported playing games where they logged in via email or Facebook, and 9.1-percent played head-to-head with others. Italians appear to send and receive the most gifts, at 2.7-percent. 6.1m smartphone gamers reported using social gaming at least once in February.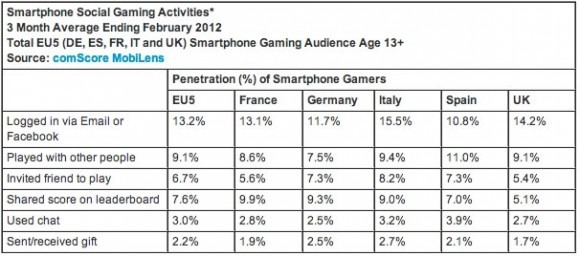 Beyond basic phone functionality like calls and SMS messaging, the browser is the most frequent single app use according to comScore's figures. 40.5-percent of owners across the five European countries used the browser in February 2012, with gaming coming in behind at 29.1-percent and listening to music at 28.1-percent. 27.6-percent accessed social networks or blogs.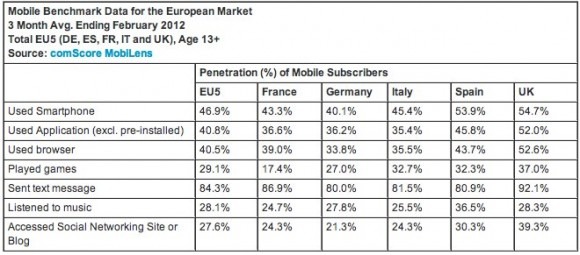 comScore argues that the climb in gaming popularity is due to titles being more immersive and graphically impressive, as well as them being one of the aspects of the smartphone user experience which doesn't necessarily demand an internet connection. That, the research firm says, means smartphone owners turn to games when in areas of patchy or zero coverage.