Smarter and sleeker: This is Acura's new self-driving prototype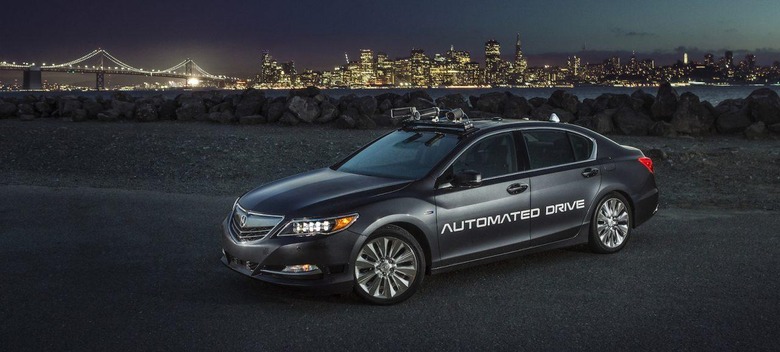 Acura has revealed its second-generation autonomous car prototype, smarter and more capable of potentially tricky road conditions than its predecessor. The new car has been outfitted with an updated batch of sensors, but arguably more important is the fresh software, with a new set of algorithms that Acura claims will be more resilient to changing real-world challenges.
While the research car is at its heart an Acura RLX Sport Hybrid SH-AWD, it's not like anything else that has rolled off the company's production line. There are new radar, lidar, cameras, and GPS sensors installed, most noticeably atop the sedan in the form of a number of nubs, fins, and turrets.
However there are significant changes under the sheet metal, too. Acura has upgraded the CPU and GPUs it uses for swifter performance, while the cabling, heat management, and other circuitry have also been revamped.
While some autonomous car research has focused on using cameras or lidar alone, Acura has gone for what's known as "sensor fusion" where multiple data sources overlap.
Though it's potentially more expensive than single-sensor approaches, by combining data from several sensors Acura can get better accuracy overall.
Meanwhile, some sensors are simply better at their function than another would be. The radar emitters can handle relative position and velocity of objects around the car, for instance, but they struggle to identify what those objects might be; instead, the camera array can do that based on shape and size.
Acura will release the research car into the faux-streets of the Honda Research Institute USA at GoMentum Station, a research facility in California which has 5,000 acres of test infrastructure set up as highways and urban environments.
NOW READ: We took the new Acura NSX to the race track
If all goes to plan, Honda and Acura plan to introduce a self-driving car around 2020, building on technologies we tried out at the company's Japanese testing ground late last year. Before that, though, some of the same sensors – albeit in slightly less obtrusive forms – will be used as part of AcuraWatch, the premium marque's version of the Honda Sensing suite of features like adaptive cruise-control, lane-keep assist, and collision mitigation braking.
They're found in the new 2017 Acura MDX unveiled earlier this year, for instance, which goes on sale this summer.