smart vision EQ fortwo is a talkative self-driving concept EV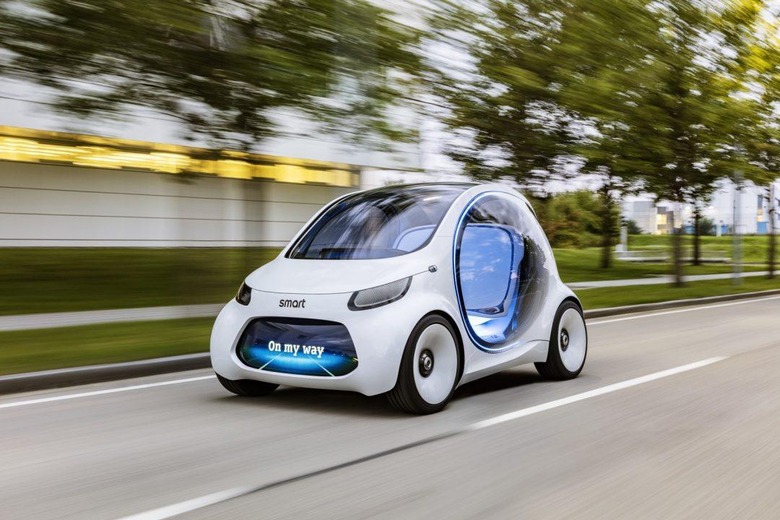 Mercedes-Benz already has a few autonomous car concepts, but now it has a tiny one, the smart vision EQ fortwo. Building on the tiny two-seater city runabout with a more insectile design, the new concept combines four of Mercedes parent Daimler's current obsessions: connectivity, autonomous driving, flexible use, and electrification. Of course, it also has some concept car craziness, too.
On the outside, it's a mere 8 foot 10 long, and 68 inches wide. The doors pivot back, over the rear axle, not only making for an easier entry or exit, but reducing risks to cyclists and pedestrians who might be passing. Short overhangs combined with bulging wheel arches, the latter filled with rose-gold wheels, pick up on the existing smart proportions but make them more aggressive.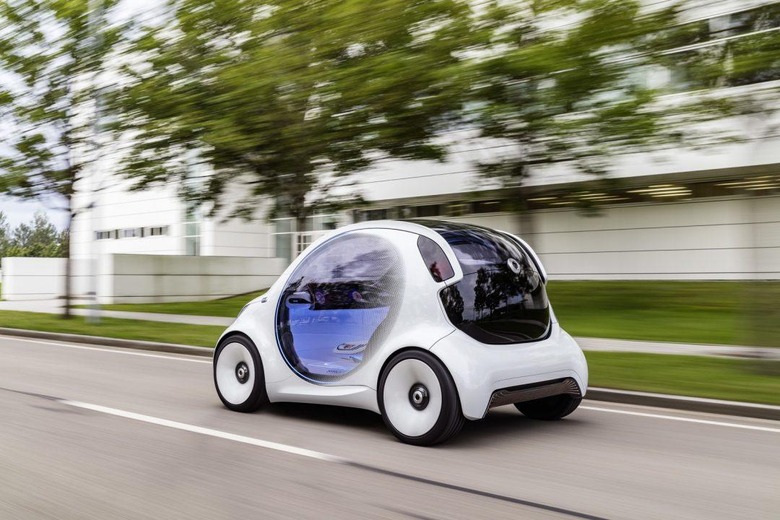 The black panel grille and LED displays can be used as screens to deliver information to other road users about the car's intentions. They also replace headlamps and tail lamps. The side windows, meanwhile, have a special film onto which the smart vision EQ fortwo can project information.
That might mean local events or weather forecasts when the car is parked up, smart suggests. Since the concept is designed to be shared among multiple users, calling it to their location with a smartphone interface, the external screens also flag which is the car you've booked. The rear panel indicates whether there's one or two people inside.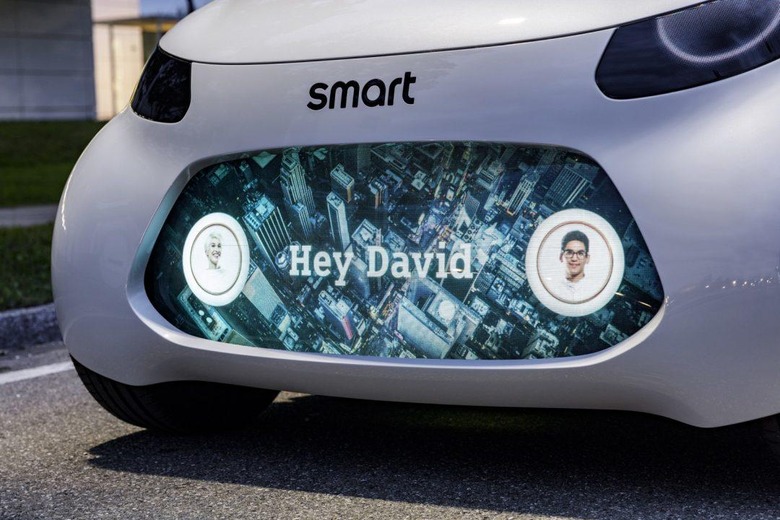 If you're on your own, smart is hoping it can help you make friends. A "1+1" sharing function automatically pairs you with another rider, using what's in your saved profile and your current travel plans. If you match up, the 24-inch dashboard display shows any shared interests, such as recently-attended concerts or hobbies in common. "The extra time gained as a result of traveling in an autonomous vehicle can be used to chat and interact," smart says, words which will probably strike fear into the heart of many Uber users.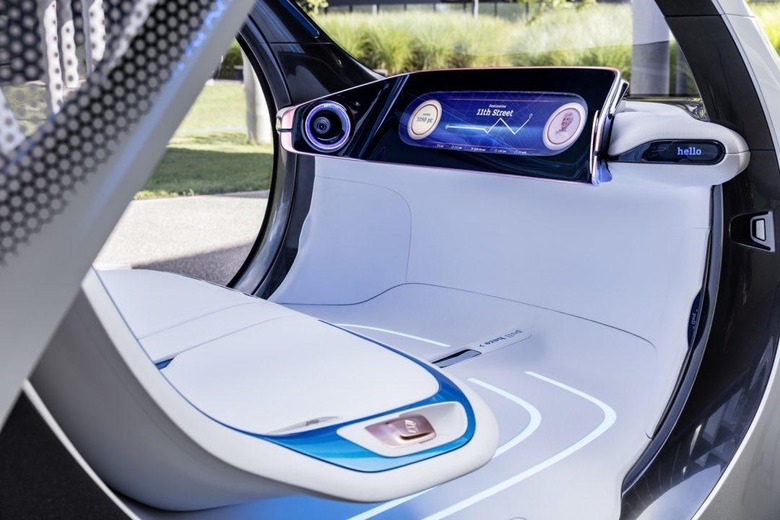 Since it's autonomous, the smart vision EQ fortwo can automatically drive itself to a charging station to top up its 30 kWh li-ion battery. However, Daimler also envisages inductive charging being used, both pulling out and feeding in electricity into the grid. Described as a "swarm battery" it could help take pressure off areas of the grid with high demand.
With no steering wheel at all, this is arguably a more aggressive vision of self-driving mobility than some of Mercedes' earlier concepts. The F 015 Luxury in Motion a few years ago may have been more striking externally, but it still had a retracting wheel that could pull out for manual driving.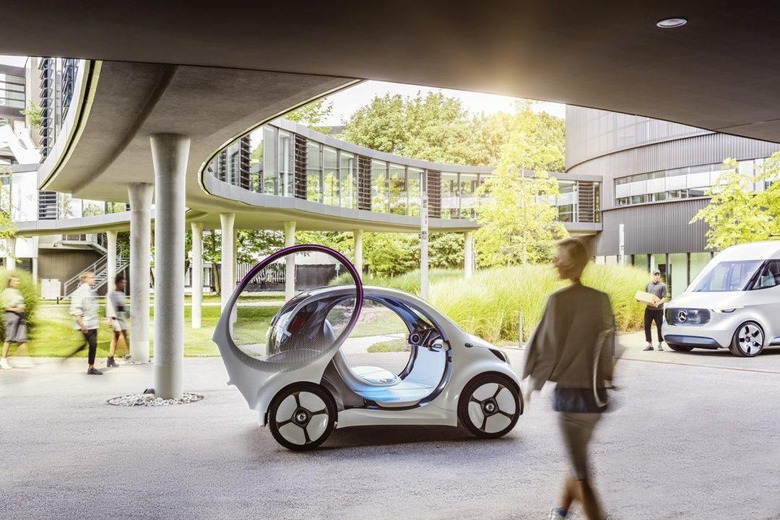 Still, given that many expect autonomous vehicles to gain traction first in shared ride services, the smart vision EQ fortwo could be a more realistic expression of what our first tastes of driverless motoring might be. Of course, there's no current plan to actually turn the concept into a production vehicle, but expect Daimler's various brands to keep pushing its on-demand shared services like Car2Go.