Smart vending machines are coming in 2016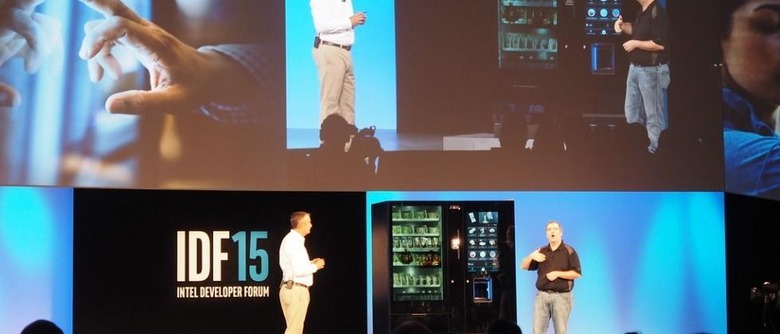 Vending machines that recognize you might not seem your first priority when you're desperate for a snack, but the US is about to be invaded by thousands of them. Automated retail behemoth N&W is planning to release a flock of 5,000 smart vending machines across America in 2016. They, Intel confirmed at its IDF 2015 opening keynote this morning, will be powered by a number of the tech company's products.
So, there'll be big displays built into the fascia of the machines, which will work as interactive billboards. The demo machine Intel brought on-stage, indeed, had both a regular display and a transparent screen integrated into the glass panel protecting the snacks.
Step up to the machine, and cameras inside can begin figuring out demographic details about who is about to use it.
That could include gender and age range, for instance; that information will be passed back to N&W's servers, and then feedback given to the vendor not only about which products are selling well, but the sort of people who are visiting that location.
The RealSense cameras can also be used for hands-off control, however. Intel showed how the vending machine could track hand movement in front of – but not touching – the control panel.
While waving for a Snickers might seem a little odd, it makes more sense if you want to avoid pressing buttons that untold sticky, germ-covered fingers have touched before you.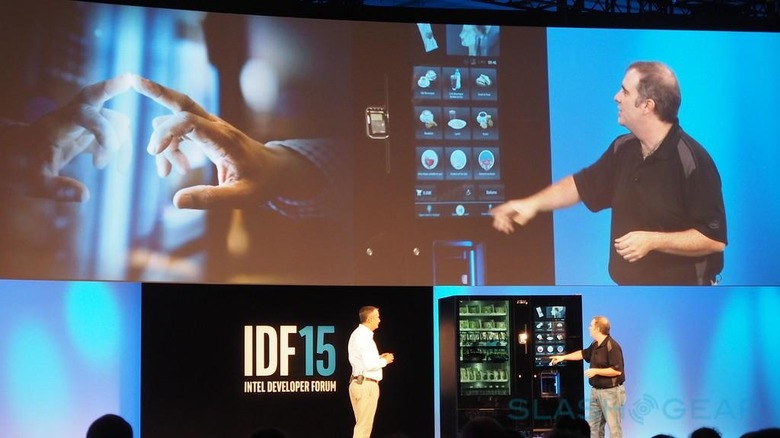 In fact, the whole transaction can be completed without making contact with the vending machine itself.
With automated vending worth $42bn in the US each year alone, all of a sudden the idea of smarter machines capable of learning patterns and making both stock management and product recommendations starts to see a whole lot more understandable.
The first N&W machines will begin showing up in the US in the new year.