Smart Forspeed Concept Electric Car To Debut in Geneva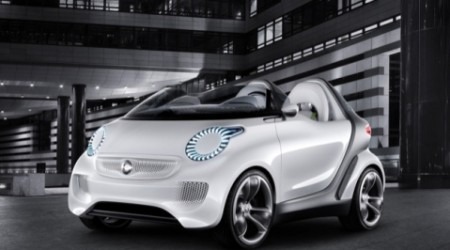 Electric cars of the future won't be tame and utilitarian if Fisker's Karma is any indication of what lies ahead. Trying to shake off the hippie image and gain the "cool" factor that appeals to the broader market, electric car manufacturers, including Smart, are pushing for speed. Smart will be debuting a speedy concept car, aptly named Forspeed, at the 2011 International Motor Show in Geneva next month.
The Smart Forspeed is similar to the Smart Fortwo Electric Drive currently being tested in Europe and the US, except that it seems as though it's made specifically for Californian weather. The concept has no roof, no window framing, and no exterior door handles. The interior is waterproofed and channels away collected water from the car, should the occasional storm hit. An adjustable cradle for your phone hooks it up to the car's infotainment system.
The 30 kW motor housed in the rear is powered by a 16 kWh battery. The battery can be recharged from zero to 80 percent in just 45 minutes using a 220 volt outlet and can last up to 85 miles on one charge. As for speed, the car can go from 0 kph to 60 kph in 5.5 seconds. But before you get wide-eyed, do note that was kilometers per hour, which translates to about 37mph in 5.5 seconds. So it's not quite made for going fast and furious, but it's one more step in that direction for Smart. And it will be interesting to see what other made for speed hybrids and electric cars may turn up in Geneva next month.
[via CNET]