Fisker To Finally Start Production Of Luxury Hybrid Karma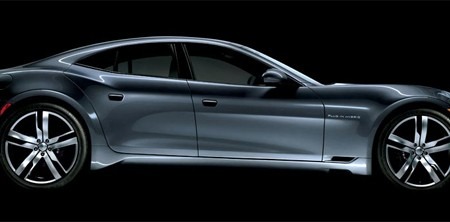 Green-promoting Hollywood celebs, such as Leonardo Di Caprio, can soon ditch their Priuses for the Karma. After several delays having to do with financing and logistics, the electric car startup company Fisker has finally confirmed production for the Karma, a luxury plug-in hybrid sports car. The Karma is set to start production on March 21st, and the target price tag for the vehicle should be $95,900.
Fisker raised $150 million this month at a $600 million valuation with plenty of big name venture capital backers. The company is often compared to Tesla because both focus on luxury electric vehicles. However, Fisker's upcoming vehicle is more of a plug-in hybrid rather than all electric. The Karma is expected to go up to 50 miles on battery before it switches to gas. It can also go from zero to 62 mph in less than six seconds.
The Karma was originally scheduled to launch in 2009 but instead came several announcements of delays. Hopefully this time, Fisker has truly gotten their act together. They now plan to produce 1,500 Karmas a month by October and hope to eventually sell 15,000 Karmas annually.
[via Venture Beat]