"Smaller Screen" 3G Devices In Works Says Michael Dell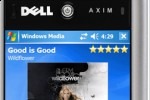 Michael Dell has given the most definite confirmation to date that his company is working on a MID or smartphone.  Speaking in Tokyo, Dell highlighted the ongoing relationships Dell has with mobile carriers providing service for notebooks with integrated 3G, and suggested "it wouldn't be unreasonable" for future devices to include more portable internet-enabled devices.
"It is true that we are exploring smaller screen devices.  We don't have any announcements to share today but stay tuned as when we have new news we will share that with you" Michael Dell, CEO, Dell
The confirmation comes as analyst Shaw Wu described carrier reaction to Dell's recent smartphone prototypes as "hostile".  According to Wu, Dell's models were deemed too similar to HTC, LG and Nokia handsets, leaving carriers little incentive to pick them above the rest, and paled in comparison to upcoming models such as the Palm Pre.
Dell declined to comment on the recent rumors, including those that his company had already placed a smartphone order with Hon Hai Precision Industry.  He also confirmed that buying other companies was a potential route for its smartphone plans, but that its "acquisitions focus" is currently elsewhere.