Small cars slammed in tougher crash testing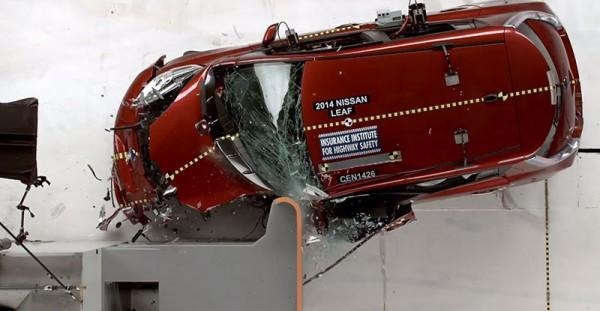 Tougher crash testing has exposed the worrying deficiencies in some of the most popular small cars on the market, with safety regulators warning that the shortcomings could lead to head and leg injuries. The Insurance Institute for Highway Safety (IIHS) put twelve small cars currently available in the US through the small overlap front crash test, which examines how a vehicle holds up to an offset impact such as when hitting a tree or utility pole, and as you can see in the video after the cut, the results aren't good.
Of the twelve tested, only the Mini Cooper Countryman managed to achieve a "good" rating, with the IIHS citing its safety cage and well-designed airbags and belts for minimizing risk of significant injuries.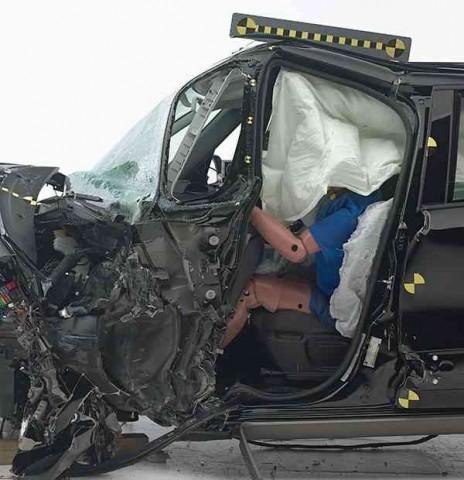 However, it was a small glimmer of good news among an otherwise mediocre showing. Fiat's 500L showed significant intrusion into the cabin during the test, leading to the airbag ending up offset.
Nissan's Leaf EV showed between 14- and 16-inches of intrusion into the cabin from the impact, which would almost certainly lead to lower leg and knee injuries, the IIHS warns.
Only the Chevrolet Volt managed to get the Top Safety Pick+ award, thanks to in part its optional forward collision warning system. Ford's C-Max Hybrid, Mitsubishi's Lancer, Scion's FR-S, and Subaru's BRZ get Top Safety Pick ratings, even though they variously scored "average" or "marginal" on a number of the test's factors.
Worse of the bunch was the Mazda 5, though, which the IIHS describe as being one of three cars with the worst results the small overlap front crash test has recorded. "A host of structural and restraint system problems" were observed, IIHS' Joe Nolan, SVP for vehicle research says.
That includes a high risk of thigh and lower leg injury, movement of the steering wheel leading to the high likelihood that the driver's head would miss the airbag altogether, and too much movement allowed by the safety belt leading to an impact with the dashboard. The side curtain airbag failed to fire altogether, and the driver door managed to open itself during the test.
The small overlap testing is seen as important because it's a relatively common problem, with drivers impacting an object with around 25-percent of the front bumper, and thus only getting partial protection from crumple zones and such. Tougher to pass than the current NHTSA head-on crash tests, it demands a structure strong enough to resist intrusions that can trap or injure the driver or front passenger, as well as interfere with airbags.
Previous IIHS testing has proved controversial, such as when the agency decided that family cars were in many cases safer than luxury vehicles, despite the claims of manufacturers themselves.
SOURCE IIHS