Slingshot v2.0 ditches clumsy 'send-to-receive' feature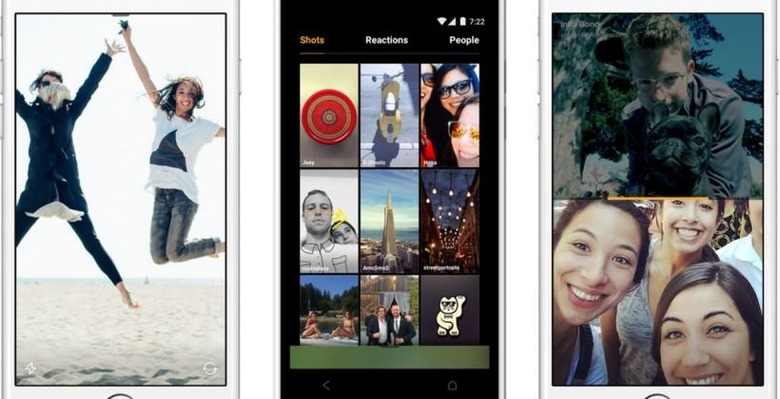 Remember Slingshot, Facebook's answer to — well, nothing and everything, really. The messaging platform tried hard to provide a secure environment, but the "send-to-receive" thing fell flat. To see a message, you had to send one, and it was just clumsy and strange. In version 2.0, which Facebook announced today, they've stripped that functionality away, instead opting for a more grounded approach. Now, sent messages will appear in a timeline, and your recipient has the option to react privately.
Images sent still expire in 24 hours, or after a friend has viewed it. To put the new Slingshot into simpler terms, it's Snapchat's Stories feature, just as a standalone service and app.
Via the blog post announcing the change, the Slingshot team says the goal is to "share life as it happens", and promises it's now "simpler, cleaner" and "more fun" to use.
Aside from the forced sharing, which quite honestly needed to happen if Slingshot was going to survive at all, there are new photo filters you can take advantage of. You can also caption your photos, or draw on them.
Content will display in a grid, so you're getting a photo-rich platform. Swipeable actions make navigating the app much easier, too.
You'll also be able to respond to messages (or shots) via a private photo or video, and preview them before sending along. You can now follow more folks around the app, and everyone has the option to manually allow followers if they'd rather stay private.
Posts can also be shared to other apps, like Facebook, Instagram, or Twitter.
The new Slingshot is nice, but we can't help but to think they've lost some momentum after their initial launch, which brought a pretty terrible experience. Still, if the goal is to compete with the Instagrams and Snapchats of the world, Slingshot version 2.0 is a really good start.
Source: Slingshot Blog