SlingPlayer for webOS and Android incoming?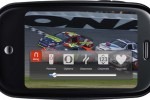 Sling Media's upcoming smartphone plans have been tipped courtesy of a new job listing from the company.  The role – Senior Mobile User Interface Designer – calls for someone with experience of (or interest in gaining knowledge in) UI designs for iPhone, BlackBerry, Windows Mobile, Symbian, Android and Palm webOS.
"Be knowledgeable about and/or interested in becoming an expert on the existing user interface paradigms used on iPhone, BlackBerry, Windows Mobile, Symbian, Android, and Palm WebOS" Sling Media job listing
What's striking is that, to date, Sling only have applications for a number of those platforms, suggesting that behind the scenes the A/V placeshifting experts are beavering away to deliver more versions of their mobile SlingPlayer software.  Likely to be near the top of the list is webOS as on the Palm Pre; Sling were one of Palm's announced partners at the Pre launch back in January 2009, but until now there's been no word of the software's release.
Whoever eventually gets the role will be responsible for the pretty end of Sling's SlingPlayer app.  However they'll also work in other departments as well as mobile; the listing suggests that "there will be opportunities to work on other platforms as well."
[via PreCentral]