Slingbox PRO-HD Freeview Review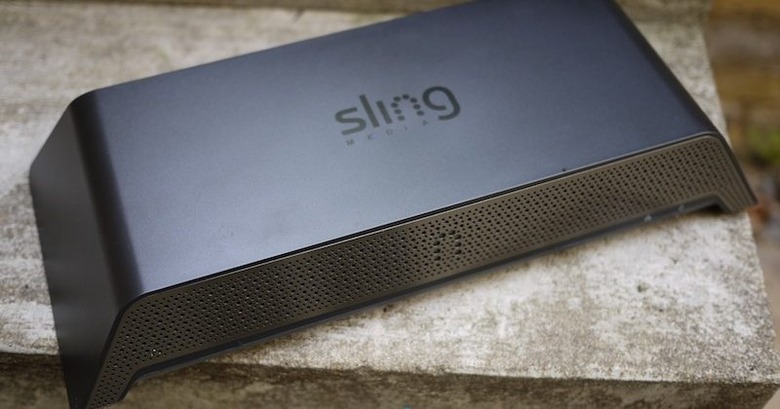 Sling Media's Slingbox PRO-HD for the European market has been a long time coming, two years in fact, though the streaming media market has largely left its niche alone in the meantime.  As with the US model, the PRO-HD promises to take your SD and HD video sources – cable TV box, DVR, DVD player or even CCTV hardware – and squirt it over the internet; however, this new version also includes a Freeview tuner to add free-to-air digital TV to that list.  Check out the full SlashGear review after the cut.
The Sling family resemblance is obvious, and in fact you'd be hard pressed – from the outside at least – to tell the difference between this new PRO-HD and the two year old original.  A squat trapezoid measuring 13.25 x 5.75 x 2.25 inches and finished in high-quality matte black and silver plastic, it has minimal hardware controls (a reset button is the only physical control) and just three LED indicators: red network and power lights in the bottom right hand corner on the fascia, and a larger inverted-U that pulses and cycles during streaming.
It's on the back that the action happens, with the whole rear panel covered in connections.  The number of ports is actually deceptive, since most are actually pairs: one set of inputs and then another set of matching outputs so that you can slot the PRO-HD in-between the source and the local TV.  From left to right there's the reset button, power input and ethernet, an unused USB host port, then the SD inputs (L/R audio, video and S-Video), the HD inputs (L/R audio, S/PDIF and component video), the IR blaster port and then coaxial input/outputs.  Notably missing is HDMI and any sort of integrated wireless; both would have been helpful additions, given that they're increasingly common A/V and networking standards.

Setup is reasonably straightforward.  Sling supply a set of cables for each type of connection, so that you can connect up the Slingbox and then route it back to your TV, though of course you may not use all of them.  There are also four IR blasters, L-shaped self-adhesive plastic sticks which can be used to control sources like satellite TV boxes via the virtual remote control in the SlingPlayer software.
To start, we hooked up a regular TV antenna and went to the online setup page.  After registering an account (and installing a plugin which required restarting the browser) we encountered the first problem.  On our test Mac, Sling only supports Safari in 32-bit mode (rather than the default 64-bit); you can force the browser to load in 32-bit mode, but you may then have some issues with performance or other plugins.  Chrome – on either PC or Mac – is not yet supported, which leaves Firefox (on both platforms) or Internet Explorer.
After that hiccup, we told the Sling setup wizard that it was connected via the coaxial port (it was unable to locate the input automatically) and it tuned in the available Freeview stations.  From that point we had a simple video window – which could be resized or made full-screen – and an optional on-screen remote control panel.  The latter was a decidedly simple affair, just numeric keys, a last-channel button and channel up/down controls, plus a numerical display to show channel number.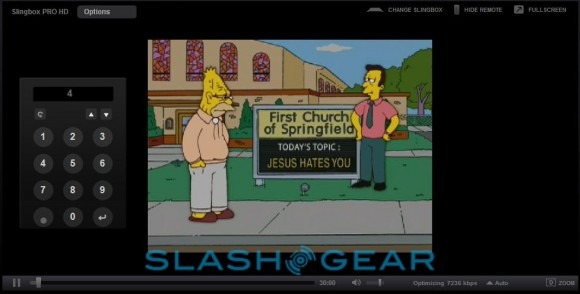 That led us to the biggest issue with the new PRO-HD: the lack of a Freeview programming guide.  On a regular Freeview box you can call up a multi-day EPG of what's showing now and what's on next; that's missing from the new Slingbox.  With 87 channels tuned in (some of which are radio stations, others which require subscriptions that aren't compatible with the PRO-HD), it proved frustrating not knowing what was showing on each, indeed not knowing – beyond the number – which channel we were currently watching.
It's obviously not an issue when you plug in external sources, since any guide they output is sent over the Sling link.  We hooked up a basic Freeview tuner (with EPG) and had no problems viewing the content and navigating the menus and guide using the on-screen remote.  Similarly, a DVD player worked with no issues.  The Slingbox PRO-HD supports up to three devices (one SD, one HD and one via the coax input) connected simultaneously, and either 720p or 1080i HD; if your DVR or Blu-ray player outputs 1080p you'll need to manually limit it to 720p/1080i if you want the Slingbox to work with it.
As always, the limiting factor to quality is the strength of your internet connection.  With a 1Mb uplink we were able to get smooth playback on an Android phone running the SlingPlayer app over a 3G connection (no surprise, given the small screen).  The SlingPlayer client will automatically adjust bitrate according to network capacity.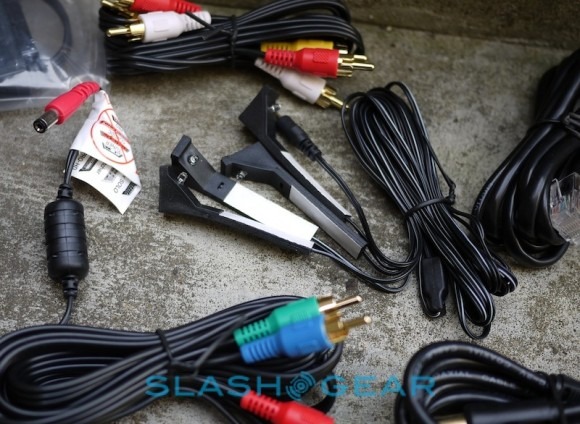 Sling has also launched Slingbox.com with an in-browser viewer, avoiding the need to install a PC or Mac app to view the streamed content.  This, they reckon, makes it easier to access your SlingPlayer on a friend's computer or a public machine; however, on each browser we tried, we needed to install a plugin before we could watch the stream, so its flexibility will depend on how locked down the computer actually is.  No plugin, no Sling.  It's also worth noting that Slingbox.com won't stream to an iOS browser, so you'll still have to buy the company's iPhone/iPod touch app (or the upcoming iPad version) if you want to use an Apple mobile device.
Those points aside, we're still fans of the Slingbox PRO-HD.  The company says they've been surprised with the number of users who rely on their Slingbox not for travel access but simply for shifting media around the home: roughly 70-percent of buyers, in fact.  For that, it works exceptionally well, and the addition of the Freeview tuner means one person can be watching the satellite or cable tuner in the living room while someone else accesses free-to-air digital TV elsewhere in the house.  Our minor issues with setup could readily be bypassed by using a different browser (or making a tweak to Safari), leaving only the absent EPG as the biggest stumbling block.
You can work around it, certainly – there are plenty of online Freeview guides – but it's a gap in what otherwise is a very user-friendly device.  Still, at £249.99 it's hard to think of another device that does exactly what the Slingbox PRO-HD can, and most users will likely be relying on it to shift content from a hard-drive equipped DVR or other source and may never even consider the Freeview tuner.  Just don't forget to budget an extra £18-20 for each mobile version of the SlingPlayer app if you want it on your smartphone or iPad.