SlashGear's WIMM Spring Developers Project Update!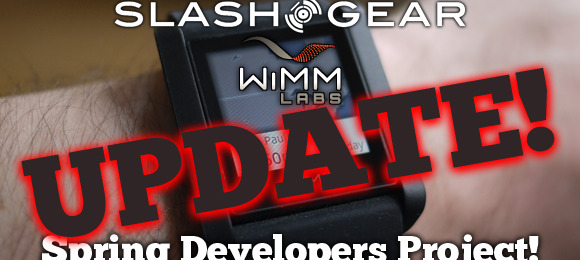 This week and next we're running our Spring Developers Project with none other than WIMM and their WIMM One developer preview kits. This is the same kit we reviewed in full a few weeks ago, now here ready to distribute to you! All need in exchange is your awesome ideas for mini-apps for the future of this watchface-sized Android device! We've chosen several winners already and the project is set to continue through until right before the start of Mobile World Congress 2012 – check below to see our first winners and their awesome contributions!
First we've got to re-list the simple instructions you'll be following if you want to get in on the fun! We're running this project at the same time as our sister site Android Community is running a twin event with 10 WIMM One developer kits of their own! Our contest is run on Facebook while theirs is run on Google+, and it's all up to YOU where you want to enter. Here's what you'll have to do if you want to enter here on SlashGear:
1. "like" us on Facebook: /SlashGear

2. Leave a comment in this thread with your idea for a Micro App the WIMM would work great with in the future.

3. We'll pick a set of our favorites and select a random winner every 24 hours starting on the 14th of February!
It's just that simple! You may only submit ONCE, and only ONE idea of yours will be considered for the random pull if it's good enough to get into the hat in the first place!
Development tools (SDK) are available to registered WIMM developers. Sign up here. For the FULL rules and legalities, head back to the main project post.
As for our winners so far, behold!
1. Jacob Postle
"For those of us road warriors addicted to google maps and navigation, having a watch micro app that can start vibrating when you are about to miss a turn or drive into a nasty traffic jam would be killer... not to mention a great way to fend off road fatigue. As an added safety feature, an intrepid developer could add an option to start vibrating like crazy if the driver hasn't moved their wrist in a while. If some folks prefer visual to tactile cues, the wimm can be stuck on the steering wheel or instument panel and display simplified turn instructions without causing as much driver distraction as a full smartphone screen would."
2. Devin Bernosky
"An app that spoofs an urgent phone call. If you're having a horrible first date, or need an excuse to leave an awkward situation, launch the app on the WiMM, which activates a silent countdown. After the countdown, your phone rings, and you have a wonderful excuse to hurry off."
3. Syaizul A Syamil
"App that is connected to bluetooth sensors that allows monitoring of bodily condition like temperature, blood pressure, pulse rate and etc. And continuously record this into the phone while displaying live data on the watch. Also able to voice out critical data like "Warning – exceeded normal body temperature" would be useful."
NOTE winners should contact Giveaway[at]SlashGear.com with their contact information including preferred shipping address, phone number, and email so that we can send you your WIMM One developer preview kit, and the full list of winners will be listed in the original contest post! Also remember everyone, just because you've submitted your idea and we've selected several winners already doesn't mean you don't still have a chance to win! We've gotten lots of great entries already – keep checking back!