Join in on SlashGear's WIMM Spring Developers Project!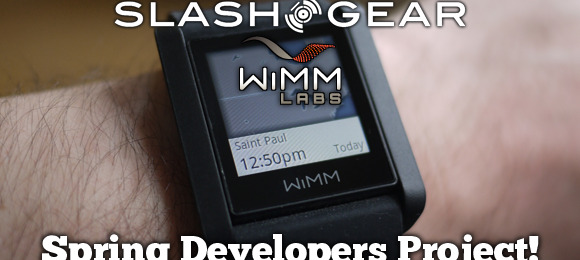 It's time to work with SlashGear and WIMM to bring you into the next generation of Android-based wristwatch-sized fun and interaction with our WIMM Spring Developers Project! What we've got here is a set of TEN WIMM One developer preview kits (Be sure to check out SlashGear's review of the WIMM One developer preview kit here!) ready to distribute to you, but what we need in return is your ideas for what a watchface-sized Android device should or could be capable of! It's an ideas project, ladies and gentlemen, and we want you to use your mind to bring a WIMM One unit directly to your wrist!
Over the next couple of weeks, we'll be asking you to submit your ideas on one of several different social networks in order for the whole world to advance in the world of tiny computing. It's one big brainstorming session for the WIMM One Android-based platform device, and you're invited. For this first week's session, we simply ask that you do the following:
1. "like" us on Facebook: /SlashGear

2. Leave a comment in this thread with your idea for a Micro App the WIMM would work great with in the future.

3. We'll pick a set of our favorites and select a random winner every 24 hours starting on the 14th of February!
It's just that simple! You may only submit ONCE, and only ONE idea of yours will be considered for the random pull if it's good enough to get into the hat in the first place!
Development tools (SDK) are available to registered WIMM developers. Sign up here.
Get out your thinking caps and get to it!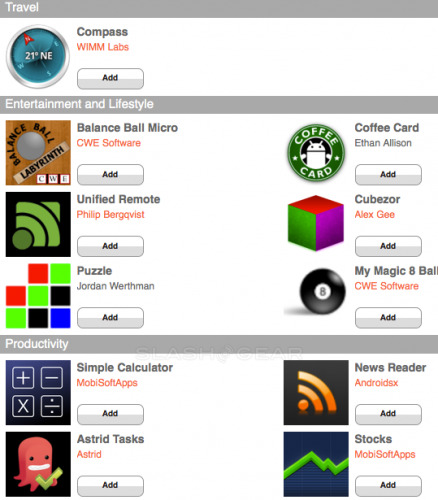 Here's the full rules as well, if you're wondering about all the legalities of the situation:
Giveaway begins February 14, 12:01AM PST, and ends February 24, 12:01AM PST barring any complications finding winners. A winner will be announced every 24 hours here in the main news feed and at our official Facebook page.

WINNERS will be given the opportunity to submit a review of their WIMM One unit and have it posted on the front page of SlashGear or AndroidCommunity.com! *Reviews may be edited or modified before publication and are considered works for hire under the 1976 Copyright Act. Submissions will be ineligible for payment or remuneration.

Competition is open to residents of the US over the age of 18. One entry per giveaway per person. Family members of Google and SlashGear/Android Community are not permitted to enter. Competition entries are only accepted via the specified SlashGear Facebook page; entries left in the comments section of this or any other post will not be recognized.

The winners will be contacted by a SlashGear or Android Community staff member upon being selected and will be expected to respond to that staff member; they will be expected to respond within 24 hours else their prize may be forfeit and another winner selected. Editors decision is final and no correspondence will be entered into. Winner agrees that their name and details of their entry may be used for promotional purposes by, but not limited to, WIMM, SlashGear, and Android Community.

Prize consists of 10 WIMM One developer units to be given out over the 10 days between February 14th and February 24th. One prize per winner. There is no cash alternative or any other alternative for prize winners unless this prize should become unavailable, in which case SlashGear and WIMM reserve the right to substitute another prize of equal or greater value.
Giveaway provided by SlashGear/Android Community. Prizes provided by WIMM. Any questions regarding this giveaway should be directed to Giveaway[at]SlashGear.com
WINNERS LIST:
1. Jacob Postle
"For those of us road warriors addicted to google maps and navigation, having a watch micro app that can start vibrating when you are about to miss a turn or drive into a nasty traffic jam would be killer... not to mention a great way to fend off road fatigue. As an added safety feature, an intrepid developer could add an option to start vibrating like crazy if the driver hasn't moved their wrist in a while. If some folks prefer visual to tactile cues, the wimm can be stuck on the steering wheel or instument panel and display simplified turn instructions without causing as much driver distraction as a full smartphone screen would."
2. Devin Bernosky
"An app that spoofs an urgent phone call. If you're having a horrible first date, or need an excuse to leave an awkward situation, launch the app on the WiMM, which activates a silent countdown. After the countdown, your phone rings, and you have a wonderful excuse to hurry off."
3. Syaizul A Syamil
"App that is connected to bluetooth sensors that allows monitoring of bodily condition like temperature, blood pressure, pulse rate and etc. And continuously record this into the phone while displaying live data on the watch. Also able to voice out critical data like "Warning – exceeded normal body temperature" would be useful."
4. Bob Nielsen
"What we need is a emergency notification app that will notify a person with a wimm one when there is a emergency in the area like tornado watch nuclear fallout or just flash flood."
5. Mike Loebl
"I'm into amateur radio and would love to integrate APRS (think instant messages/geolocation/news/weather/twitterlike and IM like before they were really popular on the Internet) Would be cool to have an app so I can see local stations, receive emergency weather alerts, and get notification when friendly ssid (stations) are within a certain proximity of my location. Ideally it would be client/server situation where I'd have the APRS server service running on my Android cell phone or tablet (can communicate to the APRS via the Internet via cellular/wifi or via the bluetooth interface to my APRS enabled transceiver in the car.) It could use the phone's internal GPS, and the server side would handle all the messaging/processing. the WIMM would be used as a client for the information display."
6. Ryan Poltermann
"How about for the motorcyclists (or even bicyclists) out there: use it as a garage door opener. Most garage door openers are for visor mounts, and they would be uncomfortable in a jacket. Tie that into home automation, and you're set when you get home."
7. Dale Chen
"Facebook app tailored for quick bite sized info and updates. Easy checking to locations. Aid in viral adoption of Wimm by showing "posted via Wimm" in Facebook feed. You could also setup easy checking in on foursquare or easy updates on Path."
8. Howard Campbell
"A voice recognition app that could be used with a Bluetooth headset that allows hands free control over other apps and device features."
9. Harry Levene
"An app that would allow you to send webpages from your phone to be stored offline in an optimized format for the wimm for quick access would be awesome."
10. Gabe Medine
"If I could develop any application for the WIMM I would create a central networking solution for small businesses. You could check your schedule, tasks, clock in and out, send messages (hopefully) see what your employees are doing at any time. My second idea is a car alarm system that sends out a bluetooth signal, the WIMM hooks onto the bluetooth signal allowing you to lock and unlock your car, set and unset the alarm."
NOTE winners should contact Giveaway[at]SlashGear.com with their contact information including preferred shipping address, phone number, and email so that we can send you your WIMM One developer preview kit! Also remember everyone, just because you've submitted your idea and we've selected several winners already doesn't mean you don't still have a chance to win! We've gotten lots of great entries already – keep checking back!