SlashGear's Holiday Nexus 7 Giveaway!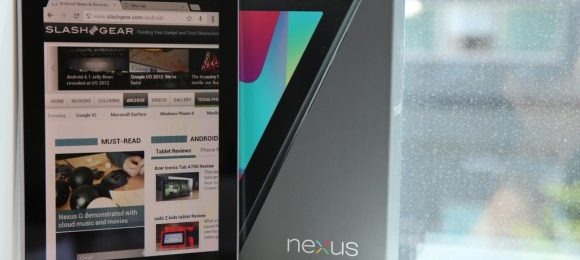 We've got 5 Nexus 7 + mobile tablets to give away to you SlashGear readers along with five $25 gift cards, all of them from none other than Secret Santa! You'll have an opportunity to grab one of these mobile data capable units for the holidays with no more than a "like" and a comment up on SlashGear's own Facebook page – it's just that simple! We're going to be splitting up this lovely event into two pieces – one for pre-Christmas shipping, the other for New Years – let's get to it!
All you've got to do, SlashGear readers, is have a peek at any one of our multiple Holiday Gift Guides for 2012 and let us know which device you'd like to have more than any other! Though it might make sense to simply say Nexus 7, it's not going to affect your chances one way or another to say anything else! Have a peek at our full Nexus 7 review if you're unaware of the excellence of this device. To make an entry into this contest you've only to follow the rules as follows:
1. Visit our [SlashGear 2012 Holiday Gift Guide collection] and check out every different set we've got, from Audio Equipment to Oddities, Tablets, Computers, and back again!

2. Pick your favorite device and post it in [this Facebook thread] along with a link to the SlashGear post and your reason for choosing it! (If you've not already done so, you'll need to "like" SlashGear on Facebook to make the comment in the first place!)

3. Cross your fingers and hope that your entry will be chosen!
This giveaway starts on Monday, December 17th, 2012 and runs until Wednesday, December 28th at midnight. We'll pick a collection of our favorite entries and from that set we'll choose five winners at random, three of them in the next three days then two more on the 28th – we'll announce the winners as soon as we get in contact with them – be sure to have your Facebook settings open to messages from SlashGear!
Competition is open to residents of the US only, over the age of 18. One entry per person. Family members of ASUS, Google, NVIDIA, and SlashGear/Android Community are not permitted to enter. Competition entries are only accepted via the specified SlashGear Facebook page; entries left in the comments section of this or any other post will not be recognized.

The winners will be contacted by an Android Community/SlashGear staff member upon being selected and will be expected to respond to that staff member; they will be expected to respond within 24 hours else their prize may be forfeit and another winner selected. Editors decision is final and no correspondence will be entered into. Winners agree that their name and details of their entry may be used for promotional purposes by, but not limited to Android Community, SlashGear, and NVIDIA.
Prizes consist of a pack including one Google Nexus 7 + mobile tablet and a $25 Google Play gift card. There are no other alternative for prize winners unless this prizes become unavailable, in which case SlashGear reserves the right to substitute another prize of equal or greater value.
Giveaway provided by SlashGear. Prizes provided by Secret Santa for SlashGear readers! Any questions regarding this giveaway should be directed to giveaway [AT] slashgear.com.