SlashGear's Dark Meadow Quad-core Game Pack Giveaway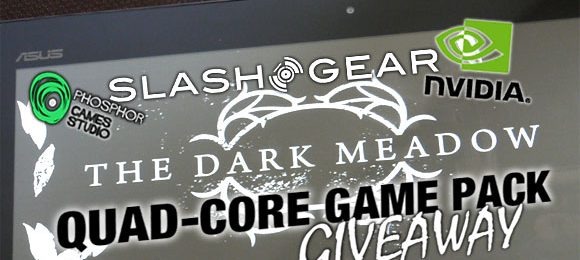 Today we've got a brand new giveaway of a Game Pack including an ASUS Transformer Prime quad-core Android tablet in celebration of NVIDIA's newest Tegra Zone game "Dark Meadow: The Pact." This game is developed by Phosphor Studios and optimized for the Tegra 3 processor gaming environment in collaboration with NVIDIA, and its release this week (for free!) is being celebrated by SlashGear and Android Community with gear that you will not want to miss. We've also got a hands-on review of this game in its first form for you to peek at before you go through with the full download on your brand new tablet – check it out!
The game you're looking at here is one chosen by NVIDIA and Phosphor Games to help show the Tegra 3's impact on the mobile gaming space – in fact, at the moment you're only going to be able to play this game for Android on a device with a Tegra 3 processor because of the intense graphics and awesome gameplay involved inside. NVIDIA's quad-core 4-PLUS-1 technology embedded in the Transformer Prime will bring you new elements never before seen in the game's short history: "detailed enhancements such as higher polygon count, animated textures, water effects and dynamic particle effects" amongst other elements to be sure. You can download the game and play it through completely for free via the NVIDIA Tegra Zone and the Google Play App Store starting this week!
UPDATE: We've found our winner! His name is John Walker and he wrote this amazing poem for the win!
"I would love an Asus Transformer Prime tab from Slashgear

Using it for all of the things I love, don't you fear

I will be playing games on it, that's no doubt

And even if I don't win it, I won't pout

I will use it for my work with Wounded Warriors charity

and steal some of my neighbor's wifi, but only sparingly

I'll use it for Twitter and Facebook and maybe eMail

But one thing's for sure, the quad-core processor will never fail

If my fingers get tired, I'll have the keyboard dock

To rest it on my lap and type away at my portfolio and stock

I'll make sure to share the tab with my little brother

And even design a birthday card with photoshop for my mother

Maybe I'll keep updated on Android news, that would be cool

I could even research my thesis paper by my outdoor pool

I'll keep all of my photos organized and post with on Instagram

Or maybe use the photos to keep in touch across the country with my fans

My fans from my automotive blogging sites I post on

And use WordPress on the tab, writing English only, no Klingon

Well, this poem is over, but my love for the Transformer Prime

It will remain forever, because of its power and beautiful design."

- Walker
[vms 62d6f8056b195ca6e550]
Hands-on with Dark Meadow: The Pact with Tegra 3
The Game Pack up for grabs here includes one of each of the following:
• ASUS Transformer Prime (Amethyst Gray, 32GB)
• ASUS Keyboard Dock
• AMEX $25 Gift Card
• Powerbag Messenger Tablet bag to carry your winnings!
To enter:
1. "Like" us on Facebook: at facebook.com/slashgear/ and leave a comment in this Facebook thread: http://tinyurl.com/6pq3quz telling us one or more ways you plan to use the Transformer Prime tablet or what Tegra 3 optimized games you can't wait to play – including Dark Meadow, of course!
2. Winners will be selected like so: we'll pick a set of our favorites and put them in a hat to pick at random on April 30th!
You may only submit ONE entry to Facebook and only ONE comment will be chosen (if it's awesome enough to be chosen!) Below lies the technical bit of the giveaway, note the requirements physical location especially.
Giveaway begins April 26th, 9:00AM PST, and ends April 30th, 12:01AM PST barring any complications finding the winner. Winner will be announced here in the main news feed and at our official Facebook/Google+ pages.

Competition is open to residents of the US only, over the age of 18. One entry per person. Family members of NVIDIA and SlashGear/Android Community are not permitted to enter. Competition entries are only accepted via the specified SlashGear Facebook page; entries left in the comments section of this or any other post will not be recognized.

The winner will be contacted by a SlashGear staff member upon being selected and will be expected to respond to that staff member; they will be expected to respond within 24 hours else their prize may be forfeit and another winner selected. Editors decision is final and no correspondence will be entered into. Winners agree that their name and details of their entry may be used for promotional purposes by, but not limited to Android Community, SlashGear, Phospor Games, and NVIDIA.
Prize consists of a pack including one ASUS Transformer Prime tablet, one Transformer Prime mobile dock, one AMEX $25 Gift Card, and one Powerbag Messenger bag. There is no other alternative for prize winner unless this prize should become unavailable, in which case SlashGear reserves the right to substitute another prize of equal or greater value. Giveaway provided by SlashGear/Android Community. Prizing provided by NVIDIA and Phospor Games. Any questions regarding this giveaway should be directed to giveaway[AT]slashgear.com.