SlashGear Samson Go Mic Giveaway

Samson is a company that's appeared here at SlashGear a couple of times, and each time it's with a better piece of tech. So, we thought we'd let you all share in the goodness, and give two lucky individuals out there the chance to win a Go Mic. Just follow the break, take a gander at the rules, and then go ahead and throw your hat into the giveaway. You never know, you may pull out a shiny new toy.
What can the Go Mic do? Well, it's a USB microphone that clips directly to your laptop (or whatever else you need it to clip to). As Samson says, it's a perfect device to record music or podcasts, amongst other things. You can also use it for voice recognition software, iChat, or even web casting. It's a plug-and-play designed mic, so it will work with your Mac or PC without a problem. Basically, it's a great little microphone.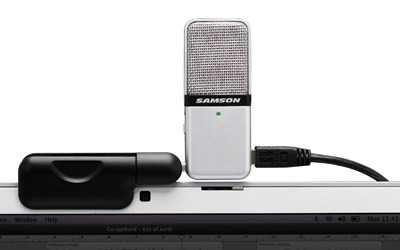 So, here's the deal. Much like our previous giveaways, you're going to have to leave us a comment down below. However, this time around, you need to give us a creative, original reason why you want the Samson Go Mic. Whether it be for your new podcast you've been wanting to launch, but couldn't because you don't have a mic, or you're heading out to the Congo and you need a field recorder to catch your ideas, the sky is the limit. Yes, we'd like some realism, but hey, if you're creative enough, you might just get picked.
Furthermore, be respectful of us, yourself, and the other participants. No cursing or other malicious content, please. You're only allowed one comment, so just make it the best comment you can. And finally, this content is going to last a week, so you've got some time to think of a comment if you need to. And next Friday we'll get in touch with the two winners.
[Samson]