SlashGear Review: TerraTec's hybrid Digital/Analogue ExpressCard TV Tuner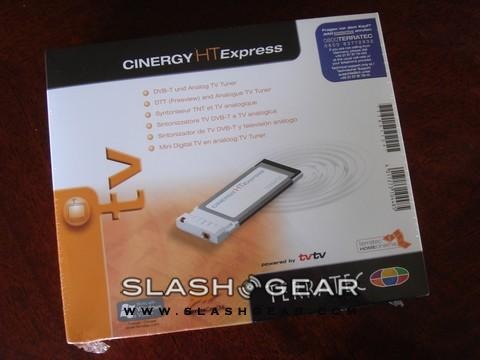 It still seems strange to me that for the outlay of a couple of relatively low-denomination notes you can pick up a portable TV card that only a couple of years ago would've run into the hundreds. That, I suppose, is the relentless advance of technology (and damn don't we love it!) TerraTec were kind enough to flaunt their advances in my face send me their latest TV tidbit, the Cinergy HT Express, a slender digital/analogue hybrid tuner designed to slot neatly into the ExpressCard slot on todays latest laptops. TerraTec boast that it's the first hybrid ExpressCard on the market, capable of receiving DVB-T signals like the UK's Freeview as well as tuning in to home analogue whether that be fixed antenna or cable.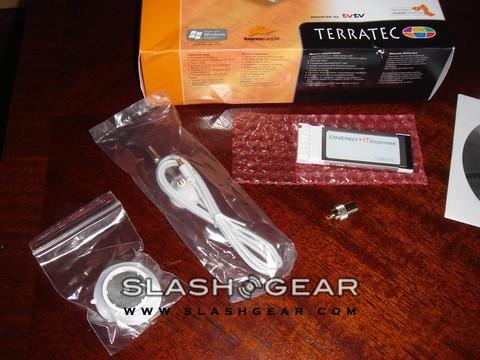 First impressions are good, with a fair amount packed into the box besides the card itself. TerraTec include a mini travel aerial, around four-inches long, which has a magnetic base for fixing to, well, something metal, as well as a suction cup for windows and glass. There's also a diddy adaptor to plug your full-sized home aerial in, a couple of CDs with drivers, time-shifting and digital recording software and a sparse printed manual (which is more of an "initial setup" sheet to be fair).
It's hard to become aroused by an ExpressCard, so there was little to be done but ram it firmly into the appropriate slot and install the software. It's compatible with XP as well as Vista, but Mac users look to be left out in the cold. The initial instructions are clear, but insist on you following a different installation routine than what might be suggested on the on-screen menus; I'm not quite sure why TerraTec couldn't make it all harmonious, but as long as you stick to the printed sheet and don't ask too many questions you'll soon end up with the tuning menu.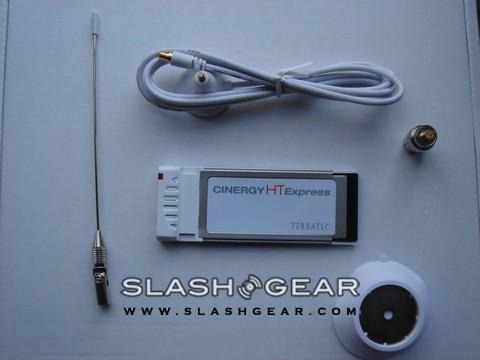 So it was with some excitement that I plugged the travel aerial in and clicked "scan". Just to put it in context I was using the Cinergy HT in an area with reasonable signal, a mile or two from the nearest transmitter. Those decent first impressions were squandered, however; picking up between five and fifteen channels on each scan (out of a possible forty-plus), picture quality was poor and at some times unwatchable. Sound fared a little better, as did DVB-T digital radio, but generally TV was too patchy and temperamental to watch.
Plug in a roof-mounted home aerial, however, and the Cinergy HT becomes a whole different animal. A full bevy of Freeview and analogue channels were caught, each with excellent picture and sound quality that was on a par or even exceeding that of the dedicated Freeview tuner normally in use. The EPG refreshed quickly and was helpfully fulsome, the credit-card sized remote control nipped snappily through channels and menus, while the subtitles switched on and off without any of the lag or digital artifacts that can sometimes plague them.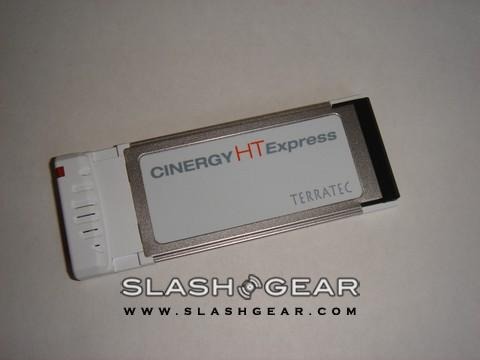 In this situation the TerraTec software comes into its own. No, it's not going to replace Windows Media Centre, but it'll give a standalone PVR a run for its money. The timeshift button – deactivated by default, I presume in case you have a tiny hard drive – does exactly what it should, while you can not only schedule shows to be recorded as MPEG-2 files (and have the computer resume from standby automatically for the Cinergy HT to do it) but capture still images too.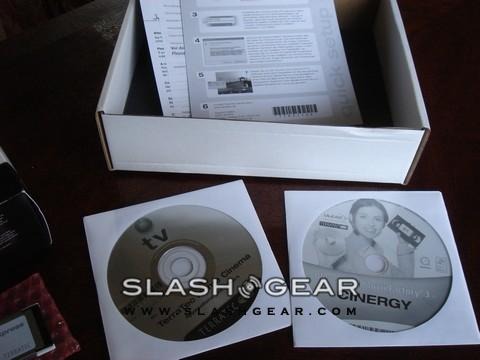 TerraTec include an annual subscription to the tvtv service, which works alongside the TerraTec Home Cinema software to allow remote programming from wherever you have an internet connection. It's a fantastic feature that could really save your hide when you realise you've forgotten to set that all-important film to record that your wife/husband/lover so wanted to see. It'll also support multiple tuners, should you be lucky enough to have another ExpressCard or one of TerraTec's external boxes, and has an editing option to help you snip out adverts.
I'm left in two minds about the Cinergy HT Express. On the one hand, I'm not sure the supplied mini aerial is sufficient for all but the strongest signal areas; perhaps if you were outdoors in an area clear of trees and surrounding buildings you'd have better luck, but it's hard to recommend a product solely for picnic entertainment. Taking that aerial out of consideration, however, and looking at it as an alternative to a standalone PVR, the Cinergy HT shines. Feed it a decent signal and you're rewarded with a pin-sharp picture and impressive out-of-the-box functionality from the bundled software. Useful, then, for those short of space and those looking to eke extra functionality from their laptop.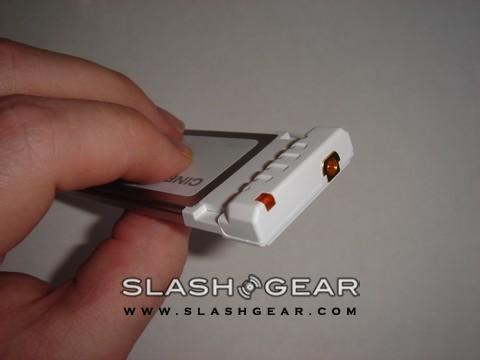 The TerraTec Cinergy HT Express is available now with a MRSP of £79.99
Many thanks to TerraTec UK and to Mike Davies for his assistance in this review.