SlashGear Review: T-Mobile's Sidekick 3 in the UK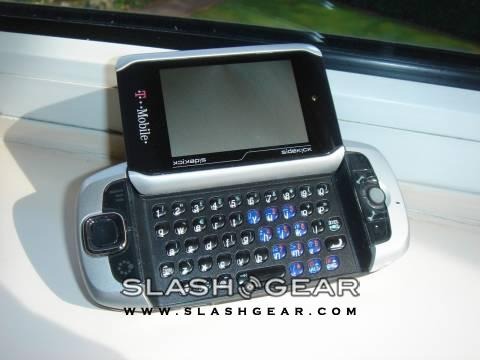 Here's a prediction for you: the Sidekick iD will never make it over the Atlantic to the UK. And lest you accuse me – as some already have – of being anti-iD, I'll tell you why. In the US, the Sidekick 3 will set you back $199.99 with a contract, that's after a $200 rebate T-Mobile hope to tempt you with. Whereas over here you can pick it up free with a new contract; there's simply no market for a cut-down version of the SK3.
You might not think it were the case, but T-Mobile UK has been selling the Sidekick 3 since December last year. Yet even now, in the middle of April, their site has no mention of it. Enthusiasts, upgrading from the second-generation handset, talk of poor publicity as a sign of the operator not being 100% behind the cellphone; I managed to get my hands on one to see whether it was worth the fuss.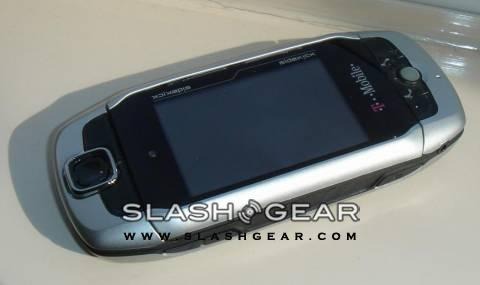 As designs go, the evolution of the Sidekick's eye-catching rotating display still gets attention. Overall it's an improvement from the previous models, with bulk shaved away and a generally smoother, more sinuous shape. The two improvements most trumpeted (in the US if not here) are the keyboard and the trackball; the former replaces the rubbery "chicklet" buttons with individual, hard-domed keys, while the latter makes for easier four-way control than the old Sidekick's roller. In fact, the two are certainly enough to negate any ill-feeling the absence of a touchscreen might prompt, even making the D-pad unnecessary.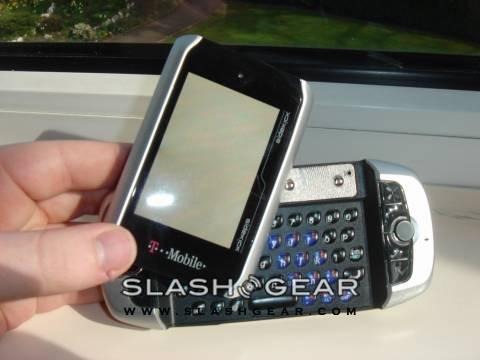 I'll be honest, I had pretty high hopes for the SK3. First model in the range to have a megapixel camera – 1.3-megapixel to be exact – together with the consistently praised push email support made me wonder if it would best the positive impression the Treo 750v had made on me. A brief play in a T-Mobile store just after launch left me wanting more time with the well-spaced and tactile keyboard and a resolution to try to look beyond the cutesy on-screen graphics.
There are plenty of reviews of the US version already online since they've been playing with it for months now, so I won't spend too long describing the hardware. Needless to say it's unchanged for this UK version, which means four face-mounted function keys operating movement through the menus, shoulder buttons whose purpose varies according to what the phone is currently doing, mini-USB for connection with a computer (though sadly it's only USB 1.1), 2.5mm headphone port and miniSD slot hiding under the rubberised back cover.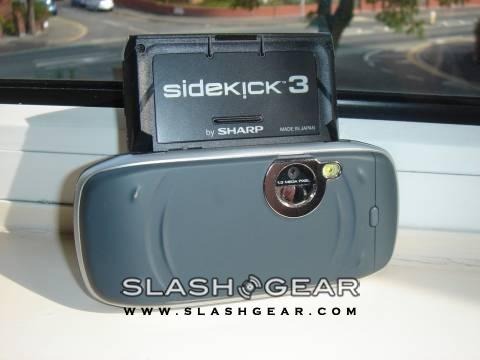 Connectivity-wise you won't find WiFi, while Bluetooth – hotly anticipated – is limited to the headset profile for handsfree use, rather than file transfers. No, T-Mobile expects you to take full advantage of their EDGE connection, pushing the £7.50 unlimited Web'n'Walk add-on for fulsome surfing and permanent connection to their internet and email servers. Talk-wise it's tri-band 850/1800/1900.
If you were to pin me to a roughly-plastered wall and demand a premature opinion, I'd have to say that the overriding feeling you get of the SK3 is "compromise". There are some things this handset does incredibly well, which makes its occasional shortcomings all the more bitter to accept. Let me illustrate: the screen, unchanged from the SKII, is a 240x160 transflective panel, and the resolution is a serious let-down compared to other smartphones on the market. Outdoors performance, however, is surprisingly good, with it actually remaining visible despite bright sunlight; the payoff is a general appearance of being washed out when indoors.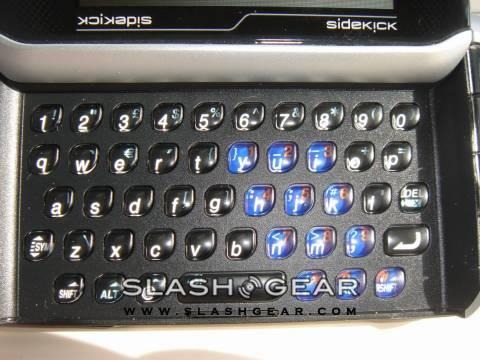 Always on, all-you-can-eat EDG is great, but it inevitably pales when compared to T-Mobile's own HSDPA mobile broadband (you can see how wonderful that is in my review of the SGH-Z560 on the same network). Having a camera is similarly handy, but the quality of the photos it takes lack the vibrancy and clarity of competitors and the omission of video recording is damned frustrating. Images taken are automatically backed-up to the online T-Mobile web-interface, but it seems a waste not to have an option to instantly publish them to a photo-blog.
So is there anything that doesn't make you wish for just a little more development? Well, the keyboard is outstanding, simply a pleasure to type on; I've stabbed at it with my thumbs and I've sat the whole phone on the desk and found there's enough horizontal room to use more than two fingers. Indecently pleasant feedback, together with smart text formating like switching "im" to "I'm" automatically, cuts out so much of the tedium associated with smartphone keyboards.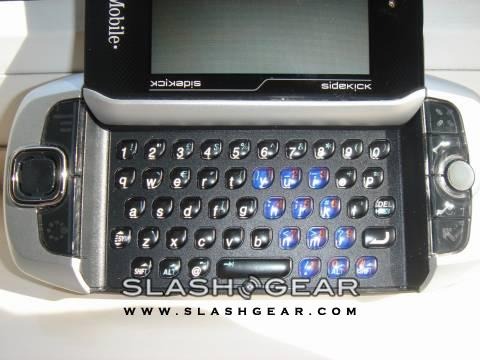 Which makes it annoying that some of the opportunities to type with it have been sliced out. T-Mobile UK have seen fit to remove the Yahoo! and MSN instant-messengers, leaving only AOL's chat client; repeat questions to the company and their PR agency on the subject have gone unanswered, leaving users to speculate on vague licencing issues. Some have been told by customer services representatives that MSN and Yahoo! will appear in an over-the-air update, but as of writing there's no certainty that either will ever be an option.
The question is, then: it's finally available, but should UK users buy it? Here, I'm torn – as a potential business device the lack of Exchange compatibility, the aftermarket software needed to synchronise with Outlook and the severe lack of third-party (or even first-party) software and add-ons leaves the Sidekick languishing in the shadow of its Windows Mobile counterparts. For the younger market, for a home user or for a message-addicted teen, however, it's a more tempting prospect; for them, Exchange email is far rarer beast, and here the Sidekick's ability to turn POP into push makes it pretty unique among devices. Anaemic IM compatibility in comparison to its US cousin may prompt outrage, but exactly how much will depend on which system your friends are using.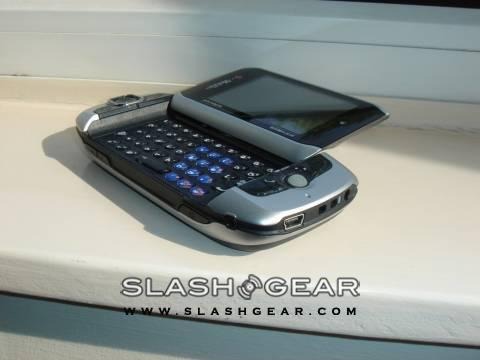 Twelve months ago I would've signed my soul (or the equivalent in the cellphone world: a carrier's contract) away for the Sidekick 3. Fresh, usable, even dare I say it fashionable, I could readily see it as the hub of my mobile life. Right now, however, I'm spoilt for choice; Samsung and Motorola have the slim'n'sexy side of the market sewn up, while Palm and HTC dominate the feature heavyweights. To truly win my heart you'll need HSDPA and uncrippled Bluetooth, a vibrant screen and as much OS flexibility as I can stomach. Much as I hate reviews that end on a compromise, perhaps that's the only way to sum up a device that represents just that; ask yourself, with all I've said and all you know about your phone habits, is this phone enough to be your Sidekick? I wouldn't criticise you for saying yes, but for me the answer's no.
Since it is yet to appear on the T-Mobile UK website, call the company direct on 0845 412 2401 for information on the Sidekick 3